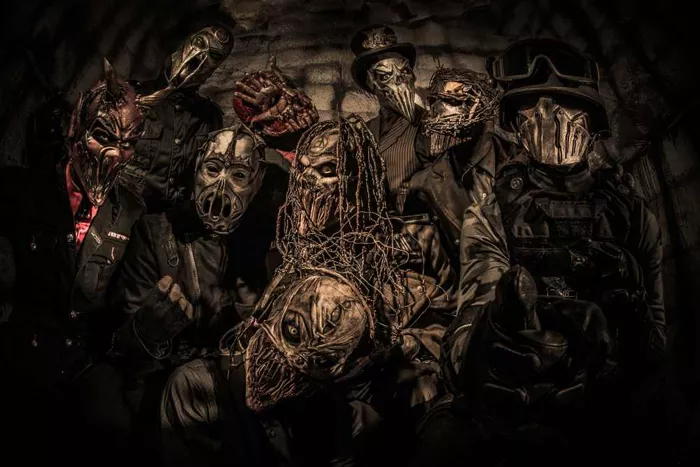 Cleveland industrial metal band Mushroomhead has been around since '93, but the recent The Righteous & the Butterfly album is the first with vocalist J Mann since 2003's XIII. The band is rolling into Detroit to play Harpo's on Friday, so we grabbed Mann to find out how it feels to be back after a 10-year absence …
How does it feel to be back in the Mushroomhead fold?
This is my first record with the band since XIII that came out in 2003. So it's been about a decade. It feels great to be back. I was never too far away. I would always play local shows, regional shows, with the band. I always stayed in contact with them. So it wasn't like a big divorce or anything like that. We were always in each other's lives. But it feels good to be back full time, absolutely.
What were you doing in-between?
I owned an independent record label before the collapse of distribution. That was a lot of fun. I've also got a couple of side projects – I'm in a band called Pitch Black Forecast with Gene Hoglan (Strapping Young Lad). He's a good friend of mine, so he and I have had a band for the last few years, whenever we have the time to get together. He's not only an amazing player but also a great guy.
Has Detroit been a happy hunting ground for you guys in the past?
We always have a fun time in Detroit. We've played a few clubs there. I believe we're coming to Harpo's this time, and I think that's where we played last time too. We also played at St. Andrew's. Detroit's been a home away from home since the band started. Some of our first out-of-town shows were in Detroit and Chicago, that Midwest area.
What are your plans for the set?
We're going to play some old favorites, but we're going to finally be able to play some new material — the album officially came out this week. So we have about four songs off the new record in the set. It's about an hour-and-20-minute set, so it's lengthy — about 20 songs. It'll be hot, sweaty and fun. I don't really perform the songs that I didn't record with the band, and there aren't that many in the set really.
What's next for the band after this tour?
This is just a short, two-week Midwest run. In July, we are doing the Rockstar Mayhem Tour with Avenged Sevenfold, Korn, Cannibal Corpse, and Suicide Silence. That's gonna be a lot of fun — that'll be how we're spending our summer. But it also limits everything before then, because they have clauses that mean we can only play within so many miles of a city that Mayhem tours. That's why we're just doing these little Midwest shows right now, because we really can't hit the coasts. They fine you and penalize you, because they want their show to draw the best. It's limited what we can do right now, but at the same time it's crucial that we get out there and play as the album's being released.
Mushroomhead plays Harpo's at 5 p.m. on Friday, May 23, 14238 Harper Ave., Detroit; 734-787-2157; $18.