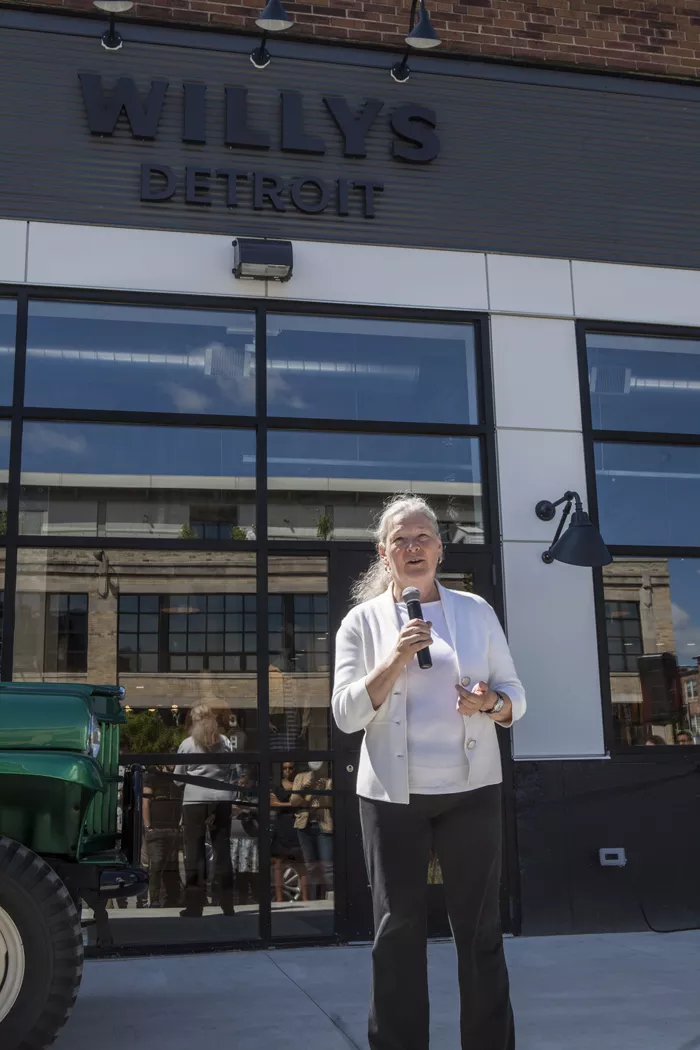 Welcoming Willy
From the folks that brought you "assembled in Detroit" bikes and watches comes a brand-new "lifestyle store" in the heart of the city. Opening next door to its sister store, Shinola, Willys is officially open in Midtown as of last Friday afternoon. Sue Mosey, president of Midtown Detroit spoke at the ribbon-cutting, noting the partnership the store has with the city, also mentioning a new dog park will soon open just down the street. While inside we chatted with Shinola's creative director, Daniel Caudill, who noted the offerings available in Willys will change on a monthly basis. While quite expensive, there were a few things we might be able to afford, including a $36 candle and a $150 vintage suede winter coat. We also spotted in the crowd Nick Hagen from Hell Yeah Detroit as well as the lovely sisters of Drought, Jessie James, Biance Colbath, Jenny James, Julie James, and Caitlin James. We spoke with a very stylish Nelson Sanders, who told us he, along with other store employees, had been working furiously to get the store ready in time for the 11 a.m. ribbon-cutting ceremony. Good work, guys; it looks great.

The Phoenix and the Flame
Anytime you get to see Treasure Groh, ticket booth goddess of the Fillmore, is a good time in Detroit, but it's especially great when one of the world's best pop bands is what brings everyone together. Phoenix played the Fillmore and showed that they can rock any size venue you put them in. Enigmatic frontman Thomas Mars held the crowd in the palm of his hand the entire night, even performing amid the audience for a slow jam rendition of "Countdown" that will be remembered forever. Spotting local musician Greater Alexander getting tossed atop the crowd was pretty memorable, too. Everyone had an amazing time (as evident by the hundreds of folks with their asinine phones in the air taking horrible quality phone vids), but the guy who might have had the best time was Wayne Coyne of the Flaming Lips. He was having a blast from the balcony the entire show.
Craftwork
Last Tuesday, six of the Ontario Craft Brewers representatives from varying locations across Ontario, Canada, traveled to the Emagine theater in Royal Oak to showcase some of their latest craft beers. They invited us to their presentation, and we gladly obliged, as it is not our practice to pass up free beer and snacks. Their hope was to intrigue retailers to purchase their custom-blend, craft beers to sell here on the shelves of local Michigan businesses and bars. With craft beer booming, it would seem the perfect time to begin importing these beverages across the border into our fair state. With a combination of chocolate stouts, hard apple cider, IPAs aged in Spanish cedar, and many more unique flavors, the men and women of the Lake of Bays, Grand River, Cameron's, Nickel Brook, and Provincial-King breweries have earned the right to call themselves craft breweries. These brews aren't your average lawnmower beers either. They're full-bodied, hoppy, acidic (in some cases), and flavorful combinations of everything from fruits to plants that will kick your taste buds into overdrive. Keep an eye out for them on a shelf near you in the very near future.
Summer in the City
It's hard to pass up a good beach party, and last Friday's Marketing Associates Beach Party was no exception. The event, which took place on the beach in Campus Martius, was one of the many free Summer in the Park events that will be held there. From 5:30 p.m. to 8:30 p.m. guests of the event enjoyed complimentary island-themed food from the park's Beach Bar & Grille, as well as complimentary Faygo pop and Absopure water. Guests, as well as the many visitors to Campus Martius, were treated to the sounds of the reggae group Gizzae Reggae, who put the entire city in a summertime mood as their music floated down Woodward Avenue. Even with less than tropical weather the combination of the reggae music, the sand, and a cold drink was able to create the perfect illusion of being somewhere tropical, all culminating ina very relaxing Friday evening.
RIP
Radio personality and native Detroiter Casey Kasem died on Saturday at the age of 82. Known for "American Top 40 and "Casey's Top 40," the disc jockey's trademark was his warm, welcoming voice. D-Days wishes to express our condolences to Kasem's family and friends.