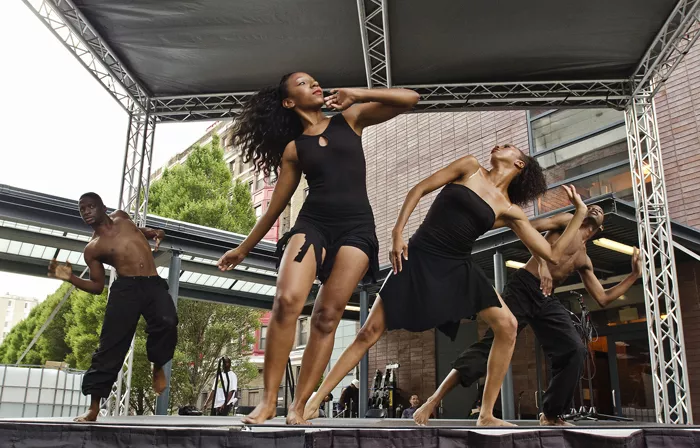 Ann Arbor Summer Festival
This three-week festival features local, national, and international performers, including Andrew Bird, the Hands of Glory, and Trombone Shorty, as well as art, films, food, and more. Hours and admission vary; call 734-994-5999 or visit a2sf.org. June 13-July 6.
GM River Days
Detroit Riverfront
Since opening to the public in 2007, this annual festival has celebrated the transformation of Detroit's riverfront. This year features tall ships and Coast Guard boat tours, sand sculptures, and musical performances from Keith Sweat, John Kay & Steppenwolf, Kaleido, and more. The festival starts at 11 a.m.; 313-566-8200; riverdays.com. June 20-22.
Stars & Stripes Festival
Freedom Hill County Park
This fest moved from downtown Mount Clemens to Freedom Hill County Park in Sterling Heights last year, but it's still a celebration of all things American: expect fireworks, a BMX show, and a military salute, plus music performances by George Clinton and the P-Funk All-Stars, Theory of a Deadman, and Bret Michaels. Noon to 11 p.m. daily; 14900 Metropolitan Parkway, Sterling Heights; 586-493-4344; starsandstripesfest.com. Free. June 26-29.
Wyandotte Street Art Fair
Downtown Wyandotte
One of Michigan's largest art fairs, Wyandotte's annual festival draws more than 200,000 visitors for its food, live music, and of course, the fest's 300 exhibiting artists. Open daily from 10 a.m. to 9 p.m.; 734-324-4502; wyandottestreetartfair.org. Free. July 9-12.
Concert of Colors
Various locations, Detroit
Detroit's annual celebration of diversity always features an eclectic lineup of performers, and this year is no exception; expect psychedelic world music from Muruga & the Cosmic Hoedown Band, Seun Kuti (son of Afrobeat pioneer Fela Kuti), the Detroit Symphony Orchestra with blues singer Thornetta Davis, and the annual Don Was Detroit All-Star Revue, this year paying tribute to Bob Seger's Live Bullet album. Venues and hours vary; 313-582-2266; concertofcolors.com. Free. July 10-13.
Ann Arbor Art Fairs
Downtown Ann Arbor
Ann Arbor's art fair tradition has continued for more than 50 years, drawing 500,000 visitors annually to the four simultaneous art fairs that showcase hundreds of artists, food, music, and family events. 10 a.m. to 9 p.m. Wednesday-Friday; 10 a.m. to 6 p.m. Saturday; 734-994-5260; artfairs.visitannarbor.org . Free. July 16-19.
Faster Horses
Michigan International Speedway
Country music meets camping with an all-star lineup featuring Tim McGraw, Miranda Lambert, Ashley Monroe, Michigan's own Paulina Jayne, and many more. 1:45 p.m.-12:30 a.m.; 12626 U.S. Highway 12; fasterhorsesfestival.com; $180 for three-day passes. July 18-20.
Festa Italiana
Freedom Hill County Park
Italian food, wine, and family fun abound. This year's musical entertainment includes Lena Prima, daughter of jazz great Louis Prima, performing a tribute to her father. 586-228-1678; iacsonline.com. Free. July 18-21.
Art on the River Festival
Dodge Park 5
Commerce Township's art festival features an artists market, live music, storytelling, a Kids Zone, food trucks, beer tent, and more. 11 a.m.-7 p.m.; entrance off East Commerce Road; huronvalleyarts.org; 248-889-8660. Free. July 19.
Chelsea Sounds &
Sights Festival
Downtown Chelsea
Now in its 38th year, Chelsea's festival features two days and three nights of food, kids activities, a classic car show, and more. The festival coincides with Chelsea's art fair, which will host 37 participating artists, including jewelers, painters, photographers, and woodworkers. Hours vary. 734-474-9178; chelseafestivals. Free. July 25-26.
2014 Michigan Brewers Guild Summer Beer Festival
Riverside Park, Ypsilanti
Now in its 17th year, this annual festival features almost 800 beers from more than 80 Michigan craft breweries, as well as some mouthwatering food choices. Admission comes with 15 beer tasting tokens. Hours vary. mibeer.com; tickets are $35 for Friday and $40 for Saturday. July 25-26.
Maker Faire Detroit
The Henry Ford
More than 400 hackers (aka "makers") will show off their latest and greatest inventions at Maker Faire, which celebrates art, science, engineering, pop culture, and general geekiness. Expect robots, fashion, food, and more. 9:30 a.m.-6 p.m.; 313-982-6001; makerfairedetroit.com. Admission varies. July 26- 27.
The Woodward Dream Cruise
Woodward Avenue, the suburbs
For some, the annual Dream Cruise is the bane of their existence, an event that clogs up our region's major thoroughfare, cripples businesses, and pumps tons of car exhaust into the air. For the rest of metro Detroit, the Dream Cruise is classic car heaven, a place to show off your wheels or set up lawn chairs and just watch the parade. 9 a.m.-9 p.m.; 586-726-1400; woodwarddreamcruise.com. Free. Aug. 16.
Michigan Renaissance Festival
Holly
A nerd's delight, where medieval history buffs bump up against Game of Thrones fans. Eat a turkey drumstick, sip some mead, take in a live jousting match, and enjoy the work of blacksmiths, jewelers, and other artisans. Huzzah! 10 a.m.-7 p.m. daily; 248-634-5552; michrenfest.com. Tickets $19.95-$21.95. Aug. 16-Sept. 28.
Arts, Beats & Eats
Downtown Royal Oak
Aside from the artists booths, music performances, and food vendors this fest is known for, this year welcomes the addition of Hair City, a showcase of downtown Royal Oak's numerous salons with hair shows held on multiple stages and mannequin-style exhibits throughout the streets. Starts at 11 a.m. daily; 248-541-7550; artsbeatseats.com. $3 admission ($5 after 5 p.m.). Aug. 29-Sept. 1.
Detroit Jazz Festival
Hart Plaza
This festival always features world-class jazz, and this year is no exception. 2014's artist in residence is Joshua Redman. Other featured artists include the Pharoah Sanders Quartet, the Christian McBride Trio, a Nat King Cole tribute, and much more. Detroitjazzfest.com. Free. Aug. 29-Sept. 1.
Hamtramck Labor Day Festival
Hamtramck
This year features the revival of the Hamtramck tradition of "yacht" races down Joseph Campau Street, a 5k run, music, vendors, and, of course, pierogi. Noon-10 p.m.; hamtownfest.com. Free. Aug. 30-Sept. 1.
Shores of Erie Wine Festival
Fort Malden
Celebrating its 10th year, the Shores of Erie brings wine, music, and food to Amherstburg, Ontario. Music performances include Serena Ryder, Crissi Cochrane, the Walkervilles, and more. Hours and admission vary; soewinefestival.com. Sept. 4-7.