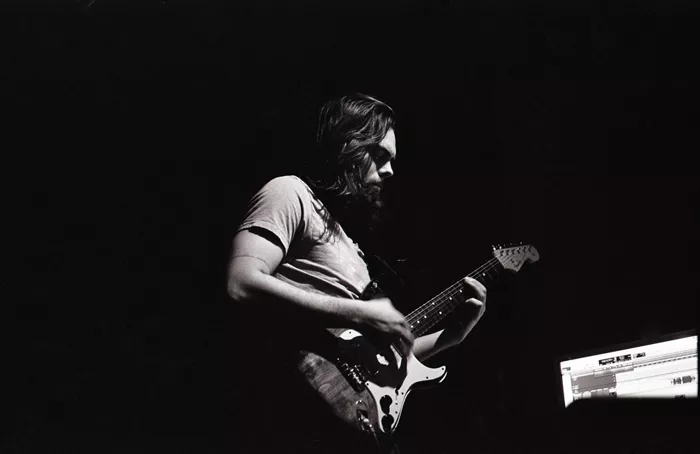 Music will never die, according to Alex Kaye. The local songwriter-producer records and performs as Autumn Wolf, and we're inclined to believe the St. Clair Shores native since he received a degree in music business from Wayne State. He works as an engineer at Rustbelt Studios in Royal Oak and has experience interning for an entertainment law firm. As Autumn Wolf, Kaye creates a blend of dark, dreamy indie-rock punched-up by big bass booms and danceable beats. It's definitely more rock, more funk, and a bit more throwback-feeling than typical dance-music; Giorgio Moroder, Daft Punk, and Ratatat could be reference points. Let's get started.
Metro Times: Tell us how, when, and why you got into music? What was your first big inspiration?
Alex Kaye: Kind of a funny story. My parents bought me a guitar and started taking me to lessons when I was 10 years old. I didn't really care about it, honestly. I never touched the thing outside of the lessons. They told me I had to practice or they were going to stop taking me to lessons, which was fair. I never practiced, so the lessons stopped. The guitar sat in my room for two or three years until I picked it up one day, out of nowhere. It was completely out of tune. I went to the local music store, bought a cheap tuner and I can vividly remember where I was sitting in my parents' house when I played that first chord after tuning up. Hearing the notes and harmonies in that guitar chord is what started the fire.
Metro Times: You had to teach yourself how to play it and that's what hooked you. After that, how'd you wind up getting more heavily into the recording aspect?
Alex Kaye: I started asking for recording equipment for every Christmas and birthday gift. In fact, my parents just got me an Ibanez TS-10 tube screamer pedal for my 25th birthday. So I started teaching myself how to record and, of course, I went through years of horrible recordings and really bad songs, but it was all worth it. I was in the usual high school band projects, but I still always recorded my own material by myself in my room, mostly instrumental stuff. That gave me a great foundation for my knowledge of recording software today. Getting an internship at Rustbelt Studios set me on the path of learning how to engineer high-end recordings and taught me a lot about the recording business in general.
Metro Times: Let's talk about that business — what motivated you to take that route in your education, instead of just trying to make a band and break out on your own?
Alex Kaye: I decided I wanted to have a career in music around the age of 18, figuring I already had a decent grasp on how to record things, at least enough to get by. I decided to get the music business degree to broaden my chances of actually having a sustainable career in music. I kept teaching myself how to record and write while learning the business side of the industry in class. I've taken a sharp turn to the creative side of things, in the studio, producing, engineering, writing, and I've found it's truly where I'm supposed to be. But I do have a small music-consulting operation I run from my company, Dangerfox Recordings.
Metro Times: What's your take on the state of the music industry? How fucked up is it? Is a post-Spotify streaming-based industry workable?
Alex Kaye: Now that is a tough question. It's not the same as it used to be.
Metro Times: Indeed. Can bands even still "make it" in the traditional sense?
Alex Kaye: There are a lot of obstacles for recording artists. The traditional income revenues of the industry, like licensing, publishing deals, physical and digital sales, are still available, but they're much harder to come by. With digital downloads, both legal and illegal, the music business landscape has changed forever. In the past, people had to buy the whole album to hear a band's hit single, but they now just buy that one song and [no] others. Obviously, this means much less profits for artists and labels. With services like Spotify, you can listen without actually buying.
Metro Times: Right, and the royalties from streaming are pitiable at best. So, is it like a doom-and-gloom time?
Alex Kaye: Money is scarce for a million reasons in music, but I don't strictly classify this as a bad thing. Music will never die. Recorded music will never die. I think the hurdles recording artists face today brings out incredible creativity in the truly talented ones and weeds out all of the others. I think in coming years the music industry will be supported more from the patronage of an increasingly arts-deprived public wanting to hear the genius of their favorite musicians rather than major labels squeezing blood from a rock.
Metro Times: Let's talk about your music, your style, and how your new EP distinguishes itself from your first releases as Autumn Wolf?
Alex Kaye: It's weird. I do love certain types of electronic music, but I don't listen to it all that much. I went through a phase years ago, but I wasn't at raves with pink furry boots twirling glow sticks. I was experimenting with bass sounds and synthesizers and got heavy into electronic for a while, but I'm straying further away from where I started out.
Metro Times: Which direction, then, do your current and future recordings seem to be heading?
Alex Kaye: It's still electronic but lots of vocals and guitars too. I started a new project with Lianna Vanicelli (formerly of Phantasmagoria); she's been singing with me for a while now, but I was writing the songs. For this, we're truly collaborating and the results are great. Aside from that, I'm engineering and producing projects, consulting with a couple bands in the area, and launching a licensing project through Dangerfox. I've never felt more honored and happy to be working with such great musicians and people.
Autumn Wolf performs with Le Voyage, the Static Dial, and Trancers at 9 p.m. Saturday, May 10, at PJ's Lager House, 1254 Michigan Ave., Detroit; 313-961-4668; $5- $10.