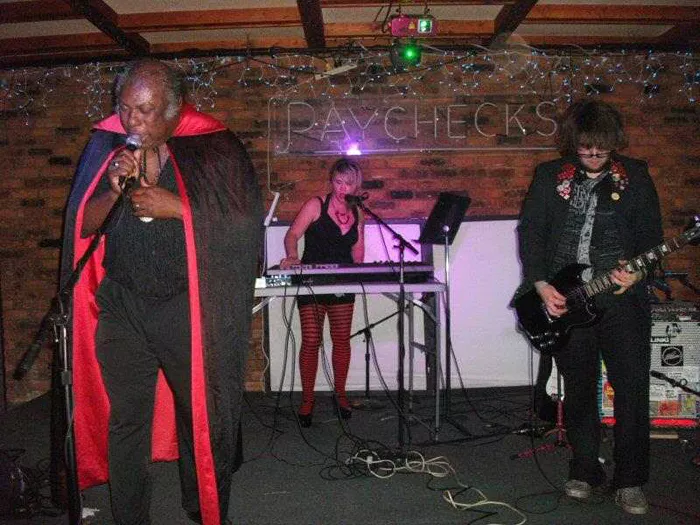 Vampire Weekend is on the cover of this week's issue, but it occurs to us that the band really has nothing to do with the creatures of the night after which they're named. Detroit's the Impaler, meanwhile, has been wearing a cape for decades. The man is in two bands, hardcore group Dangerous Pleasure, and fetish-themed industrial-Goth band N2 Submission, and he vants to bite your neck.
A black man in his 50s, Anison Roberts likes to dress like a vampire onstage. Back in the '80s, he would wear his ghastly getups out-and-about, but he feels silly doing that now that he has children and grandchildren. Nowadays, the Impaler is very much a stage name, a showbiz pseudonym.
"When the punk rock scene was new, I started hanging out at places like the old Bookies, the old Blondies, and eventually, when Goth became popular, I jumped on that bandwagon," Roberts says. "When I first heard Sisters of Mercy, I was blown away. That was what I wanted to do. I quit playing music from 1984 to '89. What made me come back was when I heard Nine Inch Nails' Pretty Hate Machine. Even though it was good music, I thought it was so simplistic. I said, 'I can do that. '"
Roberts says he started dressing like a vampire in 1980 as an attempt to out-weird the other Detroit punks on the scene. "That's also when I got the nickname the Impaler," he says. "When the punk rock scene was new, a lot of the people on the scene were trying to out-weird each other. I started wearing a cape to see if that would freak anybody out. It became a great conversation piece. I started wearing it everywhere, even when I wasn't partying. It was a great conversation starter — you wouldn't believe how many women I ended up meeting because I was walking around in public with a cape."
And then there's the name. One does have to wonder how a black dude in Detroit took on the imposing moniker the Impaler. "It's a combination of the cape and my temper," Roberts says. "Back when I was living in Delaware in the early '80s, I got the name Impaler because we were studying the original Vlad the Impaler, and somebody who saw me lose my temper once said, 'That sounds like something you would do.' Everybody in our circle at that time started calling me the Impaler."
Today Roberts is a doting dad and granddaddy, and his family takes his stage antics with a pinch of salt. It's just Dad being Dad. "My son just sees me as Dad," Roberts says. "He's only 25 so he's going through that 'I'm embarrassed; my dad thinks he's a rock star' thing. My daughter — I always used to call her my wing girl because as soon as she turned 21, me and her started hanging out at Goth clubs together. She's married to my former guitar player. He had to quit the band because he started having kids."
It's a fascinating double-life. Roberts is a family man who strikes me as the most normal of fellows. His voice is Barry White-deep, and he has a hearty chuckle, but there's nothing about the guy when he's not in character that would suggest he's a lover of dark music and fiction.
"When I'm the Impaler, I can be something I'm not," he says. "When I'm plain old Anison Roberts, I'm a married man with two kids, three grandchildren, pretty successful in my station of life, University of Michigan graduate — it sounds kind of boring when you think about it. When I'm the Impaler, I'm a 500-year-old dude who has this harem. Back in the early days of N2 Submission, we called all the female musicians I worked with my harems. It was just a joke that my keyboardist came up with, and it grew and grew. Also, the Impaler's a lot more intimidating than 'Anison Roberts.' Anison Roberts is just this plain old guy who doesn't want to get into a fight, and all of a sudden when I do lose my temper, I become this Impaler fellow. It scares the hell out of people."
Let's be totally honest here — the Impaler looks kind of ridiculous. Gloriously entertaining maybe, but not in the least bit scary. He looks like he's half-assing it for Halloween. That said, it's impressive that his two bands pull in a variety of ages. "Most of the audience for N2 Submission is 40-somethings who still like to go out," Roberts says. "When I'm with Dangerous Pleasure, and I do wear the cape with both, I get a lot of young people. Our new album, Waiting for You at the Gates of Hell — anything involving devil worship you get a lot of kids wanting to check it out. So that crowd's younger."
So back to our original point: Vampire Weekend is in town, but how does Detroit's own vampire spend his weekends? "My favorite place to go at the weekend is Gigi's," Roberts says. "I know it's a gay bar and all, but gay people know how to party, man. I go there almost every Saturday. I don't go there on Fridays; Friday they have a strip show, and I don't want no part of that. If I have a Friday free, I usually try to catch a local band because we all need all the support we can get."
To conclude, Roberts tells us that his favourite show so far was an N2 Submission set at Blowout. "It was at Lili's when it was still called Lili's," he says. "I was actually concerned for the slaves that our dominatrix was whipping. I was a little worried. They had no permanent injuries, fortunately."
Hey, there's always next time.