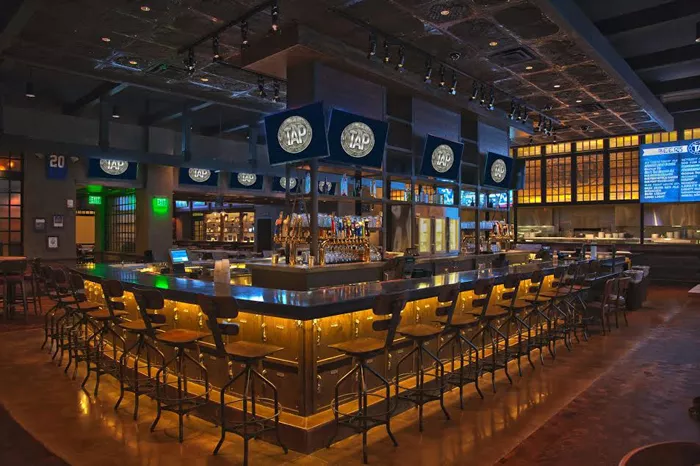 Two years ago the hype for Detroit's newest old sports bar was just beginning. Billboards along I-75 were emblazoned with vintage-style posters, promising Detroit's best draft picks and a beer-heavy menu. In September of 2012, Tap opened inside MGM Grand Detroit and has been filling a void for gamblers with a taste for craft beer ever since.
We've covered Tap since its inception, even noting its menu of TV dinners in our last issue, but since they asked us to come in to give the place a review, we figured we couldn't pass up grabbing some brewskis and a Reuben sandwich on a humid Thursday afternoon.
Located near the rear of the gaming floor, Tap is sectioned off from the table games and slots, offering respite from the clinking of coins and ching-chinging of machines. Low lighting complements the vintage-inspired aesthetic, which features strange and ornate cast-iron chandeliers, antiqued wood tables and chairs, and sports memorabilia. Water is served up in wide-mouth bell jars, and food comes on round platters fixed with wax paper. Menus are paper and leather-bound.
The fixture of the establishment is the rectangular-shaped bar found at the center of the space, on which are mounted several large-screen TVs. Behind it you'll find shiny gold taps, backlit shelves filled with the finest whiskeys, and a friendly bartender.
Tap's vast selection of craft beers is all on tap. In fact, the only bottles here are national brands like Miller, Budweiser, Corona, and Coors. Our bartender noted Dragonmead's Final Absolution, Perrin's Grapefruit IPA, and Blue Point's Rastafa Rye were new to their tap handles.
We sampled Flannel Mouth from Armada's Blake's Hard Cider Co., and found it a vast improvement from sugary national brands. Samples, by the way, are greatly encouraged here, and our bartender regularly asked if we'd like to sip anything available on tap before committing to a full pint glass. Additionally, if you're into sampling rather than sipping on the same thing all night, flights for four beers can be had for $8.
Selections from Right Brain, Shorts, Saugatuck, Founders, Rochester Mills, and Atwater are available, along with a host of other locally made brands. All beers are available in either a pint or a pitcher, except Final Absolution and Founder's Dirty Bastard.
We spotted Hendrick's, Knob Creek, and Woodford Reserve among their liquor bottles; however, local brands like Valentine or Two James aren't available.
A small, but fine assortment of reds and whites is also available for your friend who simply refuses to drink anything but wine.
Serving up breakfast on the daily, Tap also features one fine bloody mary.
Using its house mix, pickle juice, tabasco and Worcestershire sauces, Rochester Mills Milkshake Stout, and tomato juice (and, of course, vodka), Tap then garnishes it with a Dearborn sausage, a celery stick, house-made pickle slice, cheddar cheese cube, and a celery salt, celery seed, salt-and-pepper rim.
It's a meal in a glass, the ultimate hangover cure.
Pro tip: In keeping with their old-timey theme, Tap brines and bottles all their pickles in-house. Thick-sliced dills are available for $7 a jar.