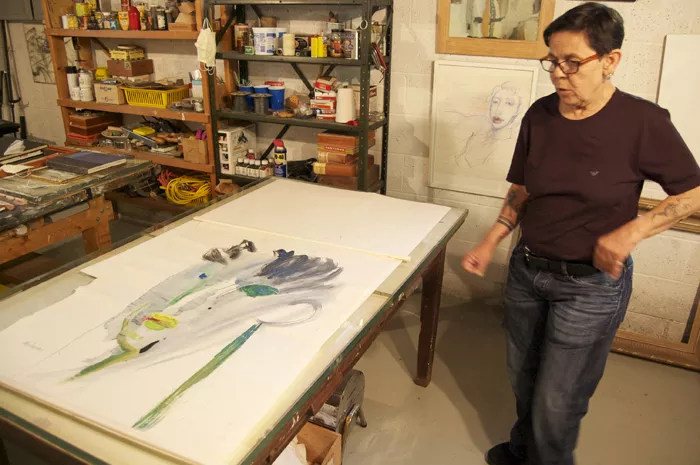 "This is Jerry," artist Monica Molinaro says as she shows us her paintings, delivered with the warmth usually reserved for introducing a close friend that we have to wonder if Molinaro means that it's a painting of Jerry or if the painting itself is named Jerry. "It's my friend Jerry Vile. See those shifty eyes?" she clarifies. "This one's Jonny, my grade-school sweetheart, Jonny. This is Blue Albert. He's a fun guy ..."
Molinaro is showing us around the basement studio in her Royal Oak home, giving us a preview of her upcoming show, Paintings on Paper — a simple, direct title for a show of simple, direct works. The paintings — all loose gestural portraits — are about as minimal as can possibly be, all done in only a few colors and a few strokes of an aqueous medium akin to watercolor. Despite the controlled chaos of the colors dripping into each other, the paintings are very spare, possessing a zen sort of quality. "The reason that I like the medium that I used is because it shows all the marks," Molinaro says. "[The painting] shows how it's made."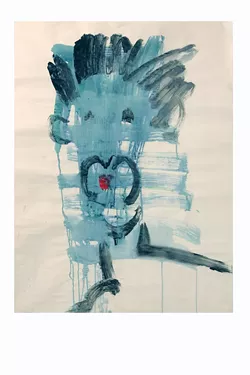 Molinaro says she doesn't go into the paintings with any set plan, taking only between 20 to 30 minutes to complete each. "There are some rejects — there definitely are," she says, but she doesn't dwell on the subject for long before showing us more paintings. "This is Gloria, she's pleased to meet you. She's a funny gal ..."
Molinaro says she tried to be spontaneous with this series, and not overly laborious. "I've done that. I can show you many, many examples of where I came from on that level," says Molinaro, who got her start at the College for Creative Studies in Detroit, where she studied painting and figure drawing before pursuing her graduate degree at Cranbrook.
"That was a tough gig, but it was fun," she says. "I had to unlearn everything that I learned." Molinaro doesn't mean for the paintings to come off as childlike, she says. "Hopefully there's a little bit more, there's a skill level that comes forward."
The paintings are presented as paper scrolls, with a wooden rod mounted on the top and bottom that is simply hung from the wall — a presentation that's just as minimal as the paintings themselves. "That's why the presentation is what it is," she says. "It's about making them very accessible. … Now this fella's called James ..."
Molinaro's philosophy is that art should be accessible to the artist's audience. "If it's not," she says, "then you got to take it all home and then you got to try again. Art is treated as a precious relic, but it's really an expression of who we are. All of us — we're all artists."
Paintings on Paper opens at 7 p.m., Saturday, May 31 at Flip, 251 W. Nine Mile Rd., Ferndale; call 248-544-1400 for more information.