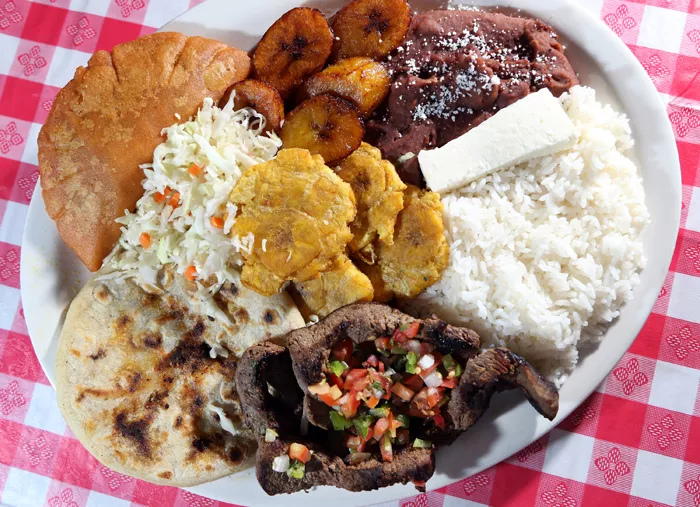 Antojitos El Catracho
7340 McGraw St., Detroit
313-399-3135
Handicap accessible
Dinners: $6-$12.49
Antojitos: $2-$5.49
Breakfast: $7-$8
Open 10 a.m.-8:30 p.m. Monday-Saturday
Why choose a Central American restaurant over a Mexican one? (Assuming, in both cases, that you're going for the real thing rather than an Americanized version. Actually, I haven't yet met an Americanized Central American restaurant. In Detroit, at least, they're all real-deal, serve-the-neighborhood places.)
Fried plantains would be reason enough. But enormous sopas with hand-made tortillas, crisp carne asada, tamales done right, and horchata are also plenty of motivation, as is your perpetual desire to broaden your horizons.
I say this as a person who's lived in Central America for months at a time, so I admit to the "taste of second home" bias.
"El Catracho" means "The Honduran." Ignore the "antojitos" (appetizers) part of the name; you'll get giant full-course meals here. It's decorated with a mural of a campesino digging rocks out of a field, a reminder of why so many felt they needed to leave and come here.
A brief lesson on plantains, which are the 10th-most important staple food in the world: The different names in different countries for varying degrees of ripeness and preparation methods are dizzying, but at El Catracho you need remember only three. Tajadas are green plantains sliced and then fried. Tostones are fried slices, pounded thinner with a wooden tostonera, and then fried again. Neither is sweet, as the fruit has not yet ripened, and though they're a ubiquitous side dish in Honduras, I find them tasting mostly like generic fried. Garlic cream is offered on the side, in one version. Platanos maduros, on the other hand, are super-sweet, a traditional breakfast dish, though you might use them as dessert. Served with black beans and crema, there's nothing like them.
Pupusas (typically Salvadoran) come stuffed with various combos of cheese, beans, and chicharron. We got ours with loroco (a vine flower ) but found the whole (large) thing pretty mild. Like many dishes here, it's served with a big heap of shredded cabbage — sometimes with a sprinkle of powdered Parmesan on top!
Better was a pastelito, the Honduran pasty, because what's not to like about crisp, fried dough encasing meat? And better still was the $2 tamal, chicken or pork — the moist, square kind steamed in a plantain leaf, not the dry cylindrical kind that's more common around here. Try a tamal this way and you won't go back.
New to me was the baleada, a street food, which our waitress described as "like a burrito but just folded over." Here it's pretty bland and contains scrambled eggs, beans, sour cream, and cheese in a flour tortilla. Hot sauce would improve it.
Those for whom the best accolade for meat is "tender" should not try Central American carne asada. Probably the steers are stringy, and being cooked within an inch of its life bumps up the chewiness factor. Here it's a thicker cut than I've had in Guatemalan restaurants, with a bit of a crust, and, in my opinion, deliciously tasty. It's served with rice and beans, of course; be sure to ask for whole beans.
Whole mojarra (tilapia) is also thoroughly cooked, its skin a dark brown. This is not a dish to eat carelessly; you must be on constant lookout for the delicate bones. I thought I tasted cilantro in the bean accompaniment.
Other dinners are fried chicken, pollo guisado (with a tomato-based sauce) and pork chops, which I would predict are not likely to fare well in the thorough-cooking regimen.
Saturday is the day to go to El Catracho, really, because that's when soup is served with thick hand-patted corn tortillas — so dissimilar to factory-made. These soups are not ones that can be tackled with just a spoon. You'll need a knife and fork, too; it's a whole meal in a big white bowl.
Beef soup contains a whole carrot, a piece of corn on the cob, yuca, a potato, and a zucchini, none of them bite-size. The beef, some of it still on the bone, is super-tender and the stock rich and sublime. I dare you to eat the whole thing.
Sopa de mondongo is made with coconut milk, a gorgeous sunshine yellow and improbably rich. I loved it, and I don't even like mondongo — tripe (with its too-soft texture and bathroom flavor). But somehow the tripe doesn't affect the flavors of the yuca, potato, and a big sweet plantain still in its skin.
Breakfast is served anytime and besides eggs can include those wonderful fried plantains or gallo pinto (spotted rooster), a Nicaraguan or Costa Rican dish made simply by combining rice with beans, aka casamiento (wedding).
El Catracho has no liquor license, but the owners are friendly and may be amenable to guests bringing their own adult beverages.