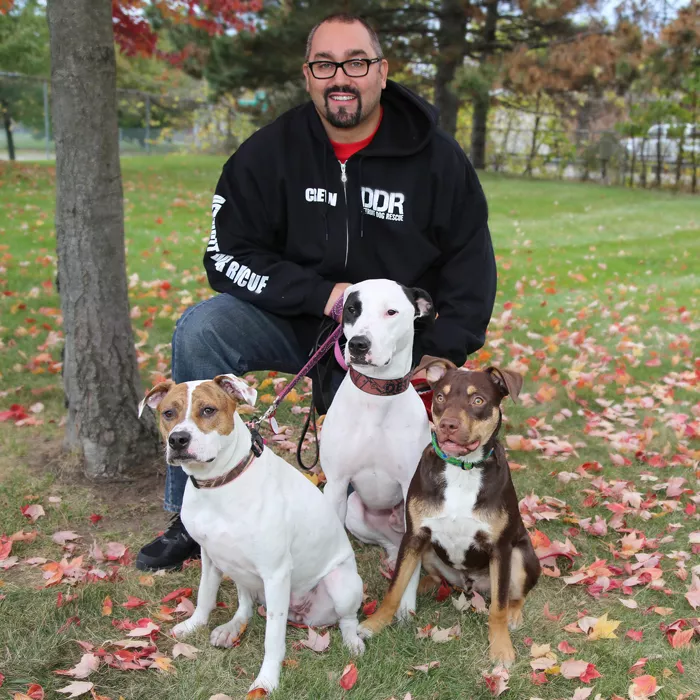 Daniel Carlisle, aka Hush, has had quite a career trajectory. After flirting with major label fame as Detroit's other white rapper (he used to perform alongside Eminem around town back in the day), Carlisle shifted gears into television. When a plan to film a show about Detroit's stray dog epidemic backfired, Carlisle took to the Internet, releasing a YouTube video that made the bold claim that Detroit's stray dog population could number as high as 50,000. The video went viral, and Carlisle was able to raise money and open the Detroit Dog Rescue, the first no-kill rescue center for dogs in the city. Carlisle explained how he got involved, what the group does, and how to help.
Metro Times: How did Detroit Dog Rescue come about?
Daniel Carlisle: I was a part of an NBC show called The Contender with Mark Burnett. One of [Burnett's] executive producers, Bruce Barrister, introduced me to producer Monica Martino. Her and I got together and started working on ideas for shows, and she came up with this idea of following the urban survival of the homeless dog in Detroit. The City of Detroit's Public Affairs office said there were 50,000 stray dogs roaming the streets.
MT: That number has since been contested, right? [Later reports put the estimate closer to 3,000.]
Carlisle: Sure. I invited it to be contested, because people thought that I was going around spreading that number. That's the number we got from the city of Detroit. You ask any person who lives in the city, and they'll tell you they've seen strays their entire life. I knew there was a large number of strays, and the number 50,000 was just used to raise awareness — it helped us raise massive amounts of awareness. At the end of the day, Monica sold the show to the Discovery Channel, but the city of Detroit wouldn't allow a film permit. From there, I said, "I can't leave these dogs that I've been watching." My job with the show was location manager — it was my job to find the strays that we were going to showcase on the show. I'd been watching these dogs for six to eight months. We were able to raise a lot of money that first year. We just started getting dogs and following the rules, and sometimes not following the rules, but learning stuff through a process.
MT: In what ways did you not follow the rules?
Carlisle: When we first started we were picking up stray dogs, but we learned that picking up stray dogs was a city job. If you don't have a contract with the city, you're not allowed to pick up a stray dog off the streets — because according to the city, stray dogs are actually property of the city of Detroit. A person is not allowed to take a dog off the street walking around without a collar on.
We were a young group. We just felt like people who had been doing it for decades had their chance to fix the problem, and they didn't. I said, "If we're going to do it, we're going to do this the right way." We sat down with the Department of Agriculture in Lansing and they laid out the rules for us. They told us we were allowed to take in owner-surrendered dogs, people who were economically depressed and couldn't afford to feed their dog or take care of their animals. We were also able to take in police or fire dogs — if a Detroit police officer raided a drug house and found four dogs in there, they could turn their dogs over to us. A lot of city officials don't really know that law, though.
MT: Does no-kill really mean no-kill?
Carlisle: We will humanely euthanize an animal if we feel like that dog is too aggressive and it has failed its temperament test and there is no sanctuary available for that animal to live out the rest of its life. We will also humanely euthanize an animal if it's on its last leg of its life in order to end its suffering, and it makes sense to do that. That's the only way we'll euthanize.
MT: How long will you keep dogs?
Carlisle: We actually had one dog for three years. It finally got adopted last month. Don't get me wrong, there's times that we are at capacity. People don't understand that. We can't take in every single dog. Imagine that! I still have to do things according to the manpower that I have. At the most, I think we had almost 50 dogs at one point.
MT: What can you tell us about Detroit Dog Rescue's new location?
Carlisle: On May 1, we opened up our first no-kill boarding center. It's called the Calvin Cash Boarding Center. It's rightfully named after Calvin Cash, who was one of the first members of Detroit Dog Rescue — he was my best friend, as well as my bodyguard during my Geffen Records days. Calvin passed away due to complications from diabetes in March of 2012. He had always said he wanted his own office. We took over a veterinary office in April of last year on the east side of Detroit that has been there for over 60 years. I bought the business from the last veterinarian, who was retiring, and we spent the next year remodeling the entire inside. A lot of people would have given up on this neighborhood — I was raised in this neighborhood. This is one of the harder hit areas of Detroit. We're just trying to do what we need to do with our dogs, to give our dogs the best chance that they could get without looking like a jail cell.
MT: Have you always had dogs as pets?
Carlisle: Yeah. I've always had more than one dog. My family has everything from a Weimaraner to an English Mastiff to a Rottweiler to a German Shepherd to a Labrador. I've rescued three dogs since I started DDR — one of of them is actually the face of DDR. His name's Petey. He's our logo.
MT: Anything else you think Metro Times readers should know about the Detroit Dog Rescue?
Carlisle: We are a nonprofit. We need donations. Anybody who feels like they need to donate, their donation is tax-exempt. That's what we rehabilitate the animals with. It also helps us keep the lights on. People can donate at detroitdogrescue.com.