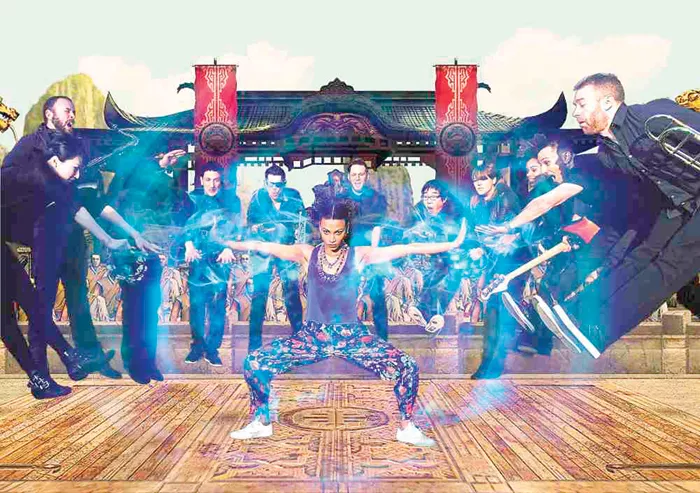 Adeline Michèle was barely 18 years old when she moved from Paris to New York, keen to see her already-active music career blossom into something bigger. That might seem like a drasticmove for a teen, but she had already been traveling extensively with a choir since the age of 6, so she was no stranger to being away from her family and home at such a young age. Still, she couldn't have predicted the success that she would later enjoy with Escort, the NYC-based new-disco group.
"My brother was in a choir, and when I was 4 years old, the goal of my life was to get into it," Michèle says. "I joined the choir when I was 5, when I was old enough to read — that was the rule. We were touring in France twice a year and then, later on, a producer picked some people from the choir for a children's group. We went on TV a lot and toured, and that was my whole childhood. The single from the group was a cover of Michael Jackson's 'Heal the World,' in French."
Thanks to a Caribbean father from the island of Martinique (where the national music is called zouk) and a generally music-loving family, Michèle picked up a wide variety of influences early on. "My parents are both big fans of reggae, so a lot of Bob Marley," she says. "My brother and sisters are much older and they gave me a huge Michael Jackson, Stevie Wonder, Whitney Houston influence. On my own, I was listening to a lot of '90s R&B that I'm still in love with. Later on, when I was developing my own sound, in my teenage years, I discovered Aretha Franklin and that changed a lot. Then I discovered Curtis Mayfield. It was a big chain, and that's what it is with artists. We never stop growing and finding new things. I get influenced by new music that comes out by people that are my age or younger than me."
Brooklyn band Escort formed in the early '00s when DJs and producers Dan Balis and Eugene Cho met in college and started making house singles together. As the project evolved, horn and string sections were added, plus backing singers and a variety of lead singers, before Michèle joined the group on a permanent basis in 2009.
"It was a project when I joined, not a band," she says. "Dan and Eugene met in college, so most of the first album was written. They had another singer, and they had different songs sung by different singers. They put the word out that they wanted to find 'the' singer to lead the band. We had a friend in common, and he put me in touch with them. As soon as I heard the music, it was what I had been waiting for without knowing it. We totally clicked very quickly."
Michèle describes the Escort sound as a combination of funk and new-disco. "In general, it's just groovy, funky, fresh, young, happy, feel-good music," she says. "It's dance music, with the extra trick of musicianship. Between me, Dan, and Eugene, the main writers, we all have our influences. I come from a lot of Motown. A lot of Chicago also — Curtis Mayfield. That's what I bring. The guys come from a DJ background, so they know all about the Detroit techno and Chicago house."
One would have to assume that there are a whole lot of influences within the Escort camp, when you consider that there are, on and off, 17 members of the band. Sort of. "That is the number that we started with when we were initially performing in New York," Michèle says. "It sort of happened by accident. When I wasn't in the band yet and after the guys put out the first single, 'Starlight,' they quickly got an offer to play a show and had to put a band together. They ended up calling everybody who had played on the record. That made a total of 17 people. When we're in New York, it's easier to have the string section and the horn section. When we travel, it's technically impossible to do that, so we have different versions of the band. No show is exactly the same."
This weekend, Escort makes its Movement Festival debut. The band is performing a live set on a bill that sees them surrounded by DJs. "It's quite exciting and flattering that we are welcome in that environment," Michèle says. "It confirms the idea that we're trying to project, that you can listen to dance music and watch people play instruments at the same time. It's a confirmation that our message is being delivered. It's good to know that we still fit in that category. Logistically it can be tough. It's just up to the festival to be ready for a band. Once the backline is there, the magic just happens. It's great."
Escort has performed in Detroit before during a North American tour, an experience that Michèle describes as "amazing." The band's profile has only grown since then, so one would expect Detroit to welcome the band back with open arms. Michèle and the boys will be doing their part.
"[We want] to put on a show as good as possible," she says. "Put these DJs to shame (I'm just kidding). Making friends with a Detroit audience is on my list of priorities for this show. We'd love to hang out and check it out as much as possible. [Last time we were here], people showed up and said that they had been waiting for us for a while. That gives me so much hope for the next one."
Escort plays the Movement Festival's Moog Stage at 6 p.m. on Monday, May 26; movement.us.