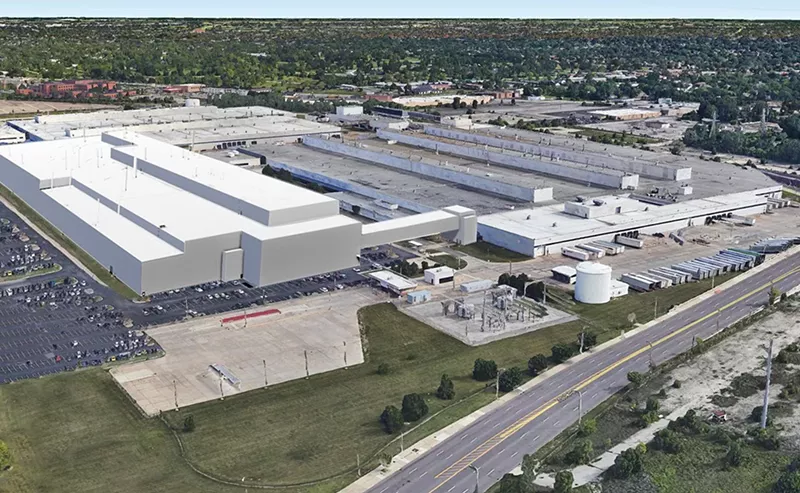 Detroit City Council on Tuesday narrowly approved a controversial land swap to make way for a new Fiat Chrysler Automobiles assembly plant.
The council voted 6-3 to support the deal, which may cost city and state taxpayers more than $270 million and enrich two billionaires, Matty Moroun and Anthony Soave. It's also aimed at creating nearly 5,000 jobs in a city with one of the highest unemployment rates in the country.
The council members who opposed the land swap were Brenda Jones, Castaneda-Lopez, and Sheffield. Those supporting it were Janee Ayres, James Tate, Roy McCalister Jr., Scott Benson, Andre L. Spivey, and Gabe Leland.
"It's not the best deal, but it's the best deal we have now," Spivey said. "We have 5,000 jobs at our doorstep. ... It will be a win-win for Detroit."
Council members who opposed the deal took issue with the FCA's refusal to guarantee that Detroiters will get a certain number of jobs. Instead, the deal says the FCA will make a "good-faith effort" to hire Detroiters after UAW workers are offered the jobs.
Jones blasted Mayor Mike Duggan's administration for its handling of the land swap, saying, "This has not been transparent. It just feels like every day I am learning something totally different about the deal."
After the meeting, Duggan hailed the land swap as "historic."
"No other city in America would have tried what we tried to do – acquire 200 acres in two months with no power of eminent domain, dealing with some of the most notoriously difficult land owners the city has," Duggan said.
"Today was historic."

4,950 good-paying jobs are coming to Detroit, and Detroiters will get to apply early for jobs. Special hiring consideration will also be given to returning citizens & veterans.

Learn more about Fiat Chrysler jobs at @DetroitAtWork: https://t.co/cwsh4ywHHM pic.twitter.com/JWNegTKnAT

— Mayor Mike Duggan (@MayorMikeDuggan) May 21, 2019
Under the deal, the city will turn over 215 acres of land to the automaker to invest $2.5 billion in the assembly plant. To assemble the property, the city is swapping land with several developers.
The most controversial part of the plan involves Moroun, who would receive $43.5 million in cash and 117 acres of land. In turn, Moroun's company, Crown Enterprises, will give the city 82 acres of his property that is needed to build the plant. In addition, Moroun will receive another $15 million from the city and $6 million from the state if some of the land in the I-94 industrial area can't be transferred to his company.
Some of the property that Moroun will receive is prime real estate in southwest Detroit and 43.5 acres across the street from the Detroit City Airport.
Castaneda-Lopez said she "can't commit ethically or morally" to a land swap with Moroun, whom she accused of "illegally" occupying property and blocking streets in southwest Detroit.
Another beneficiary in the land swap is Soave, one of the biggest contributors to Mayor Mike Duggan's campaign. Soave stands to receive more than 30 acres in return for roughly 8.5 acres.
As Duggan's administration negotiated behind closed doors with Fiat Chysler, a company connected to Soave purchased land adjacent to the site. Soave's Fodale Group & Associates paid just $60,000 each
for contaminated former dumps
owned by Republic Services at 12001 and 12017 Mack Avenue, according to city and county property records. The deal was sealed on Nov. 7, just one month before news finally broke about the FCA's plans to open the assembly plant.
Soave is trading those contaminated parcels, which will be turned into parking lots, for 72 clean parcels in the area of Van Dyke Street and Lynch Road for a new development.
The city insists the timing was coincidental. Neither Soave nor his public relations firm would answer questions from
Metro Times
.
Soave has a checkered past. He admitted giving then-Mayor Kwame Kilpatrick about $400,000 worth of private flights and a Rolex watch while getting lucrative contracts from the city, according to court records, but he was never prosecuted. In August 2017, a construction crew working on his mixed-use development in Corktown damaged the UFO Factory, a music venue surrounded by his construction project, prompting some to claim it was intentional.
Soave has a long history with the mayor that dates back to when Duggan was a deputy county executive. Soave donated more than $9,000 to Duggan's mayoral campaign, and Yale Levin, the vice president of Soave Enterprises, contributed another $7,800 to the mayor.
Opponents of the land swap have pledged to launch a petition drive to recall council members who supported the deal, questioning whether they've learned anything from similar deals that fizzled. The most recent example is the more than $200 million in tax subsidies to the Ilitch family for the Red Wings arena. The Ilitches have so far failed to follow through on their pledge to create pocket neighborhoods and renovate large abandoned apartments that remain an eyesore.

Stay on top of Detroit news and views. Sign up for our weekly issue newsletter delivered each Wednesday.