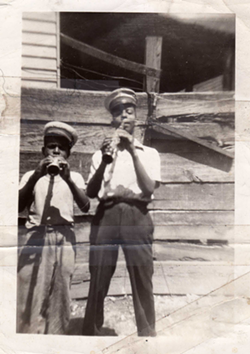 Grass Is Greener
, hip-hop legend Fab 5 Freddy's Netflix marijuana documentary, has a special treat for Detroit area jazz fans. The film documents the history of marijuana prohibition and culture, with an emphasis on music.
Early in the film, Freddy pinpoints the emergence of jazz and its association with marijuana. That's where Charlie Gabriel, the 86-year-old jazz reed man (and my cousin), is featured. Gabriel admits to have been smoking marijuana for 70 years, the majority of the prohibition era. That makes him more experienced with the weed than the array of longtime smokers such as Snoop Dogg, Killer Mike, and Kermit Ruffins, another New Orleans jazz icon.
Although Gabriel lived most of his life in Detroit, he was born in New Orleans and has lived there and worked in the Preservation Hall Jazz Band the past 10 years.
In the course of the interview Gabriel hits a blunt on camera — something he wouldn't have dared to do 10 years ago. I've been smoking with him for the past 40 years and I know he's always been discreet. Having the ability to be open about your lifestyle makes the grass a little greener for everybody.
Legal vs. black market:
This is one of those ironies that show just how weird things can be. Now that marijuana is legal in Michigan the Marihuana and Tobacco Investigation Section, a special state police unit, is preparing to crack down on black market marijuana — that is, commercially grown marijuana that did not originate in the legal licensed system. They just have to keep the party going.
Marijuana has traditionally been a black market industry fraught with danger. Things may not be changing as much as we think.

It's a new era for marijuana in Michigan. Sign up for our weekly weed newsletter, delivered every Tuesday at 4:20 p.m.