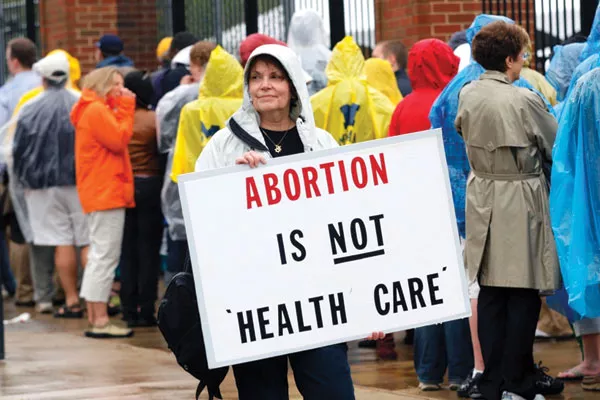 Last week, Michigan's Republican-controlled Legislature passed a measure banning insurance coverage for elective abortion. Under the initiative, private and public health insurance plans are forced to provide a separate policy covering abortions, and would have to be purchased in advance; they could not be purchased once a woman had already become pregnant — even in cases of miscarriage, incest or rape.
"Republicans have given me a lot of grief about calling it rape insurance, but that's exactly what it is," Michigan Senate Majority Leader Gretchen Whitmer, a Democrat, said in response to the legislation. Even Gov. Rick Snyder, a pro-life supporter, had twice previously vetoed similar measures because of concerns about the overreach of the abortion language in regard to cases of rape.
This year, however the anti-abortion group Right to Life of Michigan was able to reintroduce the bill by collecting more than 300,000 signatures on a petition to force another vote. The bill first passed in the state Senate on a 27-11 vote and then won passage in the state House 62-47. Under Michigan's constitution, the legislation is able to become law after passing both chambers of the Legislature without the governor's signature.
Opponents argue that the way the legislation was passed circumvents the democratic process and those 300,000 petition signatures make up less than 5 percent of the state's voters. Whitmer denounced the legislation, saying, "The Republican male majority continues to ignorantly and unnecessarily weigh in on important women's health issues which they know nothing about," and called it 'a special interest group's perverted dream come true,'" according to the Detroit Free Press.
"The fact that women are required to plan in advance to have an abortion," Whitmer said, "tells women who are raped … that they should have thought ahead and bought special insurance for it."
In an emotional debate before the vote, Whitmer went to the mat in an effort to stop the passage, going so far as to reveal that she had been a victim of rape two decades earlier.
She later said she shared her own story to show, "… my Republican colleagues … the face of the women they're hurting with their actions today."
Whitmer added, "Thank God I didn't get pregnant as the result of my own attack, but I can't even begin to imagine now having to think about the same thing happening to my own daughters."
In defense of the legislation, Republicans claim it protects taxpayers and anti-abortion insurance policyholders from subsidizing abortions. "I don't think elective abortion should be a part of insurance," said state Rep. Nancy Jenkins, R-Dover Township according to the Free Press. "This doesn't affect access to abortion. It will still be legal when this law takes effect. Who should be required to pay? Not Michigan taxpayers."
Reaction to the Legislature's insurance rider mandate rippled across the country as was reflected through major newspaper coverage, including the New York Times and the Los Angeles Times, as well as website coverage, including the headline from a Dec. 12 story on Salon.com: "Michigan Passes Despicable 'Rape Insurance' Law"; cable news was also buzzing on the heels of the law's passage.
Writing for the L.A. Times, journalist Robin Abcarian said, "Now, just in time for Christmas, the Republicans of Michigan have handed Democrats and reproductive rights advocates the invaluable gift of 'rape insurance.' Well done, GOP. Now try living that one down."
Susan Milligan, writing an opinion piece for U.S. News and World Report, honed in on the sham excuse of cost-savings that many GOP legislators held onto in an effort to deflect criticism.
Milligan said, in part, "What makes the Michigan law so hateful and misogynist is that it has little to do with actual cost; abortions don't cost as much as chemotherapy and tumor-removal surgery. It's about shaming women, insisting that they brand themselves with a big scarlet letter A on themselves to show they think they may be just the sort of irresponsible whores who might need abortion access at some point."
–Lee DeVito and Bryan Gottlieb