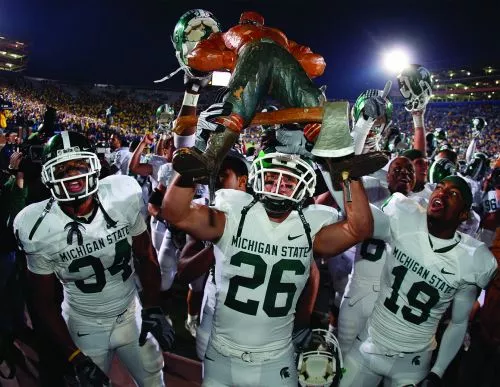 In honor of the Michigan-Michigan State game this weekend, I'm going to take a look at what the rivalry is, isn't, and maybe what it should be. Because come Saturday, you're either a Wolverine or a Spartan.
First of all, Michigan State seems to have this deep-seated hatred for Michigan. Why, you might ask? It likely stems from decades of domination (I know, not recently), the Wolverines' superiority complex (again, not entirely unjustified), but also a guy named Michael Hart. You all remember what he said after Michigan's 2007 victory over Michigan State.
What was it he called Michigan State?
Oh yeah. "Little brother."
It seems like you can't talk about the rivalry without hearing either a Michigan fan mocking Michigan State by calling them "little brother," or a Spartans fan sarcastically saying "oh, we're the little brother? Well then why have we won four of the last five years?"
Which is a valid point. Michigan State has dominated the rivalry as of late. Despite last season, when the Wolverines won in a defensive struggle, the Spartans haven't been little brother at all — or a more athletic, better coached little brother. When all is said and done though, Michigan does lead the all-time series 68-32-5; that's domination if I've ever seen it.
There's no doubt that winning the Paul Bunyan Trophy (the prize for the game's winner every season) is a big deal. Whether you currently live in Michigan, used to live in Michigan, went to school in Michigan, or even have family in Michigan, you likely have picked a side. Even if you're one of those people that say you don't care who wins and you don't even like football, you know deep down inside you have a choice.
It's great to have such passionate fans: it keeps the rivalry alive and makes the once-a-year game that much more fun. But there shouldn't be such hatred. It seems that Michigan State fans' abhorrence goes much deeper compared to Michigan fans'. That's because a true Maize and Blue supporter — not your typical Walmart Wolverine or bandwagon fan who comes out once a year to talk trash to the Spartan faithful — really only detests Ohio State and Notre Dame.
Sure, Michigan State has plenty of "rivalries," but whether it's the Penn State rivalry where the winner gets the Land Grant Trophy, or the Indiana game where the winner gets the Old Brass Spittoon, these don't hold the prestige of "the Wolverines vs. the Buckeyes."
And despite each side's inconsistent viewpoint of the significance of the rivalry, there's a bigger issue here. For example: when Michigan's weekend score gets flashed across the board in Spartan Stadium, the crowd erupts if the Wolverines are losing, no matter who they're playing. It's the same at the Big House.
What people don't understand — shockingly, not everyone is a rational, thoughtful fan — is that Michigan and Michigan State are in this together (maybe, even Ohio State, too). The Big Ten has a reputation in the national landscape as being pretty weak during the past few years. It isn't a false reputation either — the last Big Ten team to win a national championship was Ohio State in 2002. When the Big Ten looks weak, every team in the conference looks weak.
Obviously when the Michigan-Michigan State game comes around every year, you'll vehemently cheer for whatever side you like — usually entailing a decent amount of trash talking. If the Wolverines and Spartans were vying for a ranking in the Big Ten standings, then you'd be similarly justified in rooting for one side or the other. But there's a difference between cheering for your own team and scorning another.
If Michigan or Michigan State win nationally, the other ultimately wins too — respect. So, while you're feverishly hoping for a Michigan loss, let's say against South Carolina (the SEC is the real rival here), or a Michigan State loss, know that you're wrong. Even if you "hate" the other side, the Big Ten needs to stand together. So while you smack talk the "bad guys" this weekend, know that it should be a one-time event.
Michael Laurila writes about sports for Metro Times. Send comments to [email protected]