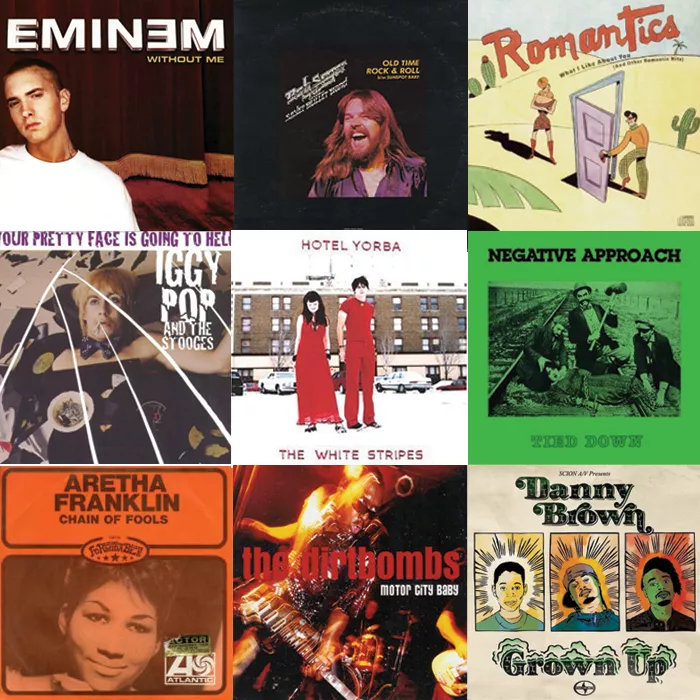 Eminem, "Without Me"
From 2002's The Eminem Show, this tune is a perfect example of Mathers' biting wit, tongue firmly in cheek (even if it happens to be somebody else's cheek). "We need a little controversy, 'cause it feels so empty without me," he sings. He's right too.
Bob Seger, "Old Time Rock and Roll"
From '78s Stranger in Town, this song doesn't bother to build. It jumps straight into a high tempo and never lets up. Seger's husky voice sounds alive, and the band is spot-on.
MC5, "Over and Over"
Yeah, you might have expected "Kick Out the Jams," but, to us, "Over and Over" is the ultimate MC5 jam. From that opening little guitar jingle to the killer riffing and the screeching vocals, this evangelical-esque rock 'n' roll is why the band is remembered so fondly.
Marvin Gaye, "Inner City Blues (Make Me Wanna Holler)"
A deeper cut from What's Going On. The lyrics are as important today as they were in 1971. "Money, we make it; before we see it, they take it," he sings. We can all relate.
Aretha Franklin, "Chain of Fools"
Maybe "Respect" would be the more obvious choice, but the smooth charm of "Chain of Fools" gets us every time. Franklin won a couple of Grammys with it, and Rolling Stone ranked it at no. 249 in a 2004 list of the 500 greatest songs of all time.
The Stooges, "Your Pretty Face is Going to Hell"
These days, it's cooler to side with songs from The Stooges and Fun House, but this manic rabid tune from Raw Power gets our vote. "Search and Destroy" might have the pop hook, but this one has all the anger.
John Lee Hooker, "The Motor City is Burning"
Classic blues from Hooker, who describes Detroit as burning "worser than Vietnam." Never a better description of the '67 riots will you find. "Fire bombs bursting all around me, and soldiers was everywhere." Terrifyingly vivid.
Destroy All Monsters, "Bored"
Dirge, sludge, nihilism — Niagara brings it all with her post-punk outfit, featuring the Stooges' Ron Asheton and the MC5's Mike Davis. A song about being bored that's anything but boring.
The Romantics, "What I Like About You"
One staffer's child has a toy guitar that, if you press enough buttons, will play an instrumental version of this song. A classic power-pop jam that's wound its way down into our pop-culture subconscious.
Negative Approach, "Nothing"
From 1983's Tied Down, "Nothing" is probably the most radio-friendly song in NA's hardcore arsenal. (OK, it's not really radio-friendly at all but, you know, it's all relative.) "Life's never fucking given nothing to me," growls Brannon. Hey, you're on our mixtape. That's something.
Marshall Crenshaw, "Live and Learn"
A fairly recent tune from Cranshaw's catalog, this incredible pop song was the closer on 2009's Jaggedland. The thing just builds and builds to a chorus that will give you goosebumps. One of metro Detroit's greatest (ever) pop songwriters.
Mitch Ryder & the Detroit Wheels, "Little Latin Lupe Lu"
Though originally recorded by the Righteous Brothers (and later by the Kingsmen), but most Detroiters will tell you that Ryder recorded the ultimate version. His rock 'n' soul voice just did justice to Bill Medley's party lyrics.
The White Stripes, "Hotel Yorba"
The real Hotel Yorba probably wouldn't get three stars from the Michelin Guide. There's certainly no spa or any sort of room service, but it did inspire this old-timey gem from Jack and Meg, and for that we are eternally grateful.
The Dirtbombs, "Motor City Baby"
From 2003's Dangerous Magical Noise. Little Steven played this single on his Underground Garage radio show — and with good reason. Right in the middle of the Detroit garage explosion, Mick Collins wrote the ultimate anthem.
Slum Village, "Dope Man"
J Dilla and his boys had the smartest lyrics and the sharpest wit of perhaps all of the Detroit rappers. Though Dilla died in 2006, this 2009 record featured a posthumous performance, and it works as a vivid description of Detroit's mean streets.
Derrick May (as Rhythim is Rhthim), "Strings of Life"
Perhaps the most well-known song in May's extensive repertoire, "Strings of Life" was based on a piano tune. A delicate piece of ambient electronica that proves he's capable of more than traditional techno.
Yusef Lateef, "Morning"
From the 1957 album Jazz Mood, "Morning" is exactly the sort of thing you want to hear when you first wake up. With fellow Detroiter Curtis Fuller on trombone, Lateef conjures up an eerily relaxing soundscape.
Danny Brown, "Grown Up"
Danny Brown should be the next big thing from Detroit. His Old was the 2013 Metro Times Album of the Year, and he has the most unusual hip-hop voice since Busta Rhymes. This single is simply the shit.
Dale Earnhardt Jr. Jr., "If You Didn't See Me (Then You Weren't on the Dancefloor)"
One of the buzziest buzz bands to have emerged from Detroit in recent years, DEjj has been spotted on major festival bills up and down the country, and this disco-pop-rock future classic showcases exactly why.
DJ Assault, "Ass and Titties"
We couldn't resist. After all of that seriously great music, you're going to need some T&A. DJ Assault raps about skanky bitches who need a wash with soap and water before, you know, getting skanky with our anti-hero. Makes ICP sound like Oscar Wilde.