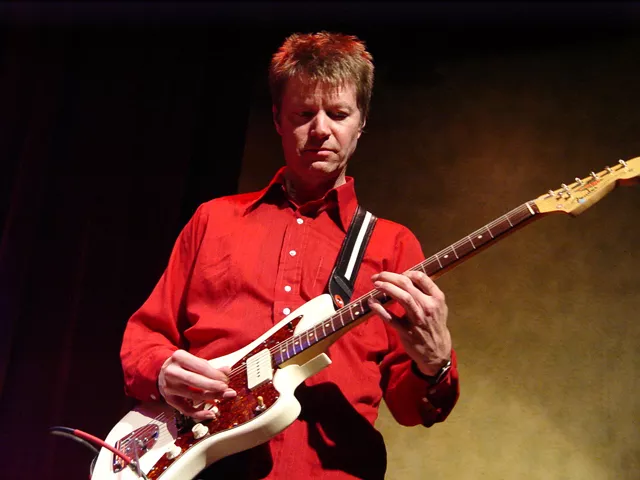 If you'd followed Nels Cline pre-Wilco, you had no fear that joining one of the top acts in rock a few years back was going to be a stifling sell-out. Wilco, one assumed, really wanted him for his wild musical soul, and no doubt he'd to some extent keep up his affiliations with artists and scenes from out-jazz to out-folk to just plain out there. After all, he'd recorded early with out-jazz notables Vinny Golia and Julius Hemphill, toured with Mike Watt's post-Minutemen combos, tipped his hat to the great John Coltrane-Rashid Ali duets, etc. Surely, these and his Nels Cline Singers — his instrumental trio — would continue as side projects. And they have.
Unexpected, though, is the prodigious side-project output in the last year, all the while being integral to Wilco in the studio (master of the controlled burn, Mr. Little Stab'll Do Ya) and in the live shows (where the band is expansively improvisational and he's truly in his element).
The high point of the year is Dirty Baby (Cryptogramophone), one of the year's best discs, a collaboration with painter Ed Ruscha and poet David Breskin. Onstage Breskin has read while two series of Ruchca's paintings — one of (mostly) ominous silhouettes, the other brutally elemental bars of color — were projected and Cline performed. The Cryptogramophone package — which includes jewel-box size reproductions of the paintings, but not the poems — works on its own terms. The image-based disc unfolds like a large-ensemble six-part soundtrack concerto for Cline, from charmingly folk-rockish to jazz-rock grunge. Disc 2 is an amazing collection of 33 miniatures, each tied to a specific image, covering the same musical range as Disc 1 but with a wholly different feel. (The music is also available is a deluxe, $70 hard-cover book edition from Prestel that includes two additional CDs of Breskin's recitations of his poems.)
Cline's longstanding trio, the Nels Cline Singers, is at its most ambitious on Initiate, a double CD, one live and one studio, both the first with producer David Breskin (also the poet above) who amps up what has always been a loud band. The music ranges from allusions to more traditional jazz guitarists of the Jim Hall school, and seeming nods to Jeff Beck and Pat Metheny ... on to post-Sonny Sharrock and John McLaughlin solar flares — in myriad shadings. Biggest surprises: A live cover of Weather Report's "Boogie Woogie Waltz" (that works backward from variation to theme) and a Santana-ish raveup, "King Queen," in the studio.
But there's more. The eponymous The Celestial Septet (Nonesuch), teams the Rova Saxophone Quartet and the Singers. What it doesn't sound like is Rova plus a rhythm section, or the Singers plus a horn section. What it does sound like is the core approach of the Rova melded with the more free-jazz leanings of the Singers.
Odd and amazing is the DVD Stained Radiance (Green Leaf Music), Cline's collaboration with the L.A. painter Norton Wisdom. Painting to live music is old hat — and Wisdom's long known for it in L.A. — but he makes the improvisatory nature of the undertaking clear by working on backlit plastic sheets on which paint never dries; it's ever malleable to brushes, fingers, hands ... imagine dream-like transformations with an illuminations akin to stained glass. It's a visual-musical "moving now."
Wadada Leo Smith's stellar Spiritual Dimensions (Cuneiform) is the disc where Cline is least prominent, appearing on just one of the set's two disc, and then as one three howling guitarists (alongside Brandon Ross, Michael Gregory and Lamar Smith). But it says much about Cline's collaborative spirit. Smith is one of the elders of the Association for the Advancement of Creative Musicians, a fellow traveler with the aforementioned Julius Hemphill. Disc 1 recorded in the studio features Smith's Golden Quintet — with keyboardist Vijay Iyer, fellow AACM member Don Moye on drums and (former Detroiters) John Lindberg on bass and Pheroaan AkLaff on drums — while Disc 2 adds the electrical storm of the guitarists.
A complete survey of recent Cline discs would also include, at least, Mike Watt's quartet disc Floored by Four (Chimera Music) and I Never Meta Guitar (Solo Guitars For The XXI Century) (Clean Feed Records), curated by Elliott Sharp and including solos from Cline alongside Sharp, Henry Kaiser, Scott Fields, the aforementioned Ross and Gregory and more. And perhaps another time we can get them.
But until then, imagine how productive Cline could be if it weren't for the Wilco gig?