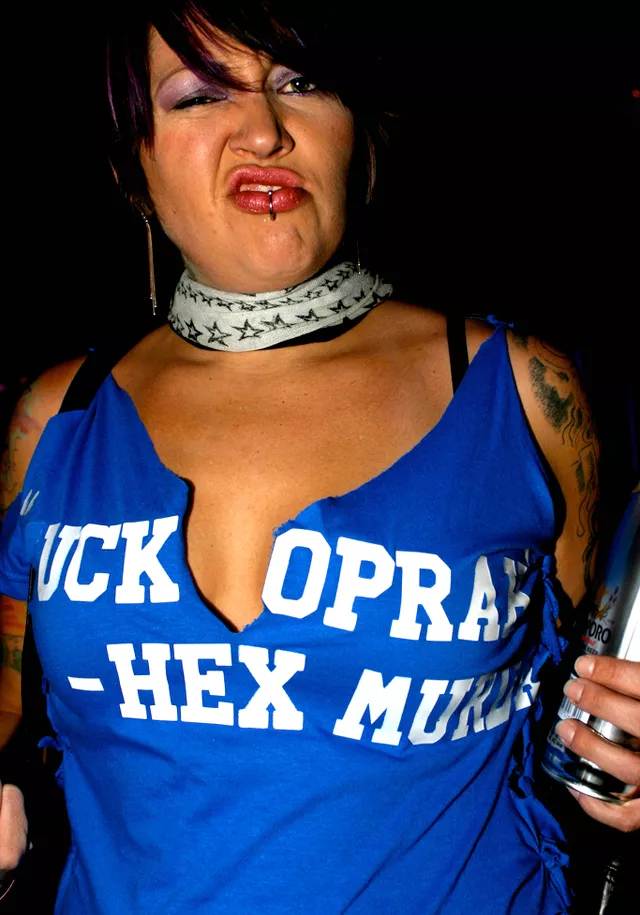 With the Pistons and Lions off to abysmal starts this season, sports fans in Detroit probably think the Red Wings are their only shot at cheering on a winning team. That might be the case now, but with roller derby season set to kick off locally in two weeks, there's another crew of hard-skating athletes around these parts to raise hopes of victory. If you didn't already know, roller derby in metro Detroit is becoming so popular that it's moving this season from the 1,000-capacity Masonic Temple to Cobo. The league's success undeniably owes some debt to one of the city's most high-profile derby divas, Kyle Kentala, who skates under the name Black Eyed Skeez. If you're wondering, yes, this is the same tough-lovely and tatted Black Eyed Skeez who repped Detroit hard in Drew Barrymore's 2008 film Whip It, which shined a big spotlight on roller derby culture in these parts. Interestingly enough, the hard-bruising badass who skates with the D-Funk Allstars not only drops wicked elbows in the rink but also drops choice records in the club as well.
For the past three years, Kentala has been DJing parties and lounges around the city under the name DJ Skeez, building up a solid rep as a selector with 'tude, style and a good enough ear to satisfy crowds in jiggle joints and late soirees. When she's not getting down at the 5E Gallery or backing up the Conglomerate DJs on Wednesday nights at Lucky's, you can catch her every Friday night at Crazy Horse (yes, the strip club), spinning the songs to get the hips swinging and billfolds opening. So we say it's a good time to check in and see what's up being a DJ for the nude and rude but also what she's most looking forward to as roller derby season is set to start rolling.
Metro Times: Where does the name Black Eyed Skeez come from?
Kyle Kentala: When coming up with a name [for roller derby] I instantly looked toward hip hop. "Assaultin' Pepa" and "Notorious RIP/Biggie Mauls" were some of my favorites that were already in use. My style of play is pretty bruising, and when a friend on Okayplayer.com suggested Black Eyed Skeez, I ran with it.
MT: What can you share about the weekly Conglomerate DJ parties that you're now a part of?
Kentala: It's so awesome. It's Ya Big Dog Blast, DJ Don Q, DJ Polo, DJ Fingerz, etc., and I'm so honored to be the only female DJ on a roster of about 20 of the top club, radio and strip club DJs in the city. It's a free event at Lucky's every Wednesday night, and a great party and networking event for managers, artists, DJs and promoters.
MT: What song seems to be the biggest moneymaker for dancers at Crazy Horse right now?
Kentala: Hands down, "No Hands" by Waka Flaka featuring Wale and Roscoe Dash.
MT: What are your top three songs to spin right now, regardless of setting?
Kentala: Oooh, that's a tough one. I'd say one, "Black and Brown" by Black Milk and Danny Brown. Danny's verse is bananas. Two is "Hood Pass Intact" — Dam Funk is killing modern funk right now — and three, "The Rain" by Oran "Juice" Jones. Had to throw a classic in there.
MT: For someone who's never been to a roller derby match, what's the biggest thing that will blow their minds?
Kentala: I think our generation probably remembers that '70s and '80s roller derby, hitting-people-with-chairs shit. It's a physical game, but it's changed a lot. It's a real sport. All the hits are real, all the falls are real, all the broken bones are real. Our crowds are super-diverse. The ticket prices are $15 for a double-header and kids are free. It's affordable — and way different than most people expect.
For more skating info, see detroitrollerderby.com.