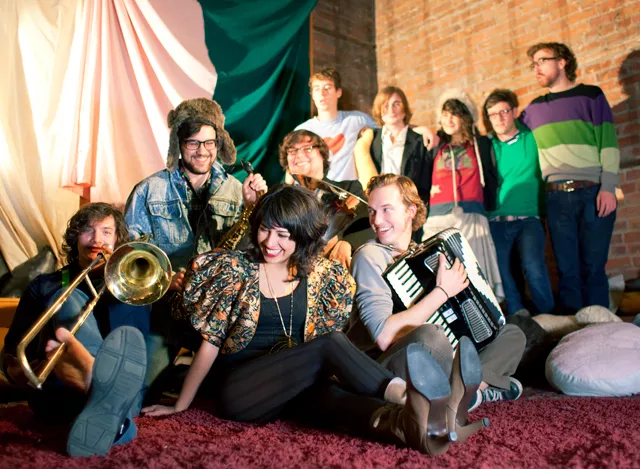 Jessica Hernandez is small-framed and soft-spoken, but she can belt out a chorus in a trill that's easily twice her size — and it's sharp, soulful and bluesy. You can hear it on her new Eric Hoegemeyer and Ben West-produced EP Weird Looking Women in Too Many Clothes. Its sound speaks volumes.
"There's something that I felt like I had to prove," the pianist-songwriter says of her new recording, "by writing it myself." Hernandez is just minutes away from a photo shoot where her friends will huddle together on a recently built stage in the loft above her parents' Mexicantown bakery.
A year-and-a-half ago, the 23-year-old Hernandez was completely unknown in Motor City music circles. Now her and her band's rep is quickly rising well beyond the 313.
Here's some backstory: Hernandez was raised in the greater Detroit area, attended local high school — with a junior year stint in a military school. She soon began to move around, first for college in Chicago, then to Kansas City and back to Chicago again. In the meantime, about three years ago, Hernandez began learning to play. She had sung in high school but quit the chorus with a "screw you" attitude, a move she now regrets. She sang in a couple bands while attending college in Chicago, but nothing serious. She dropped out of school and saved money for a piano and guitar, and started developing the tunes that would become this new EP.
She returned to Detroit "just to visit," and then to perhaps move elsewhere. Instead she "fell in love" with the area music scene and stayed. She performed a large local fest here last year, acquired a band of skilled players, and toured to two prominent national fests, SXSW in Texas and Bonaroo in Tennessee.
Her band the Deltas (guitar-accordion player Nick Maher, bassist Gjon Gjavelini, drummer Dave Vaughn and sometime brass players John Raleeh and Jake Shadik) just "happened, randomly," she says.
Random or not, there's a lot expected with a name like the Deltas, but they connect the more jazz-inflected style of Kansas City to the more rock 'n' roll blues of Chicago, and they're tight live — their chemistry is alluring.
The EP's songs go from a zesty blues march, to minimalist eerie folk, to driving pop-rock. These were her songs and she opened them and herself up to the group for their interpretations. They went through further transformations when she paired with Hoegemeyer and West. "All of these songs are part of my process of becoming a songwriter," she says. "So, they're hodge-podge and maybe make no sense together at all, but, that's how I'm starting out right now. Even if it doesn't make sense to anyone else, they'll make sense to me."
She says the Deltas are sensitive toward the songs, and helping establishing Hernandez as a songwriter. "I actually don't wanna write the next one on my own. I have a group of guys I really like working with and really trust." The forthcoming LP, Cutting the Talon Off a Dead Owl, deals more in balladry, these "eerie" sounding songs she wrote after resettling in Detroit last fall (when she "didn't really have any friends").
Hernandez is also involved in Detroit SOUP, a popular micro-grant funding supper club (set in the loft above the bakery). If her newer songs are more "upbeat" and poppy, they must reflect her mood. That and the "camaraderie" she shares with her new collaborators through the Deltas and SOUP.
Jessica Hernandez & the Deltas EP release show, Saturday, Nov. 27, at the Bakery Loft, 4303 W. Vernor Hwy., Detroit; Jessicahernandez.net; wsg. Prussia, Aphasiacs, Pat Jordache Mountain Man, Black Vatican; art installation by Kate Daughdrill; $10 includes food catered by Armando's.