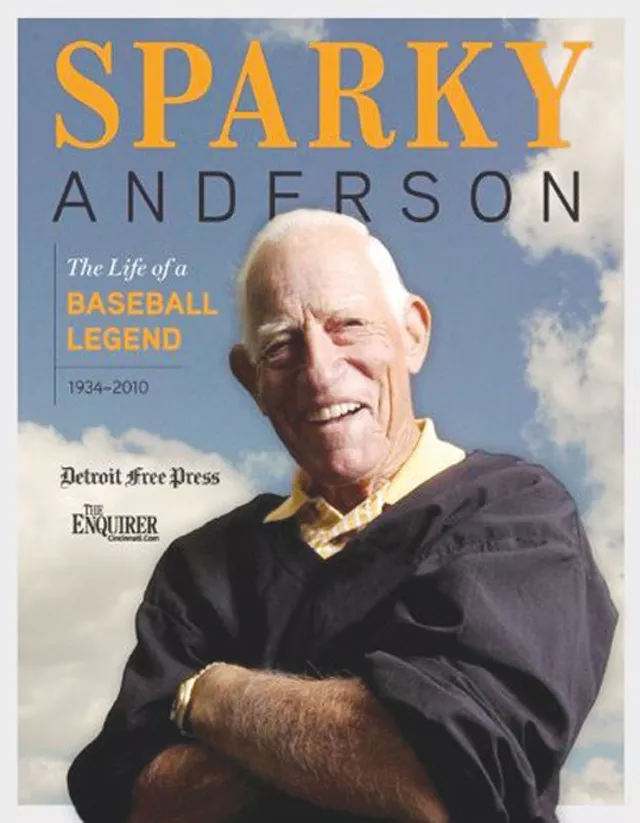 For the last several years, we've been rounding up books related to our region, marveling at the amount and variety of books about Michigan and Detroit, waiting to see if and when the trend would crest. We're still waiting, as the books just keep rolling off the presses. All this is good news for area bookworms, and especially, this time of year, for those trying to think up a good gift for them.
Selections abound for those with an interest in local history. Some of them we've reviewed in detail before, including Richard Bak's Boneyards: Detroit Under Ground (Wayne State University Press, $35), or Dan Austin and Sean Doerr's Lost Detroit: Stories Behind the Motor City's Majestic Ruins (The History Press, $25), both excellent books that are thoughtful meditations on what we've lost, whether it be buildings or people. But most of the selections in this genre are more upbeat, including the usual appealing offering of books from Arcadia Publishing's Images of America series, all $22. This year's Arcadia offerings include Michigan State Fair, Pontiac, Royal Oak, Warren, Detroit Television and Grosse Pointe War Memorial. Local history buff Gary Flinn has compiled Remembering Flint, Michigan: Stories from the Vehicle City (The History Press, $20), which should warm the hearts of people who remember Flint back in the day (or wish they could). But when it comes to the literary spotlight, we have two (count 'em: two) books about Hamtramck this year, both by local newspaper editor and one-man historical publishing enterprise Greg Kowalski. In addition to a volume comparing old and new photos for Arcadia's Then & Now series, Hamtramck, he has also published Wicked Hamtramck: Lust Liquor and Lead (The History Press, $20), showing just what a wide-open town it could be, with gangsters, speakeasies, painted women and — gasp! — union organizers!
Vernacular historian John Kossik has self-published an interesting book entitled 63 Alfred Street: Where Capitalism Failed (CreateSpace, $15). A spirited, independent researcher, Kossik's fascination with a decaying manse on Alfred Street led him to eventually write this book, a surprisingly exhaustive examination of the many lives that have passed through the building, and with a narrative that stretches literally from here to halfway around the world. Though the grammar and spelling are a bit erratic, the story of how we have almost lost another building comes through loud and clear.
Also in the spirit of what we've lost is a handsome, albeit pricey, volume of photographs from Andrew Moore, entitled Detroit Disassembled (Damiani, $750 hardcover). Weighing in at almost 10 pounds, this tome's photographs show a city being slowly recaptured by nature. Is it "ruin porn"? It's hard to define when we've crossed the line into exploitation, but Moore's work has enough beauty in it to give the benefit of the doubt.
The city's woes get a less dramatic but much more reasoned examination in a new book by local journalist and architecture critic John Gallagher in Reimagining Detroit: Opportunities for Redefining an American City (Painted Turtle, $20 paperback). To say Gallagher is familiar with the issues and history at play here is a colossal understatement, and this slim, 166-page book should be required reading for anybody wanting to learn more about Detroit's daunting problems.
The city's rich and acrimonious history of labor and race relations didn't get short shrift this year. Steve Babson, Dave Riddle and David Elsila gave us The Color of Law: Ernie Goodman, Detroit and the Struggle for Labor and Civil Rights (WSU Press, $25), a real-life portrait of the heroic attorney who defended sit-down strikers and militant anti-poverty activists, among others, in a career spanning the Depression, the Red Scare and more.
Of course, it ain't all politics. Gearheads should enjoy Steve Lehto's book, Chrysler's Turbine Car: The Rise and Fall of Detroit's Coolest Creation (Chicago Review Press, $25), a look at Chrysler's unusual attempt to create a hybrid of the automobile and jet. The cars contained one-fifth the number of moving parts of a typical car, and they could be powered by any flammable liquid, including kerosene, alcohol, tequila — even on Chanel No. 5. If that's too fine-tuned for the car enthusiast in your life, consider Robert Genat's Woodward Avenue: Cruising the Legendary Strip (Car Tech, $35), which explores the strip's golden age of the 1950s and '60s, back when it seemed that Big Three engineers were gearing their new designs just for traffic light races on our main drag.
Also published this year were a few books about Detroit punk that we've reviewed before — including Tony Rettman's Why Be Something That You're Not: Detroit Hardcore 1979-1985 (Revelation Records, $16) and Touch and Go: The Complete Hardcore Punk Zine '79-'83 (Bazillion Points Books, $30) — but if you know any old habitués of the Graystone or Freezer, these books are perfect for stuffing that combat boot nailed over the fireplace. And if their musical perspective (or interests) go back a decade further, there's the fabulous Blues in Black and White: The Landmark Ann Arbor Blues Festivals as Photographed by Stanley Livingston, with text and a history of America's first large-scale, all-blues fest by Michael Erlewine (University of Michigan Press, $29.95).
When all else fails, there's always sports, right? Jim Hawkins' new hardcover, Al Kaline: The Biography of a Tigers Icon (Triumph Books, $25) ought to summon glad old memories of Tiger Stadium. For classic Red Wings fans, it will be hard to beat Tough Guy: My Life on the Edge (Triumph Books, $25), the book Bob Probert was working on when he died this summer. Another Detroit sports casualty, Sparky Anderson, gets his due in a book scheduled for publication this week, Sparky: The Life of a Baseball Legend (Triumph Books, $15), jointly published by the Detroit Free Press and the Cincinnati Enquirer.
What if the Detroit-lover in your life simply doesn't read? No problem! There's a nifty 2011 calendar called Hudson's: Detroit's Legendary Department Store (Arcadia Publishing, $15), featuring a dozen beautiful, historical photographs of the much-loved and now long-gone department store.