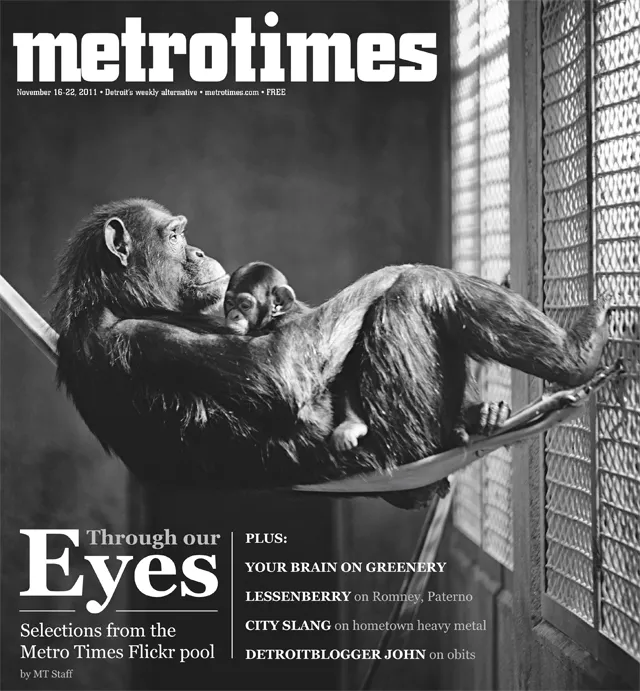 When we began the Flickr pool Motor City Seen and invited local shutter bugs to contribute, we knew it was an experiment. That it's still picking up steam nearly three years on with more than 4,000 contributions from more than 200 contributors tells us that it's a success and a worthy successor to the paper's photo contests of years past. So here's a selection of some of the best — and there's a larger portfolio online. And, to put it mildly, the high quality overall made selection difficult. The sheer variety of the collection is amazing also, and as in the Detroit Revealed show currently at the DIA, Motor City Seen is far more than the "ruin porn" that too often represents the city. —Justin Rose, design director
"Mesmerize"
This was taken in Detroit, from the rooftop of the Fisher body building. It was just a glorious sunrise with some real nice fog hovering over the city. And, as the sun came up, the fog started to burn off and created a nice haze that I tried to capture.
"Duty"
This was taken in front of the Detroit Fire Headquarters on Larned Street in Detroit. One of my colleagues at work gives out weekly challenges to a friend and me, and the challenge for that week was fire stations. And this was shot one morning just as the morning shift was starting and the officers were getting in to work.
"Pumpkin Picker"
This was shot at the Wiard's farms out in Ypsilanti. Apple-picking is an annual ritual for us, and this year we decided to visit the famous Wiard's farms. The pumpkin area was just full of pumpkins, and my kids had a blast roaming around and picking out their pumpkins. I was able to capture my son as he struggled to lift a heavy one. The expression on his face tells the story quite nicely.
"Fall Drive"
This was taken in Plymouth, on Hines Drive. I was on top of a bridge and was able to capture the vehicles driving by. The fall foliage provided some really nice color as well.
Photographer:
Vishal Patel, Canton
"Pumpkin Picker"
The image is a unique perspective of the artwork created by my daughter. The photograph was taken at the Woodbridge fall festival
"The Leaf"
Photographer:
Lyn Kostus, Bloomfield Township
My photography captures the beauty of everyday life.
flickr.com/lynstyle
"Occupy Detroit Encampment"
The Occupy Detroit encampment from the outside looks like what you would expect from a group of people camping out in the park. Inside the park around 1:30 p.m., it had more of the appearance of being a soup kitchen for the homeless. More than half the 30 or so people that I saw there were clearly homeless rather than Occupiers.
"Occupy Detroit Peacefully"
This photo shows the Occupy Detroit protesters in front of the Guardian Building protesting the Bank of America. Unlike the police response to the Occupy movement in places like New York, or Oakland, Calif., this photo seems to symbolize the Detroit Police's attitude to the Occupy Detroit protesters. Granted there was a fair number of police officers present, including the mounted police, as you would expect for any downtown march or protest. It was good to see both the Detroit Police and the protesters being well-behaved.
"Detroit Lions Tailgating"
This was my first time to the Detroit Lions Monday Night tailgating location over at the Eastern Market. There were parties everywhere, with everyone having a good time. This photo was the most unusual scene there. The guy in the mustache was in there the longest, with a quick rotation of men, and women joining him over time.
"U.S. Air Force"
I wanted to see what the Occupy Detroit encampment looked like on a quiet weekday. After photographing inside the camp, I noticed a small group across the street sitting on the sidewalk outside a building that I guess Occupy Detroit uses for the restroom facilities. This young man was standing inside the doorway. I snapped two photos. He straightened up a bit for this shot after seeing me photographing the group.
Photographer: Charles Lee Dodds II, Detroit
flickr.com/photos/cldodds
"D-Murder...Aka Derek"
Shot Sept. 5, 2011, on the roof of Lee Plaza Hotel in Detroit, 16-18 stories up. The place has been abandoned for years. The person in the shot is my good friend, Derek Fischer.
"David Whitney Edge Dangle"
Shot Oct. 22, 2011, on the roof of the David Whitney Building in Detroit, 19-20 stories up.
Photographer:
Dennis Maitland, Romeo
This photo is part of my "Life on the Edge" photo project that, as of now, has 24 photos. The theme of the project is to give a vertigo-inducing view that most people would never dare see or do. Most of the shots show a view looking down at my own legs either standing on or dangling from the edge of a roof. There is just something about being on a roof that I shouldn't be on that I can't resist ... the view, I guess. The first thing I do when I get to a building is go straight to the roof.
dennismaitland.com
flickr.com/photos/dbonez02
"River Walk"
Last week, I was researching for an article about buying local and handmade, and taking photographs of businesses in Detroit, when I walked by this abandoned building. It is beautiful. The architecture is classic Detroit. I knew I had to capture it.
"Detroit Alley"
I find beauty in alleys. The colors, the textures, the lines all speak to me — probably because they are often overlooked.
Photographer:
Janna Bissett, Clawson
jannabissett.com
"Detroit"
I saw the VW coming and knew I had to get a photo.
"Downtown Detroit"
I heard they turned the lights on at the Penobscot Building and I had to get some photos of it.
"One Woodward"
One of my favorite buildings in the city
and I love the statue in front of it.
Photographer: Mark Hall
"Scavenger Hunt"
A landscape photograph captured on an iPhone during a "scavenger hunt" project with youth photographers at YouthVille Detroit.
Photographer: Charles Saadiq
introvertimages.net
facebook.com/introvertimagesLLC
"Scott Fountain"
Scott fountain, Belle Isle, Detroit. I have taken shots of the fountain when visiting Belle Isle a few times over the years. But for the last couple of years it was harder to shoot because of a fence around it that was protecting it. Glad its open again and hope to see the water on again in the spring.
Photographer: Elizabeth Beale
www.elizabethbeale.com
"It's Here"
I wanted to capture an image and present it in such a fashion that portrayed or projected an aspect of Autumn from my mind's eye to the "audience". I've always liked how freshly fallen colored leaves look in a clear puddle - a simple image, but a clear message that a change is underway and summer is definitely over.
I bumped a few settings in the editing process to make the colors really pop and allow the leaves to take center stage - just how I saw the picture in my mind before I took it.
Photographer: Andrew Hensley
Clawson MI
"Between Light and Shadow"
This was taken in Royal Oak in October 2011with a Bronica SQ-Ai.
Photographer: Brett Loie Sullivan
Ferndale MI
brettloie.com
"Captivity"
This photo was taken Nov. 1, 2011, at the Detroit Zoo in Royal Oak. I just happened to catch this monkey and little one gazing out at the sunset through an enclosure.
"Living Legend"
This photo was taken Sept. 30, 2011, at Baker's Keyboard Lounge in Detroit, during a live jazz set. A notable person in the crowd (on the far right, with his hand coincidentally over his face) is Tyree Guyton, of the Heidelberg Project.
"The Ecstatic"
This photo was taken Aug. 26, 2011, at the Russell Industrial Center in Detroit. The occasion was a Parkour/Free Running competition sponsored by Red Bull and MINI (of Mini Cooper).
Photographer: Brian Day
brianday.org
flickr.com/photos/brianday
"freedom is all I want..."
It was shot last month in an older Metro Detroit area building. Detroit has wonderful architecture and is and is the envy of many photographers around the USA. I consider myself lucky to be able to capture some of these images as Detroit continues to grow.It was shot last month in an older Metro Detroit area building. Detroit has wonderful architecture and is and is the envy of many photographers around the USA. I consider myself lucky to be able to capture some of these images as Detroit continues to grow.
Photographer: Lou Peeples
Grosse Pointe
pointephotography.net
Photographer: Patrick Krupa
http://www.patrickrupa.com/