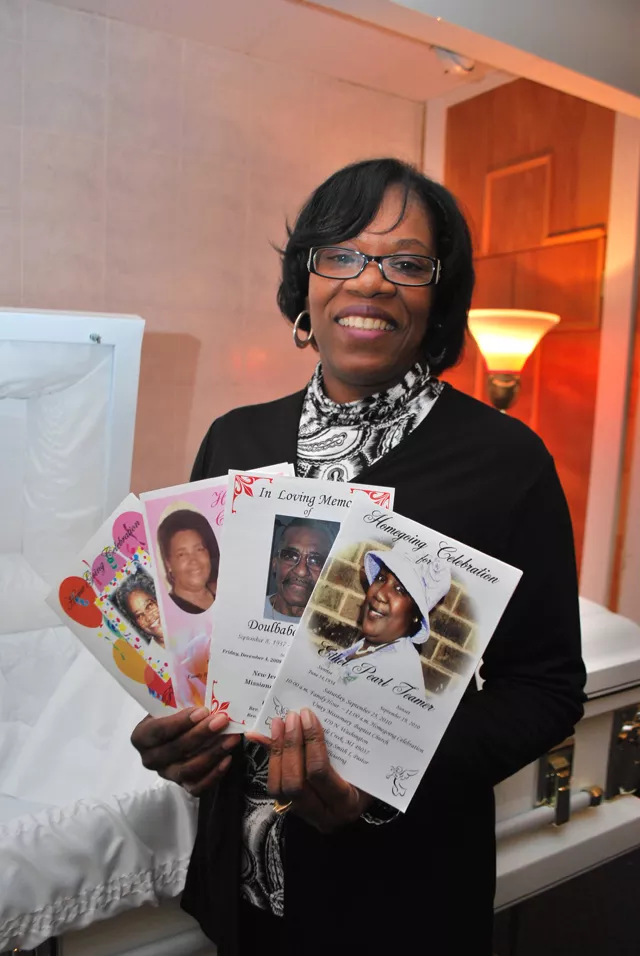 She has to choose her words carefully, because they can define a life forever, and can be as permanent as etchings on a gravestone.
Stephanie Teamer is a biographer of the dead. She sums up the lives of the departed in those little pamphlets handed out to mourners at a funeral. Their story will appear alongside the listing of the hymns to be sung, the scriptures to be read, the eulogy to be delivered, alongside the smiling pictures of the deceased, arm in arm with the people who shared their lives, and the sad parting words from those left behind to those now gone.
It was a vocation she never sought. When her brother died in 2002 after languishing for years in a nursing home, the family asked Stephanie to write a tribute to him. He had no life insurance, the funeral had to be bare bones, and besides, she'd spent years visiting him there twice a week, comforting him, keeping him company for hours. She seemed like the right person for such a solemn task.
That was her first obituary. And she messed it up. 
"I missed my stepmother," the 54-year-old Detroiter says with a laugh. "I didn't put her name in it. But she didn't say a word. Still, it would've been nice to have her in there."
But family members hung onto that little remembrance of her brother's life, and they thought so much of it they began turning to her when other relatives died. An aunt. A niece. A father-in-law.
The frequent requests inspired her to start her own home business, Obituaries by Stephanie. It's a side job to her real job as an office manager for a local union, though the more she does it the more she wants to do it. She writes them for a fraction of what a funeral home would normally charge for the service. Funerals are costly, and people struggling to pay for them find her inexpensive service helpful.
"I don't charge much, and that's my thing," she says. "That's why I started, because people weren't able to afford obituaries. They're very expensive."
It might seem a small task among the duties to the dead, but for some people a funeral without an obituary is like a story without an ending. 
"I don't know if the white culture does that, but the black culture does that at almost every funeral," she says. "I've seen them framed. It's a keepsake for their loved ones and their friends, like a history of somebody's life that walked the earth, you know? It's something they can hold onto."
Obituaries have to capture a whole life in a few quick paragraphs. Some read like folk stories, showing glimpses into people's everyday lives, revealing the memories that their loved ones chose to cherish. 
"In her lifetime, Ethel had many employers such as Denso and TAPS, but she was very excited about her employment with Hair Plus," reads Stephanie's obituary for one of her relatives, gone now after 56 years.
The life of a grandmother named Rebecca, who lived 84 years, was summed up in a few paragraphs that paint pictures more vivid than their length seemingly allows. "Bec firmly planted her feet in Detroit after purchasing her first home on 15th Street. This house would become the 'Revolving Door of Welcome' as she hosted many family and friends as they visited or relocated to Detroit. Her daughter, Betty, remembered as a child asking her mother, 'Why do they all have to stay here?' later welcoming the opportunity to make money ironing shirts for her uncles."
Those are the kinds of memories that stunned mourners conjure to give life to someone's story right after they die. "Granny was their first teacher," reads the account of a woman's love for her five grandchildren. "She taught them valuable life lessons as they played 'Restaurant' while she served them breakfast or their favorite hamburgers. She made sure they knew how to place orders, pay their bill and count their change."
Stephanie's obituaries weave the catchphrases of the church with the softened terms of grief. A birthday is referred to as the person's "sunrise." Their death date is "sunset." Their passing becomes a "transition." The funeral is a "going home celebration." She speaks the language of grief well, balancing reverence with lightheartedness, blending piety with the everyday poetry of real life.
One woman, she notes, "had a close relationship with her family, as they were the gas in her car that kept her going." She's able to gloss over certain indelicacies with a few smooth words. "During his lifetime he married three beautiful women," she notes, sidestepping a soap opera's worth of drama.
The relatives in her obituaries express the heartfelt belief that death is merely a pause, not an ending. "This is not a goodbye, this is a see ya later!" says Little Val to their grandmother. "Will keep you in my heart — 'til we meet again," a woman named Kimberly says to her father. 
And some tributes lay bare their writer's deep sadness about the loss of a soul mate. "It broke my heart to loose you, you did not go alone, for part of me went with you," read one poem, signed, "Your husband, Valint."
"Words on paper cannot express the way my heart feels being without you," wrote Desiree, who'd just lost her boyfriend Donald. "I wish we had just a little while longer together so that I could tell you how much I appreciate you."
Before starting her business, Stephanie spent years visiting her ailing brother, spends nights now visiting a sick sister for hours each evening, spent years comforting the grief-stricken in her family. That natural compassion is useful in her new job. "At that time in your life, when someone close to you dies, it's hard to think straight," she says. "I just say, 'Don't worry about it. I'll put it together.' That's my purpose in life. I take care of people."
Deborah Munro's husband died a few years ago after languishing a long while. "He had an illness, but I didn't know it had progressed as much as it did," Munro says, resigned. "But all of us got to go."
The new widow needed a write-up. "Of course I went straight to her," the 54-year-old says of Stephanie. The two have been friends since they were both 12 years old. "She is very sensitive. She's very kind and considerate and passionate. Her work gives that off as well."
That kind of feedback prompted Stephanie's husband, Lindberg Teamer, to urge her into taking her talent further. 
"I can think of no company out there that's just focused on obituaries," says Lindberg, a 54-year-old accountant. "I said, 'You need to start doing that.' She had some reservations about that, but she's doing a great job and saving people a lot of money doing that."
He made fliers for her, let her print hundreds of obituaries on his work printers, lets her use his office number — 313-273-7921 — for her new business. But he's affectionately rankled at how little she asks her clients to pay. "She's charging them hardly nothing as it is, and I'm like, 'Baby you've got expenses. You got to at least cover expenses.' If she could she would do the obituaries for free. She's got a very soft heart for that."
Obituaries usually average a few hundred dollars at funeral homes, and she charges barely a third of that. "Talk to my husband about that. He says, 'You can't charge them that. That doesn't even pay for the ink.' I said, 'Well, they can't afford it.' It's nothing that I make money off of. It's just a passion."
Sometimes she stays up all night writing them, she says, waiting for the right words to come. She takes her new vocation seriously, because when they're done right, an obituary can bring some dignity and closure to someone's passing, no matter how small their funeral might be, even if there's no funeral at all. 
"It makes me feel good, like I helped somebody," she says. "I couldn't even imagine someone dying and not having one. I think it's so sad not to have an obituary. That's the last word on your life."