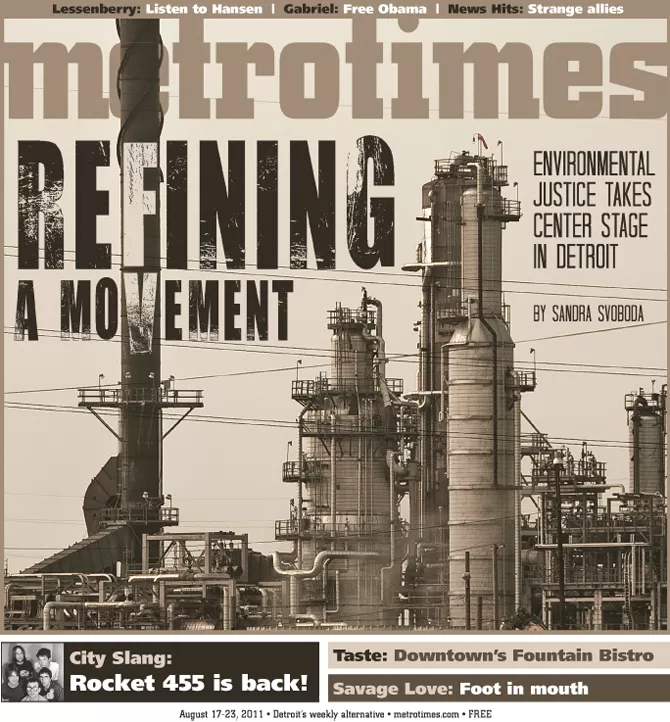 Complete Streets in Detroit
The idea of complete streets is to make roadways safe for all users — pedestrians, bicyclists and public transit riders, especially. The Compete Streets coalition — a partnership of the City of Detroit Health and Wellness Department, the Michigan Trails and Greenways Alliance and the Michigan Complete Streets Coalition — is advocating for crosswalks, bus stops, bike lanes and other features to help offer transportation options, improve the environment through less transportation pollution and increase safety.
Detroit Black Community Food Security Network
DBCFSN promotes its cause of food security through public policy advocacy, promotion of agriculture and healthy eating habits, and encouraging young people to adopt careers in food production fields. The mission is clear and well-defined: end hunger in Detroit through healthy, sustainable means.
Detroit Food Justice Task Force
This task force brings together a wide-range of people — activists, business and community leaders, politicians, food specialists and more — to provide broad support for their goal of "food sovereignty" in Detroit. They host monthly meetings in Eastern Market about food justice that are open to the public.
Detroit Vacant Property Campaign
A coalition of community groups, nonprofits, businesses and governmental leaders are working to mitigate the negative effects of vacant property in Detroit neighborhoods. The initiative is supported by the Detroit Local Initiatives Support Corporation (LISC) and led by Community Legal Resources.
Detroiters Working for Environmental Justice
With its Green Jobs Training program, DWEJ is helping train Detroiters to work in the "green" economy, an emerging focus for the environmental justice movement. The Midtown-based group also runs education and community monitoring programs for youth including "hazards awareness" training.
East Michigan Environmental Action Council
One of the area's oldest environmental justice organizations, EMEAC's emphasis on youth has led to outdoor labs and corresponding education programs at four schools, a summer camp, the "Stand Up, Speak Out" initiative that helps students advocate for environmental justice. Other programs include assisting with the Detroit Media Economy Collaborative and the Detroit Food Justice Task Force.
Ecology Center
A member-based organization of environmental advocates, the Ecology Center promotes environmental issues around Michigan and has many ongoing programs for education including recycling and toxic chemical removal.
Great Lakes Detroit Bioneers
A local chapter of the national Bioneers organization, GLBD's mission is to promote sustainable communities with an emphasis on southeast Michigan. The group will host an Oct. 14-16 conference and is looking for volunteers to help with the event.
Great Lakes Environmental Law Center
Part learning experience for Wayne State University law students, part environmental advocacy group, the law center works on issues related to environmental justice, including clean energy and clean water. The center also has worked on legislation including the provision to allow property owners to install small-scale renewable energy systems and make other efficiency improvements to their homes, paying back the cost through property taxes.
Green Door Initiative
This nonprofit focuses on environmental literacy and helping people understand how to adopt sustainable lifestyles. Located on the city's east side, the initiative works to reverse the adverse impacts of toxic industrial legacies, climate change and poor past land use. Programs include job training and youth advocacy.
Lead Elimination Action Program Detroit
Focused on the 48213 and 48214 zip codes, LEAP is a coalition composed of nonprofits, universities, Children's Hospital of Michigan and city departments working to counter the effects of lead on children. It's funded by a federal grant awarded to the Greater Detroit Area Health Council.
Michigan Diesel Clean-up Campaign
One of the few groups focused on suburban issues, MDCC is a coalition of health professionals and environmental organizations trying to reduce diesel emissions in the state. Their goals include a switch to cleaner fuels and utilizing the latest technology to mitigate current emissions. They are always looking for new volunteers to aid their campaigns, one current one being the "clean air promise," a general statement of support they hope citizens and politicians alike will sign.
Michigan Environmental Council
A coalition of more than 70 organizations, MEC promotes public policies for environmental sustainability in Michigan. Their broad and considerable priorities — for which they lobby to politicians in Detroit and Lansing — include energy, public health and clean water.
Rosedale Recycles
This all-volunteer recycle program has been in operation since 1990. Once a month, these locals accept recyclables at the Rosedale Collection Center, providing a valuable service in a city lacking one. Go to the Grandmont Rosedale Development Corporation's website for volunteer information on this and other programs in the Rosedale area.
Sierra Club
michigan.sierraclub.org, sierraclub.org/ej/programs/mi.aspx
With its 1.4 million members nationwide, the Sierra Club is one of the few large, mainstream environmental organizations to address justice issues. Local organizers with the club's Detroit Environmental Justice Project are involved with just about every environmental justice issue in Detroit: the incinerator, pollution and land use, especially in southwest Detroit, the proposed new bridge crossings to Canada and more.
Southwest Detroit Environmental Vision
Originally launched as a project by East Michigan Environmental Action Council and the Southwest Detroit Business Association, SDEV incorporated as its own nonprofit entity in 1993. Now funded by memberships and donations from industries in the area, this group's focus is on air quality mostly as related to transportation, recycling, land use, abandoned buildings and illegal dumping.
Transit Riders United
Advocating for better public transit and increased access to the existing systems, TRU also seeks more mass transit options for the region. Mass transit improves urban neighborhoods, ensures transportation equity and improves quality of life, TRU believes.
Zero Waste Detroit
Zero Waste Detroit's Facebook page
A coalition of groups that is lobbying for curbside recycling, Zero Waste Detroit also addresses broader issues of waste management in the city. Efforts are aimed at encouraging curbside recycling, recycling pickup and the elimination of waste incineration.
This list was complied by Aaron Mondry and Sandra Svoboda.