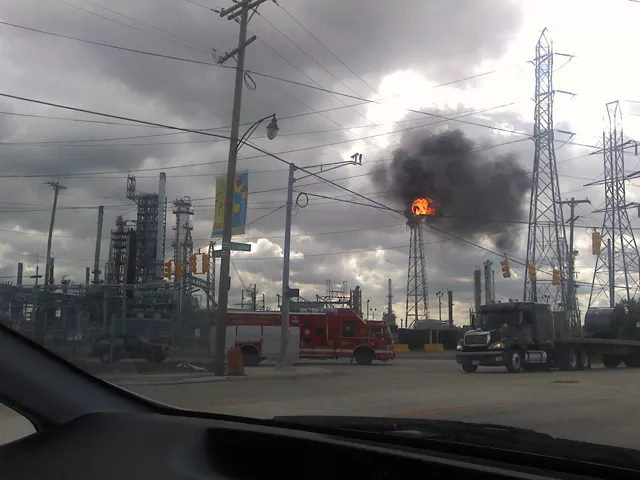 It just so happened that soon after fire broke out and triggered an evacuation at the Marathon Petroleum Co. refinery in southwest Detroit last week, a handful of national environmental justice advocates and Environmental Protection Agency administrators were nearby.
They were in town for an environmental justice conference, but had ducked out of a few sessions to visit the movement's front line in Detroit. What they saw, heard and smelled provided a poignant reminder of the work remaining to be done.
Caused by a "power blip," according to Marathon spokeswoman Chris Fox, the fire forced excess gases to be burned off. That, in turn, caused the thicker-than-normal black smoke and higher-than-normal flames to shoot from the smokestack.
"As a safety valve, you flare off that excess gas," Fox says. "That's what was going on. That's actually a good thing. It's burned. It's not a gas being released. It's being combusted."
Steven Fischbach, community lawyer with Rhode Island Legal Services, was in the area with his camera when it happened. He photographed the smoke and fire. He realized later that, although Marathon's employees and contractors were evacuated, the neighborhood wasn't even notified. And the plumes of smoke were just a few hundred yards from homes.
Fischbach has worked on and followed environmental justice and other social justice issues around the country for decades. But rarely, he says, do these issues get thrust so front and center as in the neighborhood surrounding the refinery and adjacent to other heavy industry in the area.
The fire just made it that much more apparent.
"Southwest Detroit is sort of like a microcosm of the type of apartheid that exists in this country," Fischbach says. "It speaks volumes as to why the EPA needs to straighten out its act with enforcement."
Fischbach was one of about 500 people who attended the conference, organized by the EPA to address environmental justice issues from around the country. Commonly defined as working at the intersection of environmental advocacy and civil rights, environmental justice advocates work to ensure that minority and low-income communities aren't disproportionately suffering the effects of industry, including pollution, lowered property values, increased truck traffic and water contamination, for example. (To read more about the issue, see our Aug. 17 cover story "Justice for all.")
"It's not just environmental justice issues. It's human rights issues," says Sandra Turner Handy, community outreach director in the Michigan Environmental Council's Detroit office. "It's a human rights issue to live, enjoy life, and die gracefully, not from the impact of pollution from companies that have been allowed to come into our communities and decimate everything."
Sessions at the conference included discussions about green jobs development, how community organizations can leverage private funding, and how community organizations can participate in environmental assessments.
Local advocates who attended the conference had their own priorities, including seeking and getting recognition and understanding from the public and governmental agencies about the lingering effects of Detroit's industrial past. The legacies include outdated infrastructure such as aging sewer systems, lead in the soil and brownfield sites that have detrimental health effects on people who live nearby.
"You might think the man down the street is crazy, but there might be something in the environment causing him to function not like you function," says Rhonda Anderson, environmental justice coordinator for the Sierra Club's Detroit office. "We need to make this a legal issue so people hear what we're saying."
Lisa Goldstein, executive director of Southwest Detroit Environmental Vision, a community advocacy group, is pushing for funding from the government or industry to provide a scientific "translator" for the community to interpret applications, permits and reports showing what discharge is coming from industry.
"The permits are so complex and they're very difficult for people to process without technical expertise," Goldstein says.
How much progress?
Throughout the four-day gathering, EPA officials had the chance to tout the agency's current and unprecedented attention to environmental justice, a priority of the new director, Lisa Jackson. As President Barack Obama's appointee to lead the agency, Jackson has picked a top adviser for the issue and has instructed the head of the agency's civil rights office to clear a backlog of complaints related to civil rights violations by polluters and industry.
But that support wasn't enough for many of the community advocates, attorneys and Detroit residents at the conference. Many bitterly complained during the sessions and in conversations between them that the EPA is failing to investigate civil rights-based complaints about polluters and effect real change in their communities.
"Yes, they're doing more than they've been doing, and yes, they need to do a lot more than they are doing," Fischbach says.
Some took a more cooperative view, including Kim Wasserman, Exectutive Director at Little Village Environmental Justice Organization.
"For the first time ever, the EPA is listening and that door is open. We need to take advantage of that," Wasserman says. But she also said it could do more. "I think we have a responsibility as community folks to make sure we're holding the EPA accountable."
To prevent and punish environmental injustices, the EPA and state agencies have at their disposal Title VI of federal civil rights law, which prohibits discrimination on the basis of race, religion, sex and ethnicity by any agency receiving federal funds. The EPA can deny permits, for example, if a polluter is going to have a disparate impact on a community of color.
"We're here in this frustration because we've been talking about this for decades," says Barbara Arnwine, executive director of the Lawyers Committee for Civil Rights Under Law, located in Washington, D.C. "What we want to point out is that the federal agencies, their role is not to defend the status quo. It is to shake up the status quo."
The EPA has just once — in a settlement announced during the conference — found a polluter to have a disparate impact on a minority community.
In that case, the EPA and the state of California reached a settlement in a 12-year-old civil rights complaint involving Latino children — now teenagers and older — who were exposed to pesticides used on lands surrounding their schools.
The agreement requires the state to expand air monitoring for the pesticide by adding a monitor near a school named in the original complaint. Results will be shared with the EPA and the public, and the state also will increase its public education efforts at schools near areas where the pesticide is used.
The EPA's director of the office of civil rights, Rafael DeLeon, calls the settlement "historic" and says, "It's the first time we have found a prima facie violation of Title VI. ... I think it's significant."
But it wasn't nearly enough for some.
"Justice delayed is justice denied. A right without a remedy is no right at all. The injustice that happened as a result of this settlement is that they were denied a remedy. The Latino school children who are in schools now have been denied a remedy," says Brent Newell, general counsel at the Center on Race, Poverty and the Environment who represented the students.
"I'm struggling to be civil right now. For one thing, it was incompetence and a lack of commitment to poor people and people of color that led the EPA down the road of sticking Title VI complaints on the back burner."
The EPA's DeLeon, who has been in his post for a year, admits the agency has a backlog of about 40 civil rights complaints to investigate, some dating back more than a decade. "We don't have a great history of processing complaints on a timely basis; I think the backlog speaks for itself," DeLeon says.
But he pledged to address the backlog, work to better inform those who file complaints about the status of the EPA's investigation and to look for a better legal framework the agency can use to blend environmental laws and civil rights.
"Undoing the previous number of years of inactivity or nonsupport is going to take a little bit of time," he told the crowd in a closing session, "but I am firmly committed to addressing the issues you all have raised.
"I hear you."