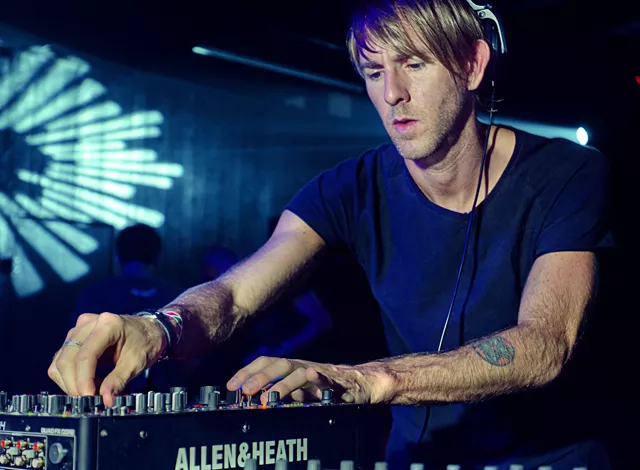 Richie Hawtin
It has been more than two decades since electronic music legend Richie Hawtin ventured from the suburbs of Windsor, Ontario, crossed the Detroit River, and changed the sound and perception of global techno. In that time, Hawtin, who's now 40, which is hard to believe, is seen as the king of second-wave techno among fans of dance music, and a major act that has played shows and festivals in more developed countries than most DJs on the planet. He recently landed the No. 2 spot on Resident Advisors Top DJs of 2010 readers' poll and has pushed his beloved genre forward via releases, handcrafted equipment, and being a founding father of online retailer Beatport. Yet, up until a couple of weeks ago, he'd never been to Austin, Texas, to perform at SXSW. I caught up with him after he annihilated a Texas dance floor and asked him what took him so long to get to the Lone Star State — and what's on his horizon for the rest of the year.
Metro Times: Having created music at a high level for so long, what stopped you from coming to SXSW?
Richie Hawtin: I think, for us in the electronic community, we put all of our energy into going at the end of March to the Miami conference (Winter Music Conference/Ultra). We feel that this is more of an alternative festival, which it is. But it's an alternative music festival. Electronic music is an alternative to all the pop music out there, so I hope more electronic artists come back.
MT: When pressed, what do you think you rep more on a global level, Canada or Detroit?
Hawtin: That's a hard one. Honestly, I would love to say Detroit, but I'm not from Detroit, so I don't know if I can say I have the privilege of saying I'm from Detroit. I'd probably say Windsor, Canada, but just very, very connected to the Detroit scene, just over the river.
MT: How is 2011 shaping up for you so far?
Hawtin: Ya know, like, last year was a big year for us, bringing Plastikman back. I plan to just annihilate the world this year with Plastikman and really take it over the top.
MT: What can people look forward to?
Hawtin: Destruction! [laughs] That's not actually a nice thing to say right now, with the way the world is, but I honestly want to bring my sound, and underground, Detroit, after-hours, late '90s, warehouse party, fucked-up, acid sound to the masses. I don't want to bring it to the masses by changing it, I just want to bring it the way it truly is and see if everyone can understand it.
MT: Will you be playing in Detroit anytime soon?
Hawtin: I'll be there, of course, for the Movement festival. We're planning a Saturday minor stage at the festival. And then, on Saturday night, we're planning the first, real, Hawtin after-hours, full-on warehouse party in the last 10 years. We're going to do it proper.