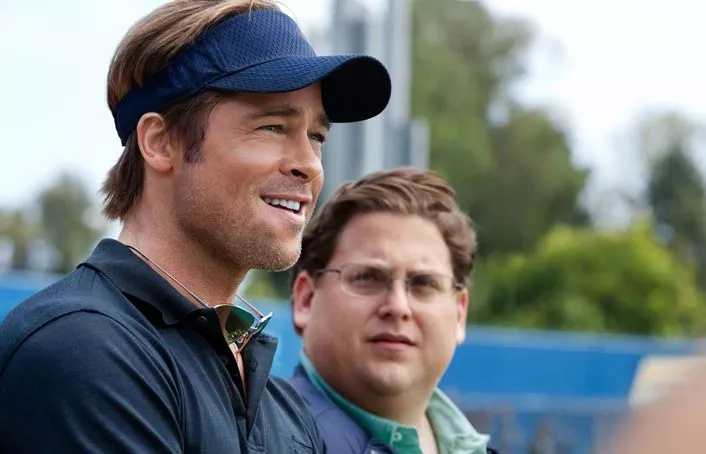 Moneyball
Directed by Bennett Miller. Written by Steven Zaillian, Aaron Sorkin and Stan Chervin. Based on the Michael Lewis book. Starring Brad Pitt, Jonah Hill, Philip Seymour Hoffman and Robin Wright. Running time: 143 minutes. Not rated.
B+
Fielding percentages, conference calls and signing bonuses have never been this entertaining. In adapting Michael Lewis' highly praised book about the economics of baseball, screenwriters Aaron Sorkin and Steve Zallian have turned statistics and little-known ballplayers into a funny and illuminating sports flick that'll appeal to baseball fans and nonfans alike.
Oakland A's general manager Billy Beane (Brad Pitt) — a former ballplayer who, despite great promise, tragically underperformed as a pro — struggles to field a competitive team despite having a budget far below his opponents (the Yankees regularly outspend him four to one). Even after putting together a string of almost-ran seasons, Beane consistently sees his best players defect to cities that can pay out multimillion-dollar contracts. As a result, he is forced to rethink his approach to the game and, defying conventional and traditional wisdom, puts together a roster built on obscure statistics and war-of-attrition strategies. Teamed with a Yale-educated economics graduate named Peter Brand (Jonah Hill), he assembles a team of players undervalued by the old system, a team that in 2002 ... well, I won't spoil the surprise for those who don't already follow baseball. Needless to say, this unlikely duo encounters numerous challenges to making their new system work, not the least of which is team manager Art Howe (Philip Seymour Hoffman), who refuses to ... er ... play ball.
Don't let the sports wonkery scare you off. Moneyball is filled with smart, energetic and suspenseful filmmaking, taking you into the backrooms and offices of professional sports where the real deals are made. Zipping along at a fluid pace, it plays like Jerry Maguire if that movie had been plotted like a heist flick rather than a romance. You see, the real test of Beane and Brand's strategy is not which games they'll win but whether their system works over the long haul. This provides director Bennett Miller (lensing his first movie since 2005's Capote) with plenty of opportunities for stirring on-field action while indulging in Sorkin's forte — witty, professional banter and clever character chemistry. Miller's approach is subtle and carefully calibrated, never overplaying the emotions but always driving its underdog storyline — which lacks a traditional character arc — forward. Similarly, Wally Pfister's cinematography adds a casually naturalistic feel.
And as you might expect, the writing sings. Whether it's family, professional loyalty, faith or self-doubt, baseball becomes the metaphor for human vulnerability, triumph and connection. And much of what makes it all work is Pitt and Hill, who have the kind of quirky chemistry that pops off the screen but always feels rooted in reality. Miller may not always have an instinct for Sorkin and Zaillian's sense of humor, but his sometimes too reverential approach never gets in the way. (Unfortunately, this is not true of Mychael Danna's dreadfully somber musical score, which mistakenly embellishes every scene as if were the sequel to The Natural).
Pitt gives his thinly sketched protagonist a depth and charisma that isn't on the page, turning his less likable qualities into facets of a more complicated whole. It's fascinating to watch how he physicalizes what might have otherwise been a staid and talky performance. Using the act of eating (popcorn, French fries, peanuts), he injects energy and expression into Beane's mannerisms, suggesting an athlete who's forced to channel his physical talents into thought and creativity. It's a terrifically unshowy performance that demonstrates just how good Pitt has become over the years.
Even better is Hill as his fictional protégé (loosely based on Paul DePodesta). Though frequently funny, the young actor never grabs for the joke, letting the humor emerge instead as an extension of his well-meaning personality. Observant and genuine, he captures the idealism and confidence of an innovator who's finally given the chance to prove his theories. Together, he and Pitt make for an infectiously entertaining team.
Capturing the act of innovation is tough going for any film. Dramatizing the faith, risks and rewards of those who challenge the status quo with new ideas, who seek to expand the way others think, takes its own kind of intelligence, bravado and craft. Whatever its flaws, Moneyball's ability to convincingly pull its audience into the world of baseball strategy speaks volumes about the talent behind the film. More impressive is its final real-world realization that all revolutions eventually get co-opted by the rich and powerful. Yes, the methods may change, but in the end the game remains, as always, rigged.