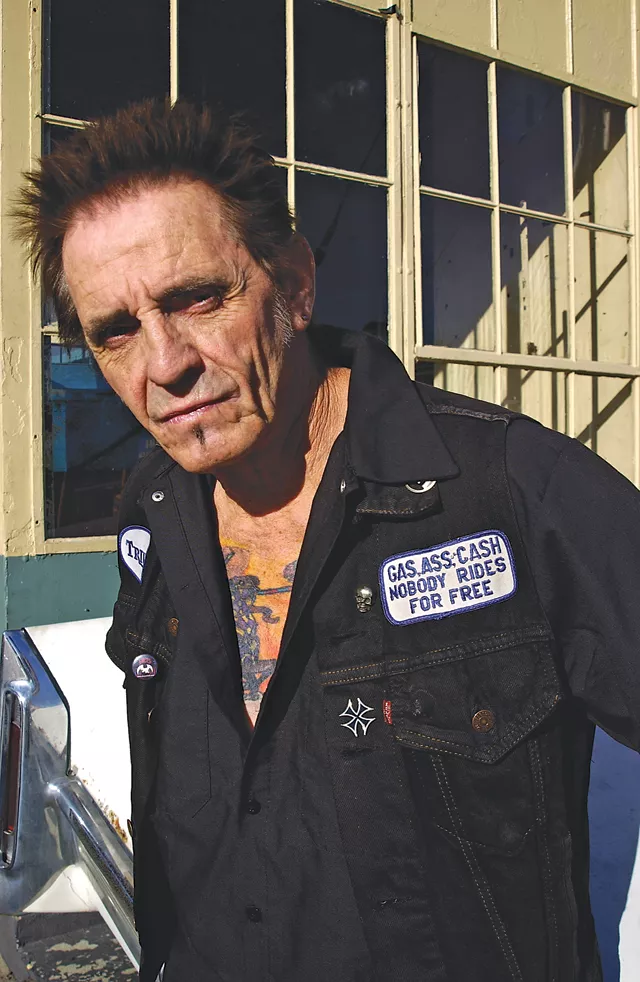 Struggle isn't an unfamiliar concept in these parts. So when a fellow Detroiter asks for help, the call rarely goes unanswered. No matter how tough things get, there's always time and dime for a pal in need.
Take Drew Podgorski, for example. The former frontman and guitarist with area punk bands Just Ask and Running with Panthers was barely out of his 20s when he suffered a spinal stroke and was hospitalized for a month and a half. "With my rare injury, a blood clot traveled through a hole in my heart and to the spine," Podgorski says. "The stroke caused spinal cord damage, and I was paralyzed on my right side. Thankfully, with lots of hard work, physical therapy and acupuncture, I'm getting stronger every day and walking now with the help of a leg brace up to my thigh and a cane. I have a long road to recovery, but I'm getting there."
Bars of Gold, Hi Fi Handgrenades, Fordirelifesake and a reformed Suicide Machines play in Detroit on April 9, with proceeds going to Podgorski's growing medical expenses. "The medical bills are piling up," Podgorski says. "My friends have been here for me with so much love and support. They decided to do what they do best to help — play music."

On the same night, MC5 bassist Michael Davis is back in his hometown to host a benefit for his Music is Revolution Foundation, which was founded in 2006 to help public school teachers use music in their classrooms for the academic enrichment of students. Black Irish, Sweet Crystal and Kenny Crimewave will perform, joined by Davis, John Sinclair, and possible surprise guests. "In these days of enormous cuts in public school funding, it's tragic that something as basic and inspirational as music is one of the first things eliminated," Davis says. "A child exposed to music in school is a happy and compassionate child. What could be more important than fueling our public self with happy, inspired individuals? The Music is Revolution Foundation is a DIY effort that won't wait on public policies to change, but to give $500 mini-grants to public school teachers who devise qualifying projects that provide musical experiences to their students."
Davis knows that Detroit needs happy, compassionate children. "I remember as a kid growing up in northwest Detroit, even when things like the economy were at a peak, Detroiters had a spirit about them that was undeniable." Davis says. "I guess you might call it pride and identity. People often ask me when I'm touring, 'What is it about Detroit that makes all that great music come out? ... Is there something in the water?' It's grit. It's a gritty place that makes gritty people who make gritty music."
Podgorski agrees: "Being in the Detroit music scene since high school, I've seen and played benefit shows. There are so many friends contributing to this and I deeply appreciate them all."
Michael Davis' Music Is Revolution: Emerald Theatre on Saturday, April 9, 31 N. Walnut St., Mount Clemens; 586-913-1921; $10. The I Love Drew benefit: Majestic Theatre on Saturday, April 9, 4140 Woodward Ave., Detroit; 313-833-9700; $10 in advance.