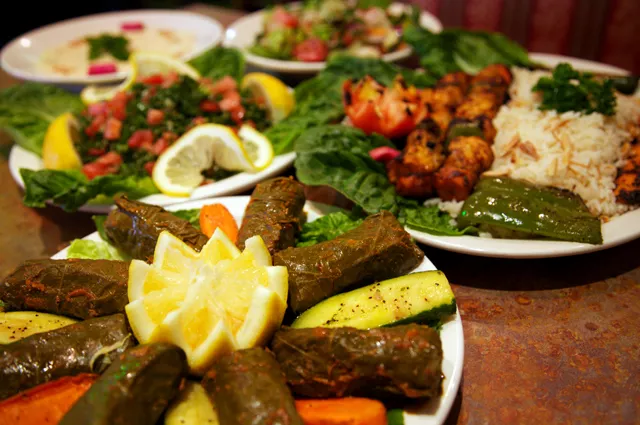 La Shish
22039 Michigan Ave., Dearborn
313-582-8400
Search Metro Times' database for "La Shish" and you'll find that the chain that closed in 2008 was the gold standard against which all other Middle Eastern restaurants were measured.
For good reason: Quality was outstanding and portion control nonexistent. Unless you limited yourself to one item, you'd have to leave with Styrofoam.
After the chain closed, various of the restaurants were bought, one by one, and reopened under different names. Now the Dearborn flagship, the original La Shish that opened more than 20 years ago, is packing in customers under the original moniker.
The staff says the new owner is "Mr. Marvin," apparently a reference to Marwan Haidar, who runs a rapidly expanding chain of strip clubs, including Starvin' Marvin's not far down the road. He's partnering with Carmel Halloun, who owns other restaurants. The two apparently feel the magic of the La Shish name will outshine its association with former owner Talal Chahine, who fled to Lebanon to escape charges of tax evasion.
Or they're betting that the food itself will outshine any unsavory links. A jubilant southwest Detroit friend e-mailed in May: "It is exactly the same ... the good salad dressing, breads from the in-view oven, the tomato-cumin dipping sauce, the ghallaba, the huge portions, even the same menu design, down to the mints. It was crowded."
Old fans can stop reading here and just go.
The few not in that category should know that diners can watch La Shish workers make bread that has little in common with flat pita triangles served in a baggie. It's circles of dough that puff up like popovers, come hot to your table and are replenished indefinitely. They're served with garlic sauce (toum) that's the exact right blend of creaminess with sharpness and pungency, and what our waitress called "Arabic salsa," a tomato-garlic concoction that's more interesting than most Mexican versions.
I always eat too much of these two, which just ensures I'll take home more of the other dishes.
The familiar menu is long and includes lamb chops, quail and seafood. How to decide?
For starters, everyone wants hummus; I find La Shish's rather plain, not garlicky enough. I always prefer baba ghanoush; here it's especially smoky, ultra-creamy, definitely garlicky, and need I say large?
Falafel, though listed as an appetizer, is pretty hearty for a starter, especially since you get six. It's particularly crunchy outside, and the flavor is nutty (unlike the fava beans and chickpeas it's made of, so go figure). If you have toum left over, it's good here too.
Many of the appetizers might as well be entrées for their heft. Slightly off the well-worn path is sojok, a big plate of little 1-1/2-inch lamb and beef sausages for $8.99. It's spicy and lemony, with a pool of tomato-based sauce. Kibbeh is available raw, fried, baked or mixed with tomatoes. Grape leaves, spinach pie, meat pie, shawarma, cabbage rolls, foul, hummus with pine nuts or lamb or both — it's all there.
The lamb is its usual satisfying self, with the pine nuts adding their indispensable sweetness. The lamb is a bit chewy, yes, but worthwhile. For rarer lamb, splurge on chops, and insist.
Despite the excellence of the starters, you can easily skip that page, as entrées come with soup or salad plus rice, grilled vegetables or fries (!). All three soups are outstanding. Crushed lentil is deep and rich, lemony. Lamb vegetable is full of meat that retains its lamb flavor beautifully. Chicken noodle is not what you think: tomato-based, with vermicelli and big chunks of chicken. This one is not an afterthought.
The comes-with-dinner salad is fattoush, not some boring make-the-record salad — and what a fattoush. It's chockablock with the crunchy pita chips that are the reason everyone loves fattoush. I ordered a spinach version separately (the "half" size was big enough for three) and loved the minty, lemony dressing, though there was too much of it.
I was not thrilled with the grilled vegetables — undercooked and very plain. Rice is, of course, topped with a heap of slivered almonds.
My companion ordered tawook (chicken) marinated with lemon and oregano, and it tasted intensely of both. Another got hummus with colorful lamb ghallaba, a medley of carrots, tomatoes, peppers. I'd say it could be more intensely spiced, but it's certainly a stew-type comfort food, with meat or chicken or without.
The criterion for good mjadra is the chef's generosity with the sweet caramelized onions heaped on top. Here La Shish shines, and adds yogurt as well. The lentils are just the right degree of doneness, that is, still with a bit of crunch. Their nuttiness is perfect with the creaminess of the yogurt.
Yes, the raw juices and smoothies are still there; Middle Eastern restaurants are where many of us first drank juice concoctions, back before the world caught on. My mango smoothie tasted like strawberries, though. All the smoothies contain strawberries and bananas; it would be worth asking if that recipe could be altered.
Top-notch baklava comes from Shatila Bakery. Rice pudding is the kind that tastes more of rosewater than of cream.
La Shish is open 11 a.m.-11 p.m. Sunday-Thursday, and till midnight Friday-Saturday.