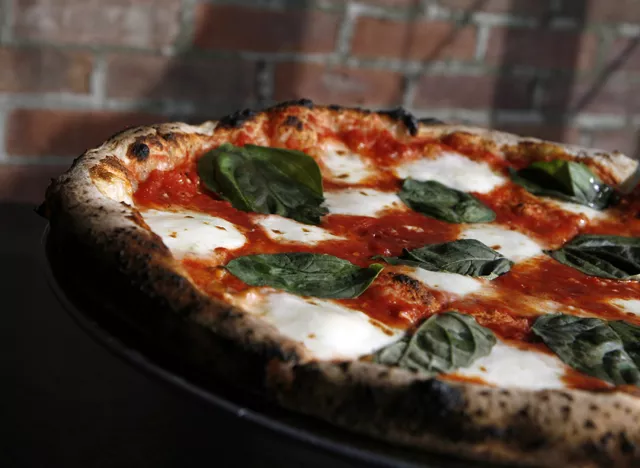 Fresco Wood Oven Pizzeria
1218 Walton Blvd., Rochester Hills
248-841-1606
Pizza crust from common strip mall pizza joints isn't generally all that crusty. Engendering sneers from foodies and low-carb fanatics alike, standard American pizzas are doughy, soggy and thick. Of course, that isn't how most of the best pizzerias do it, that isn't how it's done throughout most of Italy, and that isn't how they do it at Rochester Hills' Fresco Wood Oven Pizzeria.
Fresco takes inspiration from Italy's Napoletana-style pizza, serving up a variety of thin, crispy pies cooked briefly in a wood-fired oven. At its best, this approach avoids the usual pizza maladies — pools of grease, wet crusts, too much sauce (or cheese) — and doesn't leave anyone feeling weighed down after only a few slices.
The dining area is fairly small, though a clear view of the oven and the choice to employ wood tones and warm colors throughout make the space feel cozy, not cramped. With a whimsical touch, Fresco immediately signals their use of quality ingredients by deploying empty San Marzano tomato cans as napkin holders.
Despite being concise, the menu offers a wide variety of classic Italian pizzas, modern twists, sandwiches and a few starters.
Among the salads and appetizers, a favorite of our group was their eponymous fennel salad. Simply constructed, a large heap of thinly sliced fennel is tossed with olive oil and walnuts and — much to our initial surprise — served warm. Simple flavors with a crunch can go a long way, and some bright, herbal fennel and mildly bitter walnuts make for a delicious start to a meal.
Or just order the marinated olive plate for a couple of bucks. It's unexpectedly big, and Fresco provides a nice assortment of varieties. Those after something green can order an arugula salad kissed with balsamic, and the hungriest diners may want a plate of meatballs. Their Caprese salad with fresh basil is tasty, though, on one visit, the tiny grape tomatoes weren't quite ripe yet.
According to Fresco's website, each pizza spends about two minutes in a 750-degree wood burning oven, and watching the pizzaiolo make our first couple of pies, that seems about right.
Starting at $7, they certainly are a value: Even with a beer and an appetizer, it wouldn't be hard for two people to get in and out of Fresco for less than $30. Customers with a strong preference for the familiar can build their own pizzas, adding up to three typical toppings. Or they might be interested in the Margherita or salciccia; the latter comes covered in sausage, roasted pepper, onion and tomato.
Also consider the pizza Napolitano, which comes decorated with basil leaves and anchovy fillets. The tiny, salty fish make some people squirm at their mere mention, but added in a judicious fashion, they offer a salty sharpness that really enlivens this particular pizza.
The wood oven adds a subtle, pleasant, smoky flavor to the crust, but occasionally Fresco's high-temperature oven goes too far. While it's perfectly normal, acceptable and even delicious to have a few burnt spots on a pizza, one of our pizzas came with an elongated charred area that offered nothing other than an unwelcome burnt astringency.
It's easy to be dubious of specialty pizzas with so many sugary, sauce-sodden pies out there, but Fresco's BBQ Chicken pizza is worth a taste, especially for fans of contemporary pizzas with nontraditional toppings. The sauce, while sweet, is not applied liberally and is nicely balanced by generous portions of red onion.
For fans of the traditional, try a quattro formaggi with pecorino, caciocavallo, Parmesan and tomato, or a spinach pizza, made with ricotta cheese, spinach, olives and tomato.
Ostensibly made on the same dough used for the pizzas are hot sandwiches. Split between our dining party, the favorite was a heaping portion of roasted peppers and onions with sausage and tomato sauce, all warmed through in the wood oven. Sweet, tangy and filling, this is arguably one of Fresco's most flavorful values at $9. Other items found between bread include prosciutto and pickled pepper, meatballs with tomato and cheese, and chicken Parmesan.
When you're looking to wash your meal down, don't expect a wide array of choices. Of the five or six wines available, the best to complement the food menu is almost certainly the Chianti, and beyond Sam Adams, Peroni and Dragonmead's Final Absolution, there are only Bud, Corona and other standard macro brews to choose from. Still, a Dragonmead brew and a sandwich fit for a giant make a fine meal.
Fresco has built an inexpensive suburban pizzeria, and while the approach to their food has diverged from preconceptions of that model, their level of service is about what one might expect. To wit, the staff is prompt, polite and quick to address any concern — but just as capable of a mistaken order or dropped plate as anyone else.
Thoughtful approaches to inexpensive food aren't common in a lot of neighborhoods around metro Detroit. Fresco isn't free of imperfections, but their well-considered products with quality ingredients make it a most welcome addition to the northern suburbs.
Fresco is open 11 a.m. to 9 p.m. Monday through Thursday and 11 a.m. to 10 p.m. Friday through Saturday.