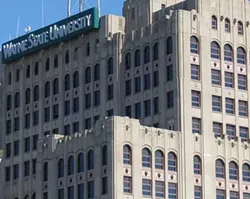 I'd like nothing more than to tell you what happened when Wayne State University President Allen Gilmour met with the President's Advisory Group at the WSU Police station last week — but no sooner did I arrive than I was asked to leave.
I was there because I'd received a message that Gilmour was going to discuss university admissions policies. I've been hearing rumors that WSU has changed its admissions standards in a way that would cut back on the numbers of African-American and Latino students, particularly those who come out of Detroit Public Schools. A few people I spoke with claimed that grades from DPS students are not considered equal to those of students from schools in places such as West Bloomfield or Grosse Pointe. For instance, a 3.2 DPS grade point average would be scored as something more like a 2.4 GPA from those other places. Not only that, say those who are alarmed about the issue, but these policies have already been put into practice and Gilmour's meeting was to be just a step in formalizing them. All this is supposedly in response to guidelines set up by Gov. Rick Snyder that impact the school's state funding.
So I went to the meeting but, along with a Detroit News reporter, was asked to leave. (It's hard to be sure, but it probably wasn't a violation of the state's open meeting act.)
The President's Advisory Group is apparently a collection of folks from the community who are tasked with "advising" the president on whatever policy issues he chooses to bring before them. It was hard getting a clear idea of how it functions. However there were several folks, particularly Latinos, who'd heard the same thing I did and showed up to have their voices heard on the subject. Even though they weren't advisory group members, most of them had some kind of WSU connection, such as being alumni, and were allowed to stay. Donnell White, interim executive director of the local chapter of the NAACP, was there, but I didn't get his perspective on the proceedings because he didn't return my phone call to the NAACP office the next day. (That's not the first time White has declined to return my call.)
Detroit School Board member Elena Herrada was there. "It's interesting that they wanted to keep the press out of the meeting," she says. "There were rumors that there was going to be really serious change in admissions policy. In fact there have already been changes. The numbers of Latino and African-American students dropped dramatically in the last year. There was a rumor, that has not been confirmed, that WSU has decided that in order to raise its standing academically it would have to get rid of about half of the African-American students. No one's said that, but that looks like the way they are headed.
"I was there as a representative of DPS. There are so many things being levied against our students now with the emergency manager. The schools are a mess. To punish students because they're in these schools is unconscionable. It's like starving somebody and then holding it against them because they're too thin."
WSU representatives say that nothing has been decided yet and that the meeting was part of preliminary discussions to address admissions and other issues at the school.
"I'm not able to talk about specifics of the plan," said Ronald T. Brown, WSU provost and senior vice president of academic affairs, although he was very specific about how to spell his name and what his title was as the interview opened.
"The admission policies are to make sure students entering the university are adequately prepared and succeed," he says, adding that WSU wants "to be a university of hope for individuals who might not be able to get an education at another institution."
Hope for some, but at the meeting Gilmour reportedly said that students who couldn't meet WSU standards could go to community colleges.
"That's put a bit simply," Brown says. "There are students who have not done well here. ... They can come back when they're better prepared."
It's obvious that WSU is going down this road, but university officials are being very coy about which direction it leads. No specific numbers about what GPA or ACT scores will be required have been publicly discussed, but there are some enrollment numbers available. Those numbers do detail a decreasing number of Detroit students at WSU over the past few years. According to enrollment profiles available on WSU's website (tinyurl.com/7nlfuwg) there were 6,483 students from Detroit at WSU in fall 2007. In fall 2011, the number had dropped to 4,982. Over the same time period, the number of Wayne County students from outside of Detroit rose from 8,082 to 8,692.
What could account for the 1,501-student, 23-percent drop in students from Detroit? Maybe it's due to the population drop in the city. Maybe it's due to the economic downturn hitting city residents harder than elsewhere. Or maybe it's university policies.
Let's look at some other numbers. The number of black students from anywhere went from 6,542 in 2007 down to 6,313 in 2010. That's not a precipitous drop, and the number of Latino students actually rose from 558 to 617 over the same period. But what's alarming the WSU watchers is that while all the other numbers for fall 2011 are available, the "ethnic profile" is listed as pending.
Some say that the numbers aren't there because WSU doesn't want anyone to know just how far the numbers have dropped. But Brown says that "may be a matter of us not having the data yet."
They seem to have the rest of the data for fall 2011. If the university were to release the numbers, it could dampen what seems to be growing alarm among people of color who work at WSU, or it could confirm their fears. Most of this is conjecture in the face of little information. But the big drop in Detroit students is definitive and troubling.
Brown puts a happy face on the process, although he won't say anything specific. And he downplays the idea that people of color will be left behind by new policies.
"That is not our plan," Brown says. "That is not at all in our vision statement and our vision of the university. ... Our plans are to partner with the state. We're proud to be a state university. The state asked us to make some sacrifices. We capitalized on efficiencies; we did not compromise our standards and access to the university."
Whatever that means in practical terms, it's troubling. WSU once defined itself as a school with an urban mission. It will be a shame if that mission is sidetracked by policies from Lansing that are more concerned with bottom lines and getting tough on Detroiters.