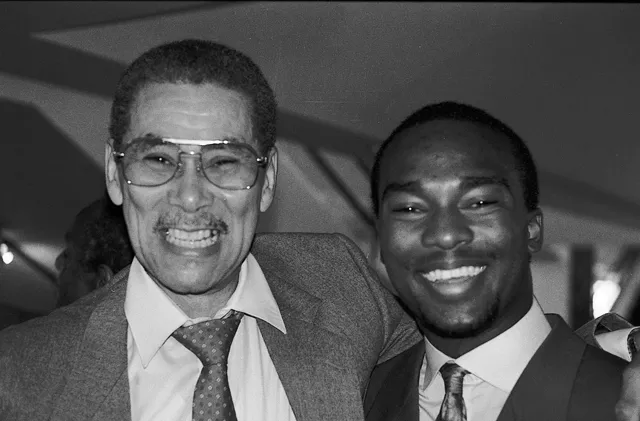 Dr. Beans Bowles "Fingertips" The Untold Story - Dennis Bowles
$20, 238 pp., Sho-nuff Productions
Had he lived a few years longer, Thomas "Beans" Bowles might well have capped his career with a victory lap alongside the Funk Brothers, riding the revival that followed the movie Standing in the Shadows of Motown.
For close followers of the Motown saga, Bowles, who died in 2000, is an unsung hero of the organization: a baritone sax player on early sessions who, shortly thereafter, handled multiple roles on the business side, including tour manager (which nearly cost his life during a tragic car crash). Later he was musical director for Smokey Robinson and others, and in the post-Motown years he was a mover in the Graystone Jazz Museum and director of the museum orchestra, not to mention a mentor to young musicians, notably James Carter.
Now one of his two sons, Dennis, sets down his dad's story in a DIY book that's part oral history, part memoir and plenty of scrapbook, with abundant testimonials from tribute programs, autographed publicity photos (from Joan Rivers to "Billie 'Lady Day' Holiday," as she signed her name), captioned and uncaptioned snapshots by the dozens (a treasure trove there), a primer on prostate cancer (you men of a certain age, get yourself tested) and finishes with shots of Barack Obama's inauguration and the first African-American first family (which surely prompted the elder Bowles to smile from wherever and inspired Dennis to finish the book, he tells us).
Dennis traces his forebears up from the South and finally brings his dad to Detroit, where he became a fixture in the house band of the Flame Showbar, the swankiest venue in Paradise Valley, a gathering place for "socialites, numbers runners, politicians, civil rights leaders and celebrities." The "gorgeous Gordy girls" had the photo concession — getting a keepsake shot of yourself quickly developed on premises was, perhaps hard to imagine in the day of cameras built into phones, a big deal and a decent business — and their likewise entrepreneurially minded younger brother, a songwriter named Berry, was often around, making connections for his future move. The rest is history, and the subject of a growing shelf of histories, to which Beans Bowles' is now added.
Casually assembled and edited (to be charitable), Dr. Beans Bowles "Fingertips" The Untold Story includes much about Beans' later troubles as a Royal Oak Township official: reporting a bribe to authorities created so many headaches, including wearing a wire for investigators, that he later mused that he should've kept the money and hushed. There's also familial drama and discord, and after reconciliation Beans makes a bid to guide sons Dennis and Harold to big-time careers as the Other Brothers. And if stardom eluded them, "we were living better than some record acts at the time. We opened for Sammy Davis Jr. one year at the NAACP freedom dinner and did the Soupy Sales telethon, which was televised. We were one of the top local acts in Detroit."
Most poignant is the story of the day that Beans came home excited about a tune he'd cut: "Dad said the producers Hank Cosby and Clarence Paul had called him out of the office to play on a song that didn't have a melody or a hook. It was just a track. After the completion of 'Fingertips,' the producers said Beans had just recorded a smash."
But the copyright paperwork somehow missed Beans' name. The flute version is an obscurity on The Jazz Soul of Little Stevie Wonder, but a later live version, with Stevie adapting the flute part to harmonica, was Wonder's first hit: "Fingertips, Part 2."
Dennis is no copyright lawyer, neither am I, nor most likely are you. But imagine "Fingertips" without its melody, reader, and tell me if you don't think something's wrong here. —W. Kim Heron
Available at beansbowlesfingertips.com.