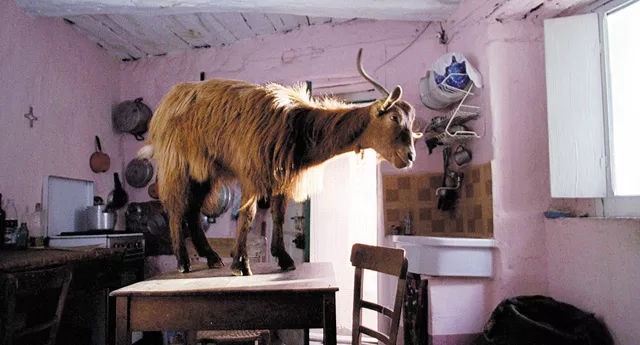 Le Quattro Volte
GRADE: C+
As an object of cinematic contemplation, Michelangelo Frammartino's four-handed pantomime is lovely to look at, interesting to ponder, and, ultimately, less profound than it seems to thinks it is. Men, trees, goats and charcoal become stand-ins for the cycles of nature, and we're asked to watch each in a series of static shots. Yes, the images are lovingly composed and gorgeously framed, but his approach is facile and, at times, condescending. There's no narrative here (unless you count the one you're encouraged to concoct in your head) and yet for a series of detached subject shots, the director seems in an awful hurry whenever he confronts men in the process of work. In particular, cutting down trees and burning the wood into charcoal. Instead of letting those tasks lapse in real-time, he speeds things along with edits, saving the unabridged takes for the ruined face of an elderly man victimized by a persistent fly.
The film's best moments come when Frammartino trains his eye on the zoological. The inadvertent chaos created by a dog and encounters with goats bring with them minor-key yet compelling dramas — as when one goat is left stranded in a ditch by its herd. Even there, however, the filmmaker can't resist the urge to wring some extra meaning from the moment by turning his camera upward toward the treetops, reinforcing his New Age awe over the eternal cycle of nature.
Birth, death, work, play, Le Quattro Volte is film festival experimentalism landing in an arthouse setting. In fact, the movie seems more attuned to the Ann Arbor Film Fest than DFT's typical schedule. And for all its labors to thematically connect its images, in the end the movie becomes less about exploring the steady state of the natural world and more about the patterns Frammartino chooses to impose on it with his lens.
Showing at the Detroit Film Theatre (inside the DIA, 5200 Woodward Ave., Detroit; 313-833-3237).