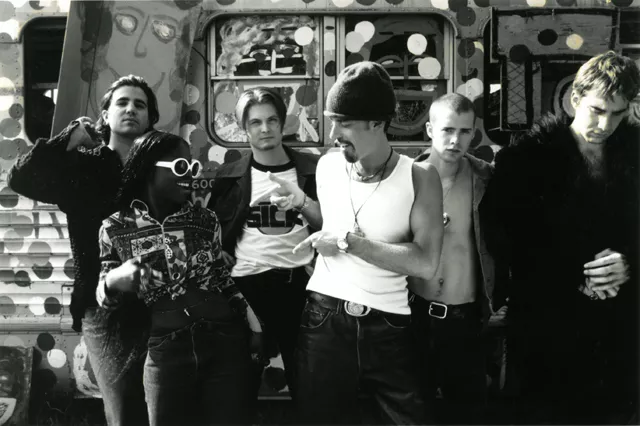 It's largely thanks to Charm Farm guitarist Steve Zuccaro and drummer Eric Hoegemeyer that I live in metro Detroit today. So, um, you can thank them. 
While living in London and digging Detroit music from afar, I was sent here by Classic Rock magazine to interview the duo, who were by then in a band called Gold Cash Gold (which Hoegemeyer fronted). That was December 2003. Nearly eight years later, we're sitting at Rust Belt Studios in Royal Oak marveling at how much has happened since. They have gone full circle and are about to perform a reunion show with their first real band, Charm Farm, this weekend. I live here and write City Slang for the Metro Times. "Shit," Hoegemeyer says. "Don't blame us."
That Zuccaro and Hoegemeyer continued to work together beyond Charm Farm and into Gold Cash Gold shows there's a real chemistry between them. Sure, they're two disparate personalities but, in conversation, one can finish the other's thought. There's a level of comfort there that only comes after living in each other's pockets, after decades of being in bands together. They are also both extremely successful in their own rights, as is Charm Farm singer Dennis White. Zuccaro runs three restaurants now (the Lunchbox Deli in Grosse Pointe Park, the Green Room in Detroit and Burrito Mundo in Grosse Pointe Woods), and he's showing no signs of slowing down. He's currently putting a new musical project together. Hoegemeyer works at Rust Belt as a producer and engineer. He sits in as a session musician on countless records and he has a dub project called Deep See Sound System. He has also played drums with Crud, Inner City, Paul Lamb, Uncle Kracker and many others. Dude's busy, in-demand. White now lives in L.A. and is a respected name in electronic music, under the moniker Static Revenger. Charm Farm is completed by bassist Dino Zoyes (who also went on to Gold Cash Gold) and keysman Ken Roberts (who replaced original keyboardist Tommy Onyx).
Charm Farm formed when Detroiter White, then living in Boston, had started to write songs but couldn't find a band. He returned to Detroit and found the band. 
Zuccaro explains that the band started in "'88 or '89. Eric joined in '91, while still in high school. White's about four years older than me, and I'm a couple of years older than Eric. Dennis liked to pick us up when we were young and impressionable and mold us into what he wanted."
Zuccaro and Hoegemeyer agree that White was the brains behind Charm Farm. While working as musical director for '80s pop-dance band Inner City (remember "Good Life" and "Big Fun"?), White had visited England and been exposed to the Mad-chester scene that included the Stone Roses, Happy Mondays and others. 
"In the '80s, in America, you were either a dance music fan or a rocker," White says via phone from his L.A. home. "There was no crossing of those lines at all. The rave culture in the U.K. was mind-blowing. Detroit techno didn't mean fuck-all at that time. In England, I saw ravers who had a favorite rock band, be it the Stone Roses, Primal Scream or whoever. That was fucking great. I came home from that, and that's when we had the idea of, rather than being a band playing a club, we were like, fuck this. Give us the whole club, we're gonna put on an event, we'll have techno DJs playing with us, we'll bring everything, and that's how we started bringing that event-based production to our shows."
Hoegemeyer describes White as focused and intelligent, a great musician. "He knows how to schmooze and work all the angles," Zuccaro adds. "Even in the beginning when we were really young, he was constantly maneuvering and shifting us towards success, and he was really good at that. He knew the game. He ruled with an iron fist in the early days. Whatever he did, we were at his beck and call. Whatever whim he may have. It was like that for a while, until the mid-'90s. He was good at molding the band though."
He certainly was. Thanks to those dance music influences, Charm Farm was not an ordinary rock 'n' roll band. 
"We would play not typical venues," Hoegemeyer says. "We'd drop three songs in the middle of a dance night at a big club at the time called the Warehouse. There would be thousands of people there dancing to DJs, and we'd somehow convince the promoter to let us play three songs, right in the middle. You've got an instant audience."
Zuccaro agrees. "We'd play 'Sweet Emotion' by Aerosmith with a break beat behind it. It always went down well. I was always surprised it went down as well as it did. Nobody knew we were playing, but word started to spread. That's part of Dennis' manipulation of the scene. Looking back, it was pretty ballsy."
"The promoters should get credit for that stuff too," White says. "It wasn't just ballsy for us, it was ballsy for them. We'd always hold it together, though. Two of our songs, then maybe a cover that everyone could relate to, then we got out. We did a lot of that three song shit back then. That's why playing for an hour in Ferndale sounds exhausting."
Charm Farm put out two albums, Unharmed and Flirt, before getting signed by Mercury Records and putting out a third, Pervert. A massive radio hit, "Superstar" ensued. Things were looking up for Charm Farm. Of course, they were. Isn't that the story, just before everything nosedives? 
Yep.
"We had a hit song — No. 1 in Detroit for 16 weeks straight," Zuccaro says. "We ended up playing the Detroit Music Awards and bringing Kid Rock up. Mercury Records came to see us and ended up signing us. We got signed, everything was going well, and then ... there were a couple of miscommunications."
He's not wrong. A cheesy pop remix of "Superstar" had become a big hit on California radio, despite that the band didn't want it released. As a result, the band sold 1,200 records in California in one week, then 1,000 were returned when the buyers realized that the rest of the album didn't sound like that one disposable single.
"The remix of 'Superstar' was by a guy called Richard Humpty Vission," White says. "He even took my voice out of it, just used the female backing vocals. I told the label that the songs would destroy our careers. We had remix approval, so we thought that was the end. Fucking Vission, who is one of my best mates now, so I can say this, this asshole presses up 3,000 copies and that version of 'Superstar' becomes the biggest song of the year at the big pop station here in L.A. It was an anthem, huge. The record company was dying for attention for that, so that's the version they put on the album. Then, when we got booked, people would show up expecting this dance band with girl singers and they'd get us guys."
"There was a split with the label trying to push the dance side of it," Zuccaro says. "Then everything fell apart. We didn't get any tour support from them, and they put us on a shelf. A year later they gave us the tapes back and released us from the contract, but by that time we'd changed the name to Control Freak. It was all so anticlimactic. We were going to L.A. to shoot videos, and then it all nose-dived."
"They were trying to market it in two different directions," Hoegemeyer adds. "They didn't know what to do with it. Grunge was happening at the time too. In those days, a lot of bands were getting signed, like us, but just as easily getting dropped if it didn't click right away. It got wrapped up in legal bullshit and everybody got impatient so we just moved on to different things."
But not before glam-tranny Pete Burns (of Dead or Alive) wanted to manage the group. 
"I think they'd met Dennis through the Inner City thing or something," Hoegemeyer says. "That was during my first trip to London when they were taking us out to dinner every night and spending ridiculous amounts of money. Pete had turned into a hot chick by then. Somebody in the camp was a transvestite who had been in Madonna's Sex book. Apparently, I met Boy George on one of those nights, but I don't remember at all."
That's Charm Farm then. Maybe they didn't hit it but they've a shitload of stories, and some wisdom from experience. 
The forthcoming reunion show reminds us that, contrary to popular opinion, Detroit wasn't musically barren between the mid-'80s and early '90s. 
"There was a lot of great stuff here," Zuccaro says. "There was us, Big Chief, Sponge, Majesty Crush ... there was a lot more than most other places."
The guitarist laughs. "I don't hear anything great coming out of St. Louis."
Charm Farm plays the DIY Street Fair in Ferndale at 9:45 p.m. Friday, Sept. 16, with Lettercamp, Stepdad, Phantasmagoria and others. See diystreetfair.com.