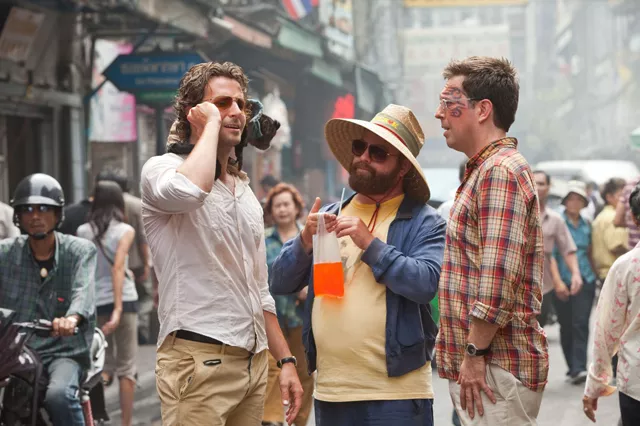 The Hangover Part II
GRADE: C-
Like listlessly thumbing through someone else's vacation photos, the Hangover Part II implies a good time, without bothering to share the sensation with the rest of us. Made famous by the surprise smash success of the rowdy original, the cast reunites for an expensive romp through Thailand that must've have been more fun to make than it is to watch. "The Wolfpack" is back in action, in a bigger, noisier and far less satisfying round of pre-nuptial antics, which feel less like a party than the morning after, full of ill-will and regrets.
The groom this time is Ed Helms' milquetoast dentist Stu, still so rattled by the group's Vegas outing that his idea of a wild time is a "bachelor brunch" at the local IHOP. But his fiancé is of Thai heritage, and by the time the bridal party plane touches down in Bangkok, the seeds of chaos have been sown. Handsome ringleader Phil is joined by bizarre momma's boy Alan (Galifinakis) and Stu's teenaged, soon-to-be brother in-law, Teddy (Mason Lee), who's promptly lost after another night of drug-induced blackouts. Nice guy Doug (Justin Bartha) is again sidelined, though this time he's safely manning a poolside deckchair back at the resort.
The film's middle third is consumed by gags about booze, cocaine, bar fights, male nudity, hookers and Asian ladyboys, which all sounds like the premise of a bad '90s standup routine. There are also plenty of car chases, gunfights, and speedboat stunts, which upped the budget, but don't add to the comedy. As with his previous effort, the mean-spirited and frantic Due Date director Todd Phillips wrongly seems to think he can solve any problem with more mayhem. How about better jokes instead?
Like the lazy Ocean's Eleven sequels, there's a spirit of celebrity entitlement to the proceedings, but some of the famous faces never showed up. The missing Mel Gibson cameo is a gaping hole, and the anonymous actor in his place spits out a string of foul mouth tough talk, with none of the impact a famous face would've have carried. He's not the only comedy killer on hand. As a Korean American, Ken Jeong can probably get away with playing a swishy offensive stereotype, but he can't get away with being painfully obnoxious. His grating character grinds his every scene to a halt, and he's in far too much of the movie's second half. Galifinakis continues his love-him-or-leave-him comedy approach, and some of the few good bits come from Alan's total obliviousness: he thinks a sacred Buddhist temple is a large P.F Chang's.
All comparisons to the smarter current hit Bridesmaids are more out of whack now; considering the under-written characters here. Women are total nonentities in this world, but then the men are rarely allowed to be more than broad "types" in service of setups and punch-lines that fall flat at an alarming rate.
The Hangover Part II may be victim of a grading curve, somewhat understandable, as the original became the highest grossing R-rated comedy in history. Much of that success came from unpredictability; which is pretty much blown when you essentially change the setting and re-create the plot point by point. Sometimes you can crash pretty hard trying to catch that first buzz one more time.