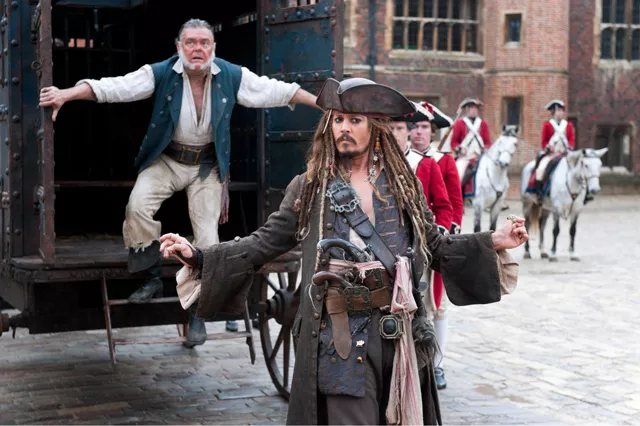 Pirates of the Caribbean: On Stranger Tides
GRADE: C
Stranger than what? Let's face it, after taking in more than $2.6 billion, the only thing the makers of latest Pirates of the Caribbean movie needed to do to was phone in their request for more box office millions.
And that's pretty much what they did.
With a script that's little more than an unfocused outline, Captain Jack Sparrow mostly sidelined to the periphery (just what the hell does his character want in this movie?), cleverless direction and only minor moments of spectacle, the $200 million question is: What was the point? Certainly a budget like that can afford a taste of the Hollywood insanity Gore Verbinski brought to the earlier installments. Couldn't writers Ted Elliot and Terry Rossio come up with something half as interesting as the Kraken, barnacle-encrusted sailors, skeletal pirates in the moonlight or a bad guy with an octopus for head? Instead On Stranger Tides gives us a handful of unimpressive zombies and some toothy mermaids.
Adapted from Tim Powers' unrelated 1987 novel (read his wonderfully entertaining The Anubis Gates!), On Stranger Tides has Jack (Johnny Depp) being forced by his former paramour Angelica (Penelope Cruz) and her evil father, the pirate Blackbeard (Ian McShane), to lead them to the mythical fountain of youth. But first they must catch a mermaid, retrieve the silver chalices of Ponce de Leon and outrun Sparrow's old nemesis, Captain Barbossa (Geoffrey Rush), who's working for the King of England. There's also a hunky missionary and a rival Spanish king, but nobody will really care. The movie is just a haphazard concoction of commercial rather than entertainment instincts.
The movie's first 20 minutes are engaging enough, capped by an energetic but not particularly well-executed chase through London. Then there are a few explosions and a little bit of swordfighting and whole lot of trudging through the jungle or sailing across the sea. The action is murky and muddled, and because most of the film takes place at night, the ineffectual 3-D just makes it worse. Rob Marshall is a mostly competent director, but he has no visual style or panache. More unforgivably, he doesn't achieve a single rousing moment — a staple of any successful swashbuckler. Even Verbinski, for all his overindulgent faults, knew how to manufacture enough gee-whiz instances of cinematic joy. On Stranger Tides' virtues, if they can be called that, are its cram-it-all-in pace and Depp's muggy innuendos and malapropisms. It isn't enough.