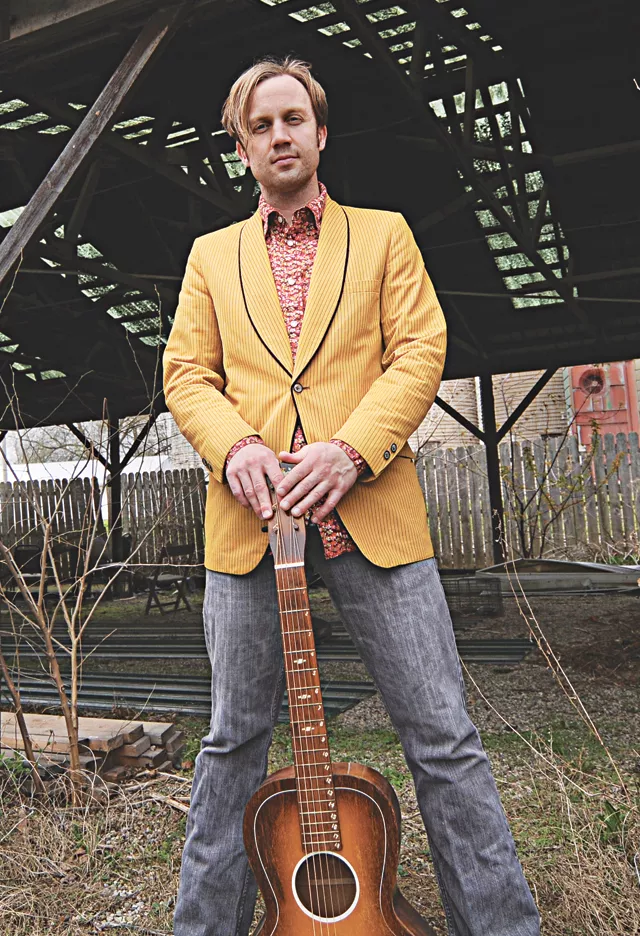 It's been seven years since Timothy Monger released an album under his name. What he needed was to catch his breath. What he needed was something like a "kick-start."
The Ann Arbor-born singer-songwriter known for his balance of folk and baroque pop, capped off his spring by running a marathon (yes, a marathon) along the foggy coast of the North Sea in Scotland only to jump start his summer by busking a marathon of acoustic performances, serenading nine record stores and coffee shops throughout Ann Arbor and Ypsilanti in less than 12 hours.
And at the finish line, he released his second solo LP, The New Britton Sound. Named for the farming community where he and girlfriend Kristie Brablec have lived for the last five years, this new album digs into comparatively darker territory, lyrically and tonally, than the simmering sunbeams of its predecessor, 2004's Summer Cherry Ghost. This is understandable, since his band, the yarn-spinning folk-rock quintet the Great Lakes Myth Society, reared down to an official hiatus in the middle of Britton's production.
"It's been a tough couple of years," Monger says of GLMS's inactivity. "We'd never really taken a break. We'd had a lot of success, critically, and respect from other musicians, but we'd made our mistakes. Maybe we didn't tour at the right times or kept to gigs that were the wrong gigs at times, but we'd also done a lot of cool things. We were demoing our third record but it just wasn't gelling.
"Personally, it was tough."
Monger had been performing with GLMS members such as his brother, James, and Gregory McIntosh for more than a dozen years and they're guys Monger calls his "best friends."
The songwriter — who lists both Bowie's Hunky Dory and Queen's A Night at the Opera in his top five list of life-changing albums — is certainly one of Michigan's more prominent and visible folk-rock sons. To make Britton, Monger embraced a bit of hermitage and set up his ProTools studio inside a feed house on Brablec's family farm. He mostly produced the album himself, occasionally inviting a slew of Ann Arbor- and Ypsi-area musicians to Britton (25 miles south of Ann Arbor down US-23) to hunker down with him for some snowed-in song crafting.
So why'd it take seven years to do a solo follow-up to Cherry? It was a combination of self-doubt masquerading as self-deprecation ("I know the world wasn't really waiting for a second solo album from Timothy Monger"), the wear of a whirlwind five years spent recording and touring with GLMS, and, particularly, the financial hit Cherry delivered to his wallet.
But much has changed in the seven years since Cherry, particularly the Internet's shaping of the "music biz." Monger reluctantly started a drive on the project fundraising site kickstarter.com, and wound up reaching Britton's goal for production costs within 24 hours from fan and friend donations.
"That response was unbelievable," he says. "I was so happy."
Happy is, of course, a relative term. Monger says Britton "was going to be my winter-record," admitting his original expectations for a mellower, sparser album. In truth, Britton's moonlit ponderings contrast the sunnier jangle-pop of Summer Cherry Ghosts, and it is somewhat of a winter record, but much of it winds up being warmed, not merely by the brass and banjos, but also by the dulcimer-like ring of Monger's voice and his literate lyrics, and the choruses that often shake off fear or self-doubt. The new album shows Monger's ability to weave indelible melodies, and his tastes for eclectic arrangements include banjos, brass and uillean pipes.
"My 'dark sound' is more like 'McCartney-dark,' he says. "It would take a lot for me to make a horrifyingly bleak album. It's not the record I thought I was making. I've been calling it 'rural pop.' It's really not folk, despite some folky elements. It's definitely influenced by where I've been living the last four years."
He is an incorrigible refiner, and in that refinement, songs can take on new life. Thoughtful string arrangements can add a rosier flair while melodicas and dulcimers can warm things up atop a groaning guitar or dirge-like rhythm. And his melodies stay in the head for days.
"Pop melodies have always kinda been my thing," Monger says. Most of Britton's production period "was definitely more of a melancholy time for me, but the longer I tend to work on things, the more parts I tend to add and then the more melodic and pop-driven it becomes. That's just who I am. A few years ago, I had the idea to limit [Britton's] instrumentation and make it a quieter, singer-songwriter-type album. Yet, here we are, two years later and it's got strings and hand-claps and tambourines all over the place."
Monger adds, "It sounds like one of my records."
And that sound always evokes the outdoors. (Crickets are uncredited contributors — one song is bookended by their sharp chirps). "I'm very seasonally influenced," Monger says. "I'm outdoors as much as possible. I grew up pretty much just outside all the time, around a lot of animals. I guess I'm an earthy guy. I've found that seasons, in time, they're like [song] classics." Britton's closer is titled "Classics," and how those types of songs "give you strength to make your move."
As he sings in "Witches," one of a few songs that Monger admits features his most personal lyrics, he's ready to "put his boots back on."
Meanwhile, he's still trotting in his rubbery running shoes. This guy, known for his stirring road-tripper ballads, took up running as a means to stay in shape whilst on the "wrong side of 30," and because he's compulsively goal-oriented, he prepared for (and completed in) the 2009 Detroit Free Press Marathon.
A friend and fellow runner asked Monger to consider joining him for a run in Edinburgh's marathon. Why not, Monger thought. He's never been one to slow down, anyway, having picked up a guitar and songwriter's pen at 16. "Personal time away, with no instruments," Monger says, "actually benefits my music."
Monger's next move involves promoting the new album and "figuring out the business end of it." Once he references the thousand leftover copies of Cherry Ghost, his self-deprecation is audible again, but, if anything, Monger's Kickstarter success proves that the Internet isn't too rough of a wilderness for this "earthy guy" to traverse.
Monger plans to play some shows throughout this season, some solo and some with his side band Timothy Monger State Park.
Eventually, Great Lakes Myth Society will reconvene. "I don't suspect we'll ever tour or gig as hard as we did, since its personnel is spread out across the country now. But, yeah, I plan on doing both bands. And, oh God, hopefully not waiting seven more years to get out the next solo album."
Timothy Monger's five life-changing albums:
Queen
A Night at the Opera
XTC
Skylarking
Fleetwood Mac
Tusk
David Bowie
Hunky Dory
The Zombies
Odessey and Oracle
Timothy Monger performs twice on Friday, July 8, once at 6 p.m. at Ann Arbor Summer Festival at Top of the Park (in Ann Arbor), and at 9 p.m. at PJ's Lager House (1254 Michigan Ave., Detroit; 313-961-4668) with the Bell Beat and Matt Jones & the Reconstruction. For more info, see timothymonger.com.