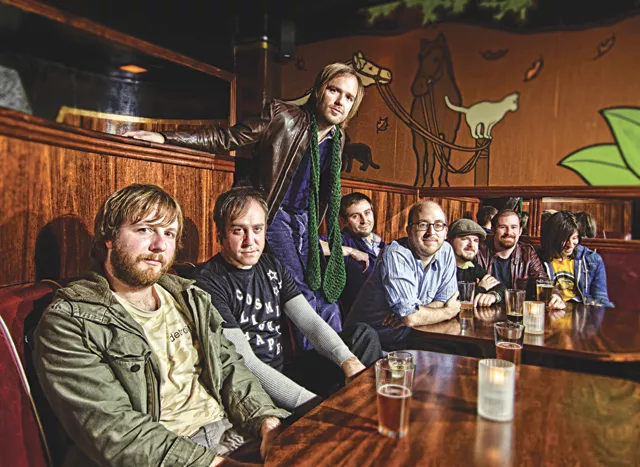 Since forming in 1998, Eddie Baranek has led his Sights to near-stardom and back again a couple times over (search our online archives for the complete stories). Four studio albums and countless tours later, and the band's putting out a "demos and outtakes" album aptly titled Twelve in the Bar. To celebrate, the Sights play a Detroit release party, but it's no ordinary show; every available ex-member of the band (of which there are many) will return to rejoin the Sights for one night only. It'll be a great moment in Detroit rock 'n' roll, to be sure.
The ever-affable, never-tiring Baranek, who started the band when he was a teenager, sat down to answer some questions about the new album, the show, the past and the future.
Metro Times: There have been so many musicians in the band now that I have to ask, are you the Sights?
Eddie Baranek: Whenever there's a new member, whichever lineup I'm with I'm like, surely this'll be the last. It's not like I plan on having a revolving door. When the first three guys got together, I was like, oh, this is the Sights. Then another guy would join, and I would be like, OK this is the Sights. So it's not so much a plan. I always think that the current lineup will be the last band.
MT: Are you confident of that now?
Baranek: I hope so. [laughs]
MT: You've played with many bands, including Shotgun Wedding, KO & the Knockouts, Spitting Nickels and others. Are you playing with anyone else right now?
Baranek: It's just the Sights. I mean, I play with Scott Morgan but no KO and the Knockouts, no Spitting Nickels, none of that stuff.
MT: You also work at the School of Rock (in Rochester), teaching kids the devil's music. How is that going?
Baranek: The School of Rock is kicking ass. Me and Augie from the Hard Lessons are putting on an AC/DC show. Hopefully, we'll be doing a Stones show, coming up in the next couple of months. It's all going strong. It's fuckin' rock 'n' roll. I love it.
MT: I've seen some of the shows you've put on, and you look like you have fun prompting your pupils from the front ...
Baranek: It's so funny. Sometimes people have an older brother who teaches them how to do shit, but there are not really that many older brothers who know how to play guitar. A lot of people have older brothers who can tell them how to hit a baseball or throw a football. So it's a good opportunity to show people how to fuckin' let loose, and not to take things so seriously. That makes sense.
MT: How has the sound of the Sights changed over the records, as members have come and gone?
Baranek: It's going to change as different personalities come and go. Everybody adds a little bit of their own flavor to the mix, definitely. But, y'know, I don't know if everyone always gets slower as they get older, as opposed to maybe the young energy. That first album was really all about the energy. That young, going-for-it energy. I think that energy is still there now but it's different. It's not all that youthful, having nine lives and just fuckin' going apeshit. Now it's more personal. But I just have this intense rage on stage. In a good way.
MT: Tell me about the new record. It's a "demos and outtakes" deal, right?
Baranek: It's like demos, outtakes from album recordings and some radio stuff. We had done a seven minute version of "Nobody" at an NPR thing in Philly. We threw a little riff in there. It's a side of us that isn't always on our records. There's that raw energy that we get live. It's on record now. It captures our humorous side, that I don't think sometimes our albums showcase. We have a song called "I Wanna Fuck Your Sister." There's another song called "Monkey in the Middle." We use carnival circus organs, like Sgt. Pepper's. I think sometimes some of that stuff gets lost. We wanted to capture it.
MT: Demo albums, like deleted scenes on DVDs, can go either way, right? Like, sometimes you hear them and think, "There's a reason that was chopped off the album"...
Baranek: Yeah, yeah, but I think that we all have that in us, that desire to look, take a peek behind the curtains. Maybe if we see them with their pants down, it can shine a bit more light on it. Literally, I guess.
MT: Are all of the ex-members of the Sights coming back for this show?
Baranek: Yeah, we've got a bunch of them, man. The guy that named the band, the original drummer, Mike Trombley, Dave Knepp, there are like nine guys or some shit.
MT: Is anyone not coming back?
Baranek: Yeah, there's going to be a few that are sadly going to be out of the country on that date.
MT: There must be a reason why some of them aren't in the band anymore. Are there some who didn't want to play, or that you didn't want to play?
Baranek: [laughs] I thought that was going to happen but actually we got full cooperation. If they were in town, they were going to do it.
MT: Who are you most looking forward to playing with?
Baranek: I mean, I'm really excited to play with a few of them. It's like a Christmas show, and it's kinda like my family. That sounds like a cliché, but with all these ex-members — I've lived so much life with these guys. It's going to be a fun, family reunion type thing. I haven't played with some of these guys in nearly 10 years, man, you know? I think it's going to be great. I'm really excited.
MT: And it's at the Magic Stick ...
Baranek: That was kinda like home base when we did all of our record release parties. All of the fuckin' craziness happened there, all of the fun. I think it's still one of the best places, man. I can't tell you how many times I've carried the Hammond organ up those steps. ...
MT: Do you still have a big following abroad, particularly in the UK?
Baranek: We do alright. We're trying to get over there. UK and Spain. We haven't been over there since 2005 or 2006 maybe, so I'd like to get over there and check out how much of a following we've still got.
MT: You're a notorious Anglophile, but is Detroit still the place to be?
Baranek: I wouldn't want to be from any other place. I don't even know how to be from any other place. It feels so good to be from Detroit.
MT: What still drives you?
Baranek: It might still be the same songs I'm playing on stage, but it's a new room, new audience, new city ... we just got back from Pittsburgh, Cincinnati, St. Louis, Chicago and Madison, Wis. So it's just as fun as hell for me. It may be the same songs, but every night is different and new. What drives me is that I'm still hungry on stage.
MT: What do you have planned for the Sights after this show and record?
Baranek: We're midway through the fifth studio album, so that should be out in the spring. We've got eight songs done with Jim Diamond, so we're just going to tidy those up, do another batch, and we'll be out by early next year.
The Sights play a record release party for Twelve in the Bar on Dec. 28 at the Magic Stick; 4120 Woodward Ave, Detroit; 313-833-9700.
L to R Dave Shettler, Eugene Strobe, Eddie Baranek, Matt Hatch, Dave Lawson, Jarrod Champion, Skip Denomme, Bobby Emmett