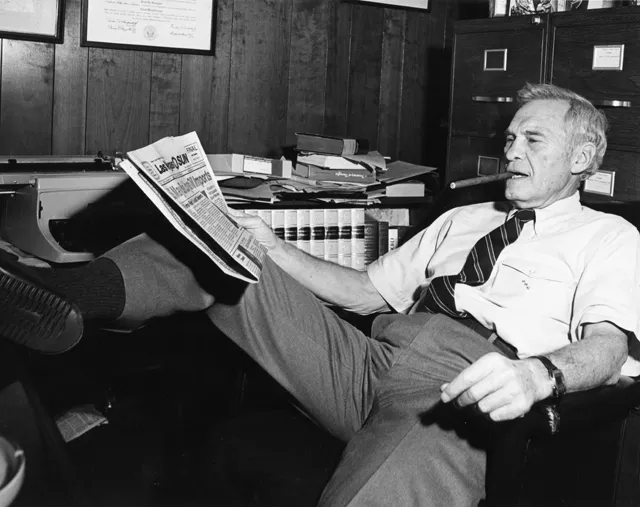 News Hits usually lets our stable of regular reviewers handle movies, but a special request was sent our way to give some ink to a documentary titled Where I Stand.
After watching the film, we're more than happy to spread the word about this look at the life of a newsman named Hank Greenspun.
Don't feel bad if you never heard of him. We hadn't either. But damn, what a life this guy lived. After a stint as a major in the Army during World War II, the Brooklyn native landed in Las Vegas in the late '40s just as the desert was beginning to blossom casinos.
Greenspun, who died of cancer in 1989, worked briefly as a PR guy for mobster and casino owner Bugsy Siegel, then got into the newspaper business as a publisher and columnist after his boss got rubbed out by some associates unhappy with the gangster's profligate ways.
Over the years, Greenspun took on the dangerous demagogue Sen. Joseph McCarthy and other powerful politicians. He railed against the above-ground nuclear tests that were conducted in the Nevada desert back in the day, got into a long-running fight with the IRS, and played a part in the narrative of the Watergate scandal.
Along the way, he took a little time off from the newspaper business to (illegally) help supply Israel with weapons as it struggled to survive as a nation in its early days.
He was absolutely fearless.
Written and directed by Scott Goldstein — himself a former newsman — the documentary features narration by Anthony Hopkins and interviews ranging from 60 Minutes vets Mike Wallace and Dan Rather to Israel's Shimon Peres, a Nobel laureate.
As Goldstein told us, he feels like one of the Blues Brothers, on a mission from God to bring Greenspun's story to the masses, in no small part because it draws attention to the need for journalists with the courage to fight for what they believe is right, no matter what the consequences.
It is a quality far too rare these days in the buttoned-down world of corporatized news. The film is one of more than 40 from around the world being shown as part of the upcoming Lenore Marwil Jewish Film Festival that runs from May 15-26. For more info about film locations and ticket prices, visit the festival's website at filmfest.jccdet.org. A screening of Where I Stand will be held at 5 p.m. Sunday, May 15, at the Berman Center for the Performing Arts., 6600 W. Maple Road, West Bloomfield.
Goldstein, an Emmy and Golden Globe-winning writer, director and producer, will also be speaking at the event's Patron's Night on Thursday, May 12. Appearing with him will be Pulitzer Prize-winning Free Press reporter M.L. Elrick.