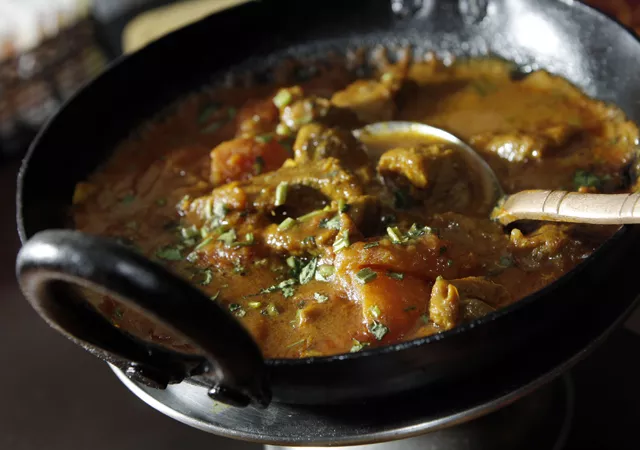 Mazza Indian Cuisine
3354 W. 12 Mile Rd., Berkley
248-543-6299
Handicap accessible
Entrées $9.95-$13.95
I tend to be uncritical when it comes to Indian food; I like it all. So I'm not happy to report that last year's entry on the Berkley scene is disappointing.
Co-owner Razur Rahman, a pharmacist, is the son of the man who opened Passage to India in the same space in 1986. Lessees ran it after 1989, and Rahman reclaimed the space 20 years later and gave it a new name and a facelift.
Mazza, which means "tasty" in Hindi, is comfortable and lovely to look at. The burgundy and gold chairs are padded; the place mats are paisley; entrées are served in pretty hammered-copper bowls; the walls feature Taj Mahal-shaped cut-outs inlaid with colorful history scenes depicting the Mughal Empire.
But service is very slow, if friendly, and the food is so undistinguished that I sat staring at my notebook searching for adjectives.
It could be that the food is unexceptional because it ranges so widely, from the dosas of south India to a dansak from Persia. There are 68 entrées, mostly from northern India.
The entrées are superior to the appetizers and to the side dishes that come when you order "thali style": add a bargain $3 to get vegetable curry, dal, sambar, raita, rice and naan, with gulab jamun for dessert. Sambar, a South Indian vegetable stew, was served cooler than lukewarm. Dal, here a lentil soup, was thin. The curry was better, with peas, onions, cabbage and green beans and a nutty flavor. On our second visit we skipped the thali despite the seeming bang for the buck.
A mixed appetizer brings eggplant, onion and cauliflower pakoras and a large samosa, the eggplant tough and chewy, the other components fine if not memorable. A mango lassi is not as sweet as some, paler and mellower, more yogurt than mango. Naan varied considerably on my two visits: plain naan was crisp and sweetish, and another night cilantro naan was chewy, with the cilantro taste converted into something slightly bitter. Other naans are garlic, onion, ground lamb or stuffed with chicken tikka.
For soup, we ordered palak shorba, puréed spinach, and found it tasted sour. Back to mulligatawny!
The masala dosa, listed as an appetizer, was unlike those served elsewhere, where the dosa is usually a thin crêpe (though within that rubric dosas can vary widely; see my review of Krishna Catering & Restaurant from Sept. 28). At Mazza the dosa was very thick and grainy — quite filling — the potato curry stuffing good and hot.
It's usual in Indian restaurants for entrées to be way more sauce than meat, and I have no problem with that — that's what your rice is for. The ratio seems larger than usual at Mazza. I found the five entrées I ordered almost undistinguishable by sight. Although their flavors did differ, I was hard-pressed to pick out any really noticeable characteristics.
The typical lamb dishes are there, from "extra-hot" vindaloo to mild and creamy korma, along with shrimp and chicken and ten vegetarian entrées. More unusual are five beef choices, including a Pakistani recipe involving a beef shank.
My companion ordered beef nilgiri korma, in a yogurt-almond curry sauce, and found some of the beef cubes on the tough side, though the thick golden sauce was bright and strong, not as mild as some kormas. The recipe I found online called for frying cinnamon, cardamom and cloves as a first step.
I ordered lamb pasanda for the raisin, almond and coconut toppings advertised, but didn't see them. This is a crowd-pleaser — pasanda means "to like" — marinated in yogurt and on the mild side.
Lamb dansak was described on the menu as sweet, sour and hot; I'd say sweet was the winner, very slightly. It's cooked with lentils.
A fish curry from Bengal was mild tilapia in a faintly salty sauce. Lamb dopiaza, a Muslim dish, features onions — 6 to 10 per pound of meat. Two-thirds are cooked to death in the sauce, nearly dissolved, and a third are added at the end. The result is a medium-spicy dish.
Rice pudding (kheer) was a substantial dessert, with some taste of coconut and possibly some almonds mixed in.
Mazza is open every day from 5 p.m. to 10 p.m. and Monday through Saturday from 11 a.m. to 2:30 p.m.