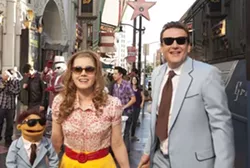 The Muppets
Directed by James Bobin. Written by Segel and Nicholas Stoller. Starring Jason Segel, Amy Adams, Chris Cooper, Rashida Jones, Steve Whitmire and Peter Linz. Running time: 102 minutes.
B
Muppet mania lives deep inside the heart of Generation X, a universal passion as profound and bottomless as the baby boomers undying affection for Saturday morning relics such as Howdy Doody. Oh sure, Jim Henson's timeless menagerie of scruffy, cuddly oddballs has fans across all demographics, but for the children of the late'70s and the early'80s (myself included) the Muppets are near holy personifications of all we hold dear in the world, the ping-pong eyed better angels of our often cynical natures.
So the burden of reinvigorating the franchise, which had grown stale under poor corporate stewardship, is a heavy one, and you'd have to be a fool to take on the challenge. Thankfully, Jason Segel is just the right idiot for the gig: a gawky star known for his lovably dopey presence in numerous Judd Apatow projects, he's also a pretty sharp screenwriter. At first glance, his stoner persona might seem an odd fit for a family film, but anyone who saw his nakedly confessional comedy Forgetting Sarah Marshall, which included an impossibly silly, all-puppet Dracula musical number, knows his heart is in the right place.
At 31, Segel is just a shade too young to remember the '70s glory days of The Muppet Show, but the re-runs clearly made a massive impact on his impressionable young mind. Along with writing partner Nicholas Stoller, Segel crafted a script that approximates the daffy, satirical and heartfelt exuberance that made Kermit and the gang famous.
The plot is the sort of old-fashioned Hollywood hokum in which Henson and his cohorts reveled, simultaneously spoofing and celebrating it. Segel plays a chipper small-town sap named Gary, who is engaged to the equally cheerful Mary (Amy Adams), and just happens to have an actual puppet for a brother, named Walter (Peter Linz). Understandably, Walter felt out of place growing up in a flesh-and-blood family, and was lost until he discovered the Muppets and began to idolize them. Now this eager beaver trio has finally put together the cash for an L.A. vacation, and a dreamed-of tour of the famed Muppet Theater and studios. Slight snag: The place has become a derelict dump, the stars are nowhere in sight, and a greedy Texas tycoon (Chris Cooper) has a scheme to drill for oil on the property. The only way to raise the money to save the theater is to reassemble the Muppet crew — which has drifted far and wide — and, of course, put on a show!
It's a time-worn trope right out of an old Andy Rooney movie, and the veteran star obligingly makes a cameo, with a twinkle still in his eye. He's not alone; in the tradition of 1979's original movie, a host of newer famous faces pop by, including Jim Parsons, Sarah Silverman, Jack Black and others too numerous to spoil.
The cameos are a blast, but the human leads really shine, especially Adams, who is so effortlessly sunny she qualifies as special effect. Segel also acquits himself as a song-and-dance man, belting out quirkily enjoyable ditties by the Flight of the Conchords' Brett Mackenzie, tunes that are fun, if not quite on the level of master Muppet songsmith Joe Raposo.
Not all humor hits; Kermit's electronic butler, dubbed "'80s robot," is too arch a joke, and there are too many mopey monologues and references to the Muppets' faded glory. Jim Henson, and the original puppeteers like Frank Oz, turned felt and foam creations into icons of warmth, humor and humanity. That kind of genius can't be replaced, but this new breed has its own talent, and that's more than enough for all the lovers and dreamers out there.