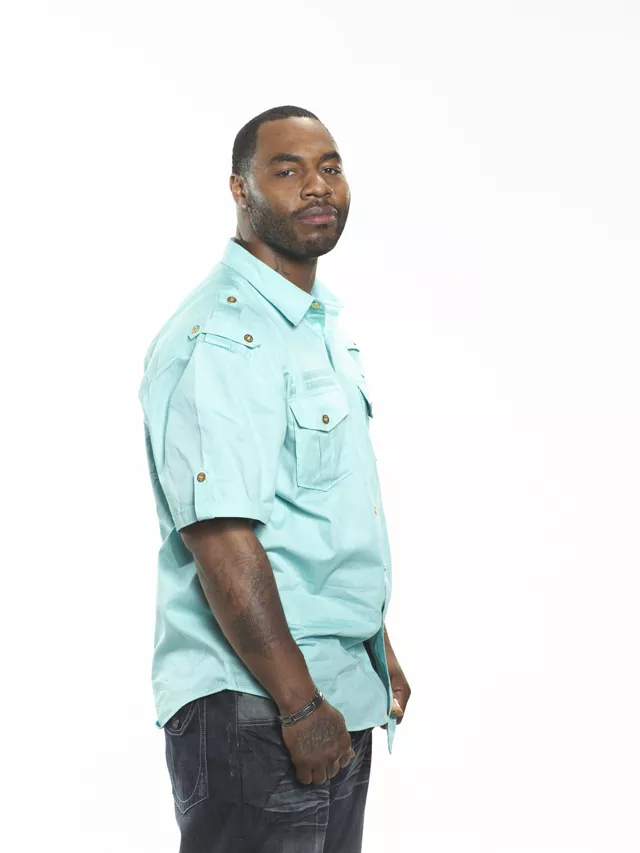 Less than two hours before our interview, ominously, I see a TV commercial announcing IHOP's menu launch of chicken and waffles, a popular breakfast combination in the South and at the celebrated string of Roscoe's House of Chicken 'n Waffles restaurants around Los Angeles. Clearly, if Detroit's Jamawn "Jay" Woods realizes his dream of obtaining financing for his own national chain of crispy fried chicken and waffle eateries on NBC's new reality series America's Next Great Restaurant, he needs to know he'll be up against some stiff real-world competition.
Oh, he knows.
"Everybody I know has seen that!" Woods, 33, says with a wry laugh. "People say, 'Are you sure you want to be cooking chicken and waffles now?' I say, 'Yup.'"
If self-confidence and sincerity count for anything, Woods has more than a puncher's chance of seeing his name in lights on a string of chicken shacks. A Detroiter through and through (born on the east side, raised on the west side and a Cooley High alum), Jay is one of 21 competitors — slashed to 10 this week, and, happily, he made the cut — who are battling to impress a quartet of quasi-celebrity judges in this high-stakes fusion of other current TV reality contests at 8 p.m. Sundays (Channel 4 in Detroit). Restaurant blends the business sensibilities of The Apprentice, the food-fight intensity of Top Chef and the entrepreneurial excesses of ABC's lightly watched Shark Tank (returning March 25) into a relatively interesting freshman series.
Except for its name, of course, which is totally bogus and misleading. The eventual winner selected and funded by restaurateur and Food Network star Bobby Flay, Chipotle founder and CEO Steve Ells, Aussie chef and former Celebrity Apprentice player Curtis Stone, and Miami chef and restaurant owner Lorena Garcia will not set in motion America's next great restaurant. The Lark, Opus One, the Whitney — those are great restaurants. What this show will spawn is the next chain of fast-and-cheap-food restaurants. Not once can I recall hearing the words "Burger King" and "great" used in the same sentence.
If such a restaurant could be great, however, Woods believes it would feature juicy fried chicken and feather-light waffles. He is the handsome, heartfelt young man you may have seen in the show's promos who declares, "If you guys invest in me, nothing can stop me." Apparently, not much has.
The show's producers sought out Woods and invited him to audition for Restaurant after one of his devoted diners turned them on to his one-man enterprise. Laid off from his job at a Chrysler subsidiary in 2007, "My money was limited, so I said, 'Hey, I love to cook, so I'm going to start selling chicken and waffles,'" he relates. "And it just blew up." Working out of his home, with his fiancee helping him on weekends, the self-taught chef built up a large and satisfied clientele, eventually parlaying his business called W3's — for Woods' Wings and Waffles — into a small catering and food delivery service modestly titled Cook With the Looks Catering.
Woods, who hosted a viewing party of the show's premiere episode earlier this month at a club on Schaefer Highway for his family and "the people who love and support me," is competing against the likes of a life insurance manager from Brooklyn promoting a chain of meatball restaurants he calls Saucy Balls, a former WNBA champion with sports-themed healthy wraps, and a PR whiz from New York with an Asian version of Chipotle named Wok.
The episodes were taped last summer, though Woods says the winner won't be selected until the show's season finale, and the process was much more demanding than he expected. "Working with Steve Ells, I didn't expect anything like that," he says. "I don't want to give anything away, but we had to work for the guy who owns Chipotle, so you probably can put two and two together."
Jay hopes to win America's Next Great Restaurant, naturally, but he says the experience alone has been invaluable in propelling his vision. "When you get on a reality show, you want to win, but there are so many people you don't really feel like, 'OK, I'm going to win this,' or 'I've got a good chance of winning,'" Woods says. "But once I got on the show, I started looking at the big picture. Whether I win or lose, this still could turn into something."

True madness: The NCAA men's basketball tournament is off and dribbling with the "NCAA First Four" games on truTV last night and tonight, and for the first time, hoop fans may not be able to tell the players — or the games — even with a program. The tourney has long been dubbed "March Madness," but the 2011 version is living up to the name.
In this first year of the $10.8 billion (with a "b") deal between CBS, Turner Broadcasting and the NCAA, every single game of the tournament will be aired in its entirety on one of four networks: CBS for free, or TBS, TNT and truTV on cable. This means keeping track of four TV schedules at once, even more staggered starting times than in previous years to accommodate four separate broadcasting platforms, and no guarantee that, as when CBS was the lone carrier, the thrilling conclusion of a game elsewhere will be "cut in" to the game you're watching.
CBS and Turner will split the "Sweet Sixteen" games this year, with CBS carrying the Elite Eight, Final Four and national championship game. But five years from now, beginning in 2016, Turner and CBS will split the Elite Eight and alternate the Final Four and championship broadcasts. The Final Four on cable? What balls.