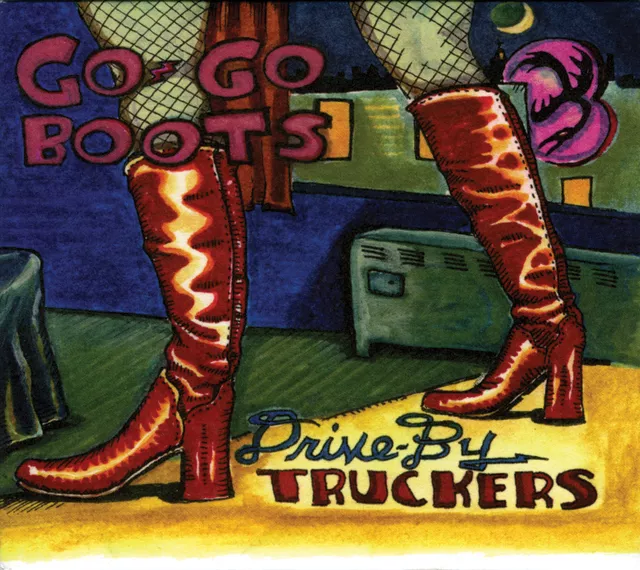 Drive-By Truckers - Go-Go Boots
ATO
Southern Baptist preachers have a funny knack of ending up in a world of shit whenever they appear in Drive-By Truckers songs. They have many names — "Reverend Bob," "your daddy," "the preacher" — but their fates rarely befit men of God. At best, they're "mad as hell," crankily towing an adversary out of a roadside ditch ("Zip City"), at worst, they find themselves "dead on the bedroom floor" ("The Wig He Made Her Wear").
On Go-Go Boots, the Truckers' 11th studio effort, co-frontman Patterson Hood upholds that songwriting meme, sparing no detail chronicling the real-life rise and fall of an Alabama preacher who paid a couple of guys to off his wife so he could take up with his bimbo mistress and the go-go boots she loved to wear — two songs are dedicated to the sordid affair. During one — eight-minute album centerpiece "The Fireplace Poker" — amid haunting piano trills, a metronomic-yet-elastic rhythm section groove and periodic crescendos that might leave the inside of your head buzzing with an incurable tension, Hood weaves the tale with bone-chilling precision and widescreen wisdom: "The Bible said that Jesus bled for the sins of the rest of us/ The reverend had his wife done in for $1,500 bucks."
That's not to say that the DBTs are retracing their footsteps. Anyone expecting the same old twang 'n' guitar crunch the band made its name on will be plenty surprised by this album's smoldering country-soul aesthetic. But what's surprising is how long it's taken DBT to find this sound. Most band members grew up in the Muscle Shoals area of North Alabama in the '70s — an era when the Shoals, an otherwise Podunk town, inexplicably became a world capital of soul, churning out hits from the likes of Percy Sledge and the Staples Singers. Hood's dad, David Hood, was the famed Muscle Shoals rhythm section bass player.
Accordingly, the ghosts of Shoals' golden era can be found deep in the grooves of Go-Go Boots. The album (recorded to 16-track tape) was taken largely from sessions that produced last year's The Big To-Do, which saw DBT in full-on rock mode and was terrific but necessitated that the band's three songwriters — Hood, guitarist Mike Cooley and bassist Shonna Tucker — swap some usual profundity and broad thematic strokes with extra distortion and melody. Go-Go Boots, however, is largely opposite its predecessor — mellower, more soulful, darker. There are, for instance, two stupendous covers of unheralded Muscle Shoals soul singer-songwriter Eddie Hinton.
The Shoals influence creeps into the band's own songwriting too, from opener "I Do Believe," a catchy reverie about Hood's grandmother, to the title song, which settles into perhaps the spookiest, funkiest groove DBT has yet laid down, abetted by their secret weapon, guitarist and pedal steel man John Neff, whose filthy slide sounds like the devil walking.
Elsewhere, Cooley takes us on a golden-era country swing with three Haggard-like shuffles, the finest of which is the deeply affecting and hysterically sarcastic "Cartoon Gold." Although there aren't many hard rocking moments, the band never strays far from what it does best and the guitar interplay doesn't get much tighter than "Used to Be a Cop," where Cooley's skittery guitar and Hood's tense, clenched-teeth narrative about an ex-cop whose own demons have left his life in shambles give the song all the cinematic heft of a great Scorsese flick.
Then there's the album closer. "Mercy Buckets" (redneck French for "merci beaucoup") speaks for itself as one of the most moving songs of love and devotion ever written, but on an album that thrives primarily on deep, empty spaces, thematically and musically, Cooley and Neff add a couple of exclamation points for good measure with soaring, power balladic lead guitar work. It's the explosive climax that Go-Go Boots slowly and affectingly builds up to for more than an hour, but like all the great Truckers stories, don't dare skip to the end.