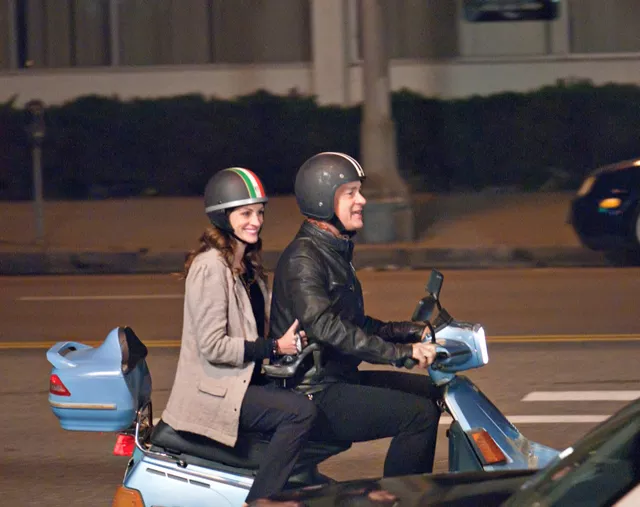 Nice, pleasant and likable Larry Crowne (Tom Hanks) gets fired from his job and finds there's little room in the marketplace for a guy who never went to college. This leads the ex-Navy cook to attend classes at the local community college, where he meets fellow student and scooter rider Nia Vardalos (who co-wrote the script). Young and carefree, she helps Larry find his hipper self and act on his hot-for-teacher longings for speech professor Julia Roberts. With little to no drama, character or substance, the movie shows us how Larry's life gets better and love blossoms. The end. Your grandma will love it.
What might've been the recession-era flipside to Up in the Air's self-satisfied tale of corporate angst ends up becoming just another cutsie-pie sitcom about self-reinvention. Larry Crowne tries to convince with its working-class suburban trappings, but Hanks' and Vardalos' treatment of a middle-aged Joe heading back to the classroom is about as believable as Rodney Dangerfield's Back to School — and not half as entertaining.
Though the movie never crosses into pretentiousness, and there are a few laughs along the way, one has to wonder what drew Hanks and Roberts to such insubstantial material. Old pros, the two stars give relaxed, charming performances while the rest of the cast desperately mugs for recognition. Vardalos, in particular, is an unconvincing fairy tale alterna-chick that solves every problem with a winning smile and her spunky personality. The less said of Hanks' colorless direction the better.
What's most disappointing isn't that Larry Crowne is the very definition of "meh," but rather what it says about Tom Hanks' ambitions. Aside for 2007's Charlie Wilson's War, the two-time Oscar winner has spent much of the last seven years squandering his formidable talents on cinematic pabulum like Angels and Demons, The DaVinci Code and Polar Express. While the pay's great, Hanks can do better. Or, as my colleague Corey Hall laments, Hanks' best recent work has been his guest spots on late night chat shows.