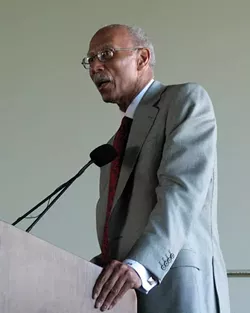 News Hits is trying to understand. We also want to help.
What we're trying to understand is why Detroit Mayor Dave Bing and his administration are making it so difficult for journalists to obtain information in the fastest, most efficient way possible.
Because, the fact is, we here at the Metro Times have been experiencing a lot of difficulty getting timely answers to legitimate questions.
If it were just this paper having a problem, we wouldn't be dealing with the issue in print this way. But it's not just a matter of us being excluded from the administration's "A-list" when it comes to media priorities.
It is a problem that extends beyond just us. And the only conclusion we can reach is that the administration, and the "communications team" headed by Dan Lijana, are too anal-retentive for their own good.
Our message to them is, "Ease up a little and everybody — including you — will be the better for it."
At the heart of the matter is a directive issued by the mayor's Communications Office last year. It stipulates that "staff members" cannot respond to media inquiries, but instead must either "contact a Communications Team Member or take a message to have a Communications Team Member return the phone call."
Part of what's going on, we suspect, is the corporate mentality former businessman Bing has brought to his public sector job. But having a PR person handle the media at a place like Bing Steel is a much different thing than dealing with the daily flood of calls and e-mails from print, TV and radio reporters wanting immediate information on an incredibly wide range of issues.
Now, friction between a mayor and the press happens everywhere. And there's a particularly rich history of that conflict here in Detroit.
Former Mayor Coleman Young freely admitted in his autobiography Hard Stuff that, "I have stubbornly and purposefully withheld information from the media, inviting them to exercise their constitutional recourse and challenge my position with a lawsuit. ... The papers charge that I run the most uncooperative administration in the country, and I say, so be it."
There's no doubt an understandable reason why an administration might want to impose as much control over the information flow as possible.
"Cities are fighting for perception, so people stay there, new companies go there, housing prices stay constant," says Professor Corwin Smidt of Michigan State University's Political Science Department.
"If everybody talks to the media and gives all these different impressions," Smidt says, "in the end the city will look ineffective and dysfunctional."
It is equally dysfunctional, however, to constrict the flow of information so much it is reduced to slow trickle.
But there's also a workable middle ground. Certainly, in most cases, department heads should be astute enough to handle media questions regarding things their department is involved in. If they aren't, then they probably shouldn't be in that position.
Truly smart administrations figure out some equilibrium between wanting to put the best possible spin on coverage in the media and providing the public (via journalists) information that it has a right to.
In our experience, having covered a variety of mayoral administrations, there is a better approach than the one taken by Bing and crew.
Dan Cherrin says that when he was communications manager for then-Mayor Ken Cockrel, "All media requests came through me." He would then decide who should respond to the request, be it a deputy or department head, Cherrin himself, or the mayor.
There was not, however, any directive explicitly forbidding city employees from speaking to the media.
That approach, though still not ideal from the perspective of a reporter, makes infinitely more sense than the tack being taken by the Bing administration.
Why's that? Because the Bing dictum creates a total choke point. We pose questions to Lijana, who then has to go to the appropriate department head, or whoever, to get an answer. Lijana then gets back to us. Maybe. And if he does respond with info, there are likely follow-up questions that need to be asked, which takes more time and adds to the potential for confusion.
It's cumbersome, time-consuming and inefficient for all involved.
But Bing and the constantly revolving cast of characters around him have often shown a profound lack of acumen when it comes to dealing with reporters. That, at least in part, could well stem from the noticeable lack of actual journalism experience on the part of those who've been hired to serve on his communications team.
A prime example of this came last year when the administration took the unprecedented step of relocating the press' City Hall bureau to the basement of the Coleman A. Young Building. It wasn't just that reporters bristled at being banished to the basement because our vanity was bruised; beat reporters can learn a lot just by watching who is coming and going over there on the 11th floor.
And maybe now that controversial Communications Director Karen Dumas is gone, and former television news anchor Emery King has been brought in as a consultant, the administration will realize that it is in everyone's best interest to see reporters as something more than a nuisance to be swatted down.
The recent return of the City Hall bureau to its traditional 11th floor perch near the mayor's office is, at the very least, a smart PR move by the administration.
In our experience, Greg Bowens, who served as a spokesman for the Dennis Archer administration, was usually able to find the right balance between providing accurate, timely information and a positive spin. So we called to get his take on the matter.
At the heart of the issue is this: "City communications sometimes requires uncomfortable positions," he says.
Sometimes reporters are seeking a response to a story that doesn't make either the city or the administration look particularly good. That's reality.
Bowens, who now runs his own public relations firm, believes that transparency reduces some of the inherent antagonism. Easing regular access to info, he says, is also a key.
"There's so much routine information that sending out a memo like that [from the Bing administration] will cause a bottleneck and really have the opposite effect. You will lose control of your message."
Part of the issue involves the person at the top, and how comfortable they are dealing with the press.
Kirk Cheyfitz, a former urban affairs reporter for the Detroit Free Press, found the often-combative Young to at least be accessible.
"When I needed to talk to the mayor, I could almost always get him on the phone," he recalls. "And when I couldn't, his schedule was always publicly available. You could call his political aides and find out where he would appear in the next 30 minutes because the mayor was almost perpetually in the business of talking to people."
Cheyfitz, who has written about the city most recently for Huffington Post, has followed with particular interest the Detroit Works Project, the mayor's ambitious replanning of the city and arguably the cornerstone of his entire term.
Having covered both Young and Bing, Cheyfitz says, the difference in openness between them is stark.
"In all the interactions I had while trying to do reporting in Detroit," he says, "I kept coming into conflict with Bing press operations. They didn't want to talk, they wanted to supervise interviews, they didn't want to make [Bing] available, they wanted written questions."
Lack of transparency has been a common complaint among those associated with the Detroit Works Project. Angela Allen, a former senior project manager in the Education Outreach Department for the project, believes the all-important dialogue between the city and citizens to be substandard.
"Community development is based on honesty and relationships. That sounds cliché but having been through this before, I know that community leaders just wanted some transparency," she says.
Allen says she saw firsthand how city employees were told to keep some information private, and speak publicly only on issues that received clearance from supervisors. "You can't have transparency when people aren't allowed to express themselves and communicate openly with the people they serve."
Lijana, the administration's sole point of contact for the press, believes such concerns are overblown.
"It's pretty simple," Lijana says, referring to the directive. "It's really just a matter of keeping track of the information and making sure our people have the right information."
Lijana feels the directive, issued before he became Bing's chief spokesperson, is fairly standard in city government. "There's nothing out of the ordinary about it," he insists.
But when we checked with nine cities around the country, ranging from some of the largest to those with budgets comparable to Detroit's, all had communication systems that were more fluid.
In Los Angeles, Philadelphia, Houston, Boston, and Columbus, Ohio, all or most departments have their own public information officers.
Philadelphia's press secretary, Mark McDonald, says his city's PIOs "have expertise on their department and are trained in public relations." They keep the mayor's office abreast of particular media inquiries, especially those that might require sensitive information, and tend to develop working relationships with beat writers.
For smaller cities, the public relations staff is necessarily more centralized. Yet of the smaller cities we checked with — Fort Worth, Charlotte, Baltimore, Toledo — none admitted to having a directive with the same level of strictness as in Detroit's.
Charlotte, for example, has a considerably more lenient policy. "We realize that reporters like subject experts," says Keith Richardson of Charlotte's Communications Department. "We encourage members of our staff to give interviews with the media and we do not have a rigid protocol for handling media requests." After hearing about Detroit's media directive, he added, "If all calls came through [my office] it would really overwhelm us."
Our guess is that's exactly what's going on here, at least in part. Lijana is being overwhelmed.
But if other cities can take a more expansive — and efficient — approach, so can Detroit.
Bowens suggests training city employees in media relations would help.
"Teach people how to be effective communicators with the press. ... You don't prevent them from doing that by putting your foot on their neck so they can't say anything,"