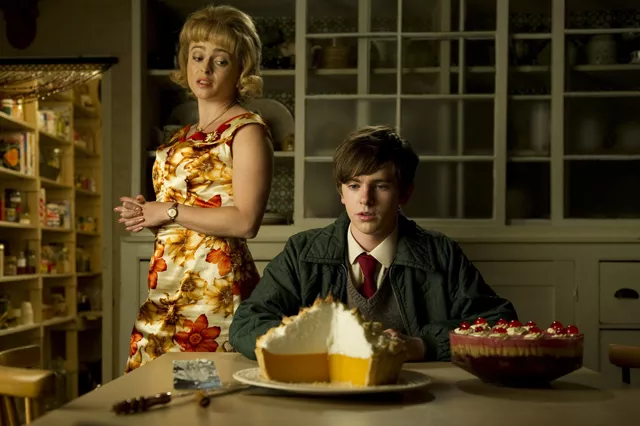 A memoir about British food in the mid-'60s? Are they kidding? Nope, Toast is indeed centered on bygone eats produced by a soggy land that culinary innovation forgot; a nation whose dodgy, gravy-drenched comfort food amounted to one long spotted dick joke spread over the decades like a thin gruel. But, baked in the warm glow of nostalgia, and Dusty Springfield tunes on the soundtrack, anything can seem tastier in memory.   
Oscar Kennedy and Freddie Highmore take turns playing the youthful Nigel Slater, who grew up to be a noted food writer and TV host, but started out as a weird little kid in stodgy, industrial Wolverhampton. Obsessed with food, Nigel uses cooking has an outlet to express his sorrow over his mother's death, and his apprehension over his eccentric new stepmum, lower-class Joan (a dressed-down Helena Bonham Carter). They engage in a frosty rivalry, in the home and especially in the kitchen, which only deepens along with Nigel's skills and post puberty voice.  
Palatable, but not quite sumptuous, Toast is solidly made but never as passionate or delectable as the lemon meringue pie that its hero bakes with pride.
Opens Friday, Oct. 14 at the Landmark Maple Art Theatre, 4135 W. Maple Rd., Bloomfield Hills; 248-263-2111