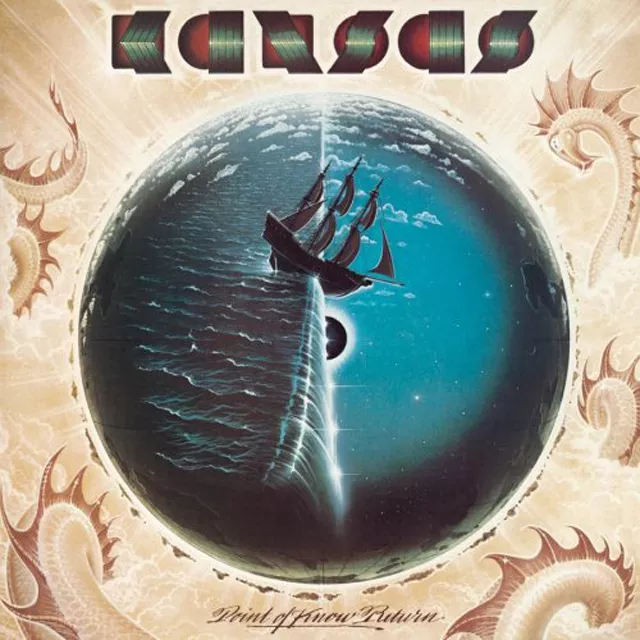 FRIGHT FROM THE BINS
Kansas
Point of Know Return
(1977)
One of the sadder aspects about being older than dirt is that when a legendary rock figurehead like Don Kirshner passes away, you have to go through layers of qualifiers just so your hot young girlfriend knows who in heckness you're talking about. Tell her the Kirsch made early rock superstars of Bobby Darin, Neil Sedaka and Tony Orlando, created Aldon Publishing, nurtured the careers of the Brill Building songwriting teams such as Goffin and King, Mann and Weil, Boyce and Hart, and you might as well be talking about the operation of infrared asphalt repair equipment.
In desperation, you'll pull out your trump card — that he was musical supervisor for the Monkees and the Archies — and you'll realize that the big Monkees revival was in the mid-'80s (when MTV had music and she had diaper malfunctions) and that Archie is just a comic book no one ever buys but is still inexplicably stocked at grocery checkout lines everywhere.
The Archies, The Monkees, even Don Kirshner's Rock Concert all have zero boob tube representation today, but thanks to Classic Rock Radio your sweet young thing will know "Dust in the Wind," that nihilistic anthem to nothingness recorded by the last talent discovery to get "The Man with the Golden Ears" seal of approval. I'm talking 'bout Kansas, once UNICEF deputy ambassadors of Goodwill, now just Goodwill store inventory. Leftoverture, Monolith, Vinyl Confessions, Two for the Show, they're all there for the asking, though we refuse to see. Yes, Toto, I have a feeling we're not into Kansas anymore. Or Toto for that matter. But that's for another day of jazz-pop sucks reckoning.
For now, you and the youngster will both have a good cry in front of YouTube watching these noble cornhuskers at some godforsaken Indian reservation casino cranking out "Dust in the Wind" and the meaninglessness of it all. She'll be all verklempt about the earth and sky outlasting her good looks. But you will be shedding one for "The Man with the Golden Ears," who gave us more than just real rock 'n' roll song publishing and real rock and rock 'n' roll TV — he gave us Kansas and eyepatch rock! And no letters from you, lone surviving Dr. Hook fan! —Serene Dominic
DOWNLOAD OF THE WEEK
Luther Badman Keith — "Cream in Your Coffee"
Think of the newly released CD Blues Nation (BMB Records, Inc.) as caffeine for your blues. When Keith, Detroit's newspaperman-turned-blues musician, first landed on open-mic stages, he was known for his naughty "Barbecue Baby" ballad. We're pretty sure that same country preacher will squeal at this tune too, which bears a resemblance in form and recipe, if not exact flavors. —Sandra Svoboda