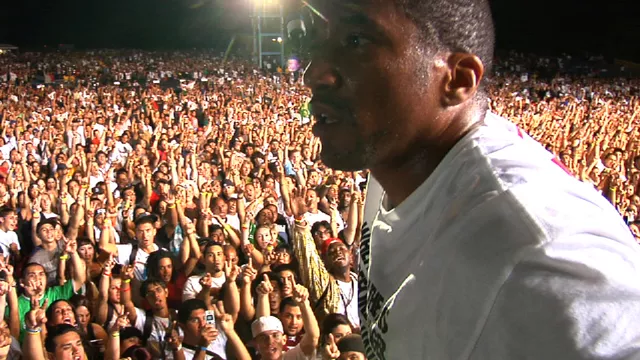 Beats Rhymes & Life: The Travels of A Tribe Called Quest
B-
Hugely innovative and massively influential, A Tribe Called Quest was the rare rap act that enjoyed critical adoration, peer respect and commercial success; but it all seemed to be just too much to handle. Formed in Queens in 1985, they spearheaded the "Native Tongues Posse," a movement of socially conscious hip-hop acts that sought to push the genre beyond the tired "sucka emcee" posturing, sneaker fetishes, misogyny and violence that were already genre clichés by the late '80s. With their funky beats, vast musical database, Afrocentric message and philosophical lyrics, Tribe broadened rap's horizons, but their crossover appeal to both downtown hipsters and suburban white kids proved to be a mixed blessing. 
It would have been nice to get some real perspective on that legacy, but actor-turned-documentarian Michael Rapaport opts instead for a blend of hero worship and backstage gossip, which proves amusing but unsatisfying. Much runtime is given to the family feud between the quixotic artist "Q-Tip" (born Jonathan Davis) and Malik "Phife Dawg" Taylor, childhood friends who soured on the idea of each other. Phife's street-smart funny is a stark contrast to Tip's cerebral cool, and they have the sort of tangled, complex relationship that only comes after decades together. Chilled-out DJ Ali Muhammad and sometime sidekick Jarobi White are often collateral damage in this raging private war, or used as bargaining chips. Q-Tip is a sort of hip-hop Brian Wilson; his encyclopedic knowledge of R&B and jazz grooves, and studio fastidiousness, often drove bandmates, managers and fans crazy, but his vision led to achievements such as their monumental 1991 album The Low End Theory, widely hailed as one of the greatest hip-hop albums of all time. A chorus of famous contemporaries including De La Soul, Monie Love, the Roots and the Beastie Boys all pop up to sing the group's praises, but they rarely get below the surface. The absence of context is curious, especially when Jive Records president Barry Weiss is the most intriguing speaker. (This is the first music documentary ever where you would actually like to hear more from the record executive!) 
A Tribe Called Quest hasn't recorded together since 1998, but the group's members have sometimes reunited for lucrative concert offers, spurred, in part, by Phife's health problems. The second and third acts of "Beats" dissolve into an all-too-familiar parade of strife, discord and squabbling. We've seen this sort of thing before, from the turmoil of Let It Be to the cheese-whiz therapy sessions of Metallica: Some Kind of Monster, but here it's kind of petty. It's acrimony that depressingly festers in the hearts of truly innovative creative partnerships, and the inevitable battles, bruised egos and personal baggage that wear us down. The music's still amazing, but all the talking is kind of a drag. —Corey Hall
Opens Friday, July 29, at the Birmingham 8 (211 S. Old Woodward Ave., Birmingham; 248-644-3456).