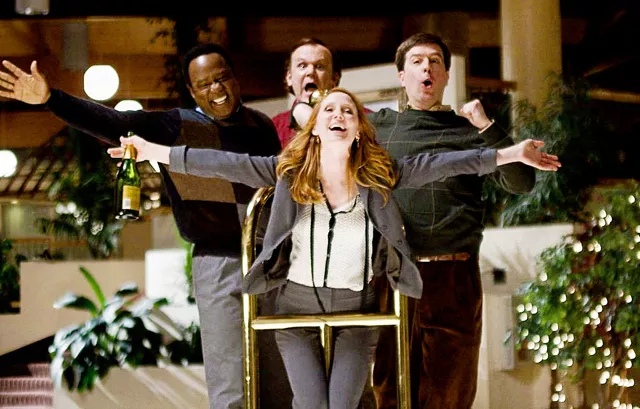 There's a darker, more interesting movie bubbling beneath Cedar Rapids' modestly rude surface, but it's mostly just a tease. Director Miguel Arteta certainly has the right pedigree. His Chuck and Buck unabashedly crossed into the merrily macabre, and his idiosyncratic assault on suburbia in The Good Girl unearthed acting chops I never knew Jennifer Aniston had. But here, screenwriter Phil Johnston's Iowans Go Wild plotline never rises above its Frank Capra meets Judd Apatow aspirations, and Arteta delivers his broadest comedy to date.
Tim Lippe (Ed Helms) is a straight-laced, small-town insurance man. He's good at his job but nave as hell. Which means, yeah, everybody walks all over him. When the firm's star salesman dies in an autoerotic-asphyxiation accident, Tim is sent in his place to the annual insurance convention in Cedar Rapids. His job is to bring home the Two Diamond Award, given for the office that achieves both sales success and high moral values. Before you can say "fish out of water," Tim has fallen in with potty-mouthed party animal Dean Ziegler (John C. Reilly), flirtatious Joan Ostrowski-Fox (Anne Heche), and the whitest black man you've ever met, Ronald Wilkes (Isiah Whitlock Jr.). In hearty camaraderie, they introduce Tim to the wonders of alcohol and casual sex before things really come unglued. It's the age-old tale of a nerd who compromises his values while confronting his true self. This leads to the ultimate discovery: that greed and corruption hide where you least expect them.
What might have been an incisively comic lampoon of religious hypocrisy and personal sanctimony instead becomes a too-earnest embarrassment comedy that easily amuses but rarely finds big laughs. Cedar Rapids occasionally flirts with the profane (especially when crack-cocaine enters the picture) but Arteta, a typically daring director, never fully leaves the safety zone, keeping his good-natured goofball hero from any real danger or offense.
The cast is uniformly engaging and Arteta cunningly examines the way people mistake surface appearance for depth of character, but most of the jokes and setups are predictable, and the film fades from memory moments after the last credit has run. Helm is blandly likeable as Lippe, never making the mistake of mocking his oh-so-square insurance salesman but also never creating a memorable leading man. The truth is, he operates best in a comic ensemble, where he can react to others. As the film's gee-shucks protagonist, Helms seems too small-scale, easily overshadowed by Reilly, who steals the movie with his deceptively crude "Deanzie."
Ultimately, Cedar Rapids feels more like a TV pilot that ended up on the wrong side of the tracks than a full-blooded film about hilariously flawed characters. Quirky and genial, it lives up to its title (and setting), neither warning visitors away nor exciting them enough to book a ticket to visit.