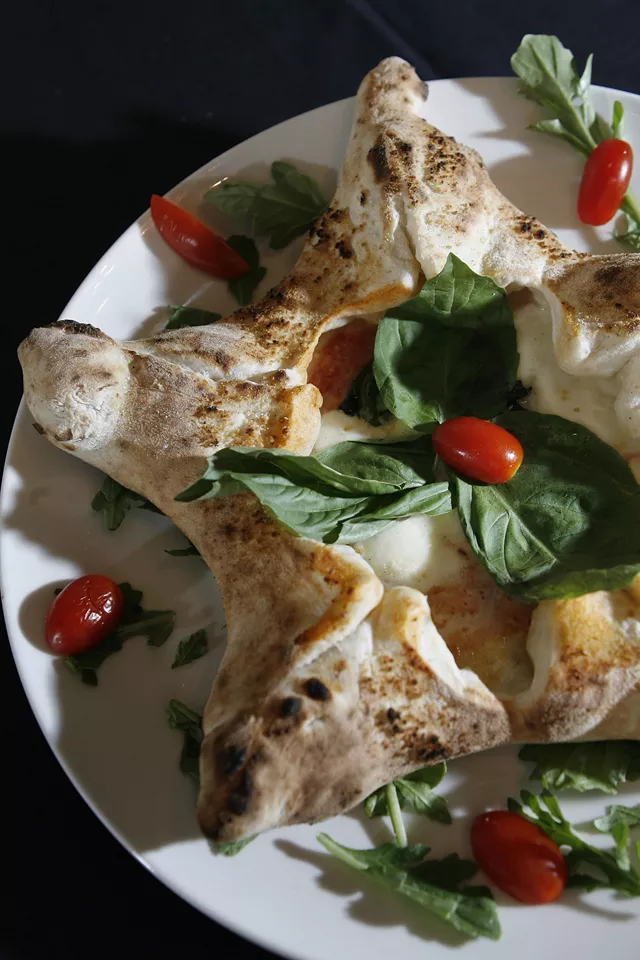 Antica Pizzeria Fellini
415 S. Washington Ave., Royal Oak
248-547-2751
Handicap accessible
Prices: $10-$25
Metro Detroit has received a fair amount of attention, even national praise, for several of its pizzerias. Thick or thin, round or square, slathered in industrial cheese or dappled with heirloom tomatoes, we're infatuated with our pies. But can the area support yet another pizza shop?
If the early crowds at Antica Pizzeria Fellini are any indication, the answer is definitely yes.
A hand-laid tile entryway greets those entering from Royal Oak's Washington Avenue. Several tables look out to passersby through an all-glass facade while barstools look inward at the pizzaiolos and their massive wood-burning oven.
At the heart of what makes Fellini unique is that very oven, imported from Europe and designed to cook items quickly at temperatures around 900 degrees.
While other restaurants in town feature Neapolitan-style pizzas and wood-burning ovens, Fellini claims to be the only one recognized by the Associazione Verarace Pizza Napoletana. The organization, based in Naples, Italy, and founded in 1984, provides parameters for "real" pizza in a world of supermarket freezers stuffed with shrink-wrapped pretenders.
Certifications make interesting trivia for the backs of menus, but what of the pizza itself?
Striving for excellence, Fellini uses fresh mozzarella, San Marzano tomatoes, and Caputo 00 flour, an Italian variety with a lower-than-standard protein count and silkier, less absorptive texture. The commitment to quality shows in the heftier pricing: Each pizza is just larger than a dinner plate and ranges from $9 to $17.50.
Per traditional specifications for Neapolitan pizzas, the dough is thin and lightly charred. Given the thicker, bready outer crust, the room for toppings is somewhat minimal, but the spotty, mild char is appealing.
Among the best pizzas is the Fiocco ($15), a rich pie slathered in cream, mozzarella, and Romano cheese and dotted with ham and potato crocchè, crumbly fritter-like assemblages. The resulting slice is dense but exceedingly flavorful — and unique in the area.
Another item less than commonplace is the self-titled Fellini, a margherita pizza folded into a star shape boasting vegetable-stuffed points. Each corner contains a different filling: rapini, ricotta, mushrooms, and so forth. The corners are perhaps a bit doughy, and the $17.50 price tag is a bit much considering the pie's modest size, but deliciously bitter rapini is a welcome change of pace when compared to more ubiquitous toppings featured elsewhere.
Most of the pizza menu contains familiar ingredients — ricotta, basil, olives, artichokes — though there are still plenty of other options to explore. The Al Tonno ($14.50) is topped with sauce, cheese, basil, onions and tuna. And the Cornicione ($17.50) features a ricotta-stuffed outer crust, a far sight better than the crass imitations available at pizza chains.
One word of caution that may be obvious to some (but less so to others): Prosciutto cotto, a topping common at Fellini, bears more resemblance to a country ham than it does to the dry-cured charcuterie Americans know as prosciutto. That's not to say Fellini is being disingenuous — far from it — but the phrase isn't common around here, and the difference is certainly significant.
Fired in the same ovens are the saltimbocca, hot Italian sandwiches with assorted toppings. Some of these, such as the turkey club, are clearly designed to appeal to those looking for a more American-style sandwich. Others showcase a list of ingredients shared with the pizzas. The Salsiccia employs rapini and Italian sausage, and the soft, salty tang of pecorino nicely cuts through the finocchiona salami on the Etrusco sandwich.
The saltimbocca bread is reminiscent of the pizza dough, shaped into a sub-style sandwich, and ultimately plated alone without sides for $7.50 apiece.
If splitting a pizza or eating only a sandwich, also consider trying one of the starters. Fellini makes several salads, including one with fennel and orange. A charcuterie-and-cheese platter was on the menu but unavailable upon the restaurant's initial opening, but they offer a nice bruschetta plate and a Caprese salad as well.
Interesting enough to satisfy adults with some culinary curiosity but accessible enough for the 9-year-old in our group to attempt to hoard all the dishes on the table, desserts are perhaps the strongest part of the menu at Fellini.
Topped with a tasty praline, the Coppa Pistachio ($6.50) is a generous dish of custard, chocolate, and pistachio gelatos that's wonderfully creamy. Or try the Flute Limoncello, creamy lemon gelato swirled with limoncello and piped into a thin glass before setting in the freezer. Our party wasn't quite as enamored with the frozen chocolate truffle ($6.25) as we'd hoped, but that's only because the modest amount of zabaione cream in the center was more delicious than the gelato surrounding it.
For all the obvious Italian influences, the espresso at Fellini is lackluster, showing only a strong bitterness begging for generous use of the sugar packets provided on the strikingly attractive saucer.
Service at Fellini has been mixed: Some tables turned quickly while others waited at length. One might be inclined to grant a new staff the benefit of the doubt, but it was disappointing that three servers and two others couldn't handle a half dozen tables.
Antica Pizzeria Fellini is still figuring out the details, but through its traditional approach, it has already found a following and seems poised for lasting success.
Open 11 a.m.-11 p.m. Sunday-Thursday, 11 a.m.-midnight Friday-Saturday.