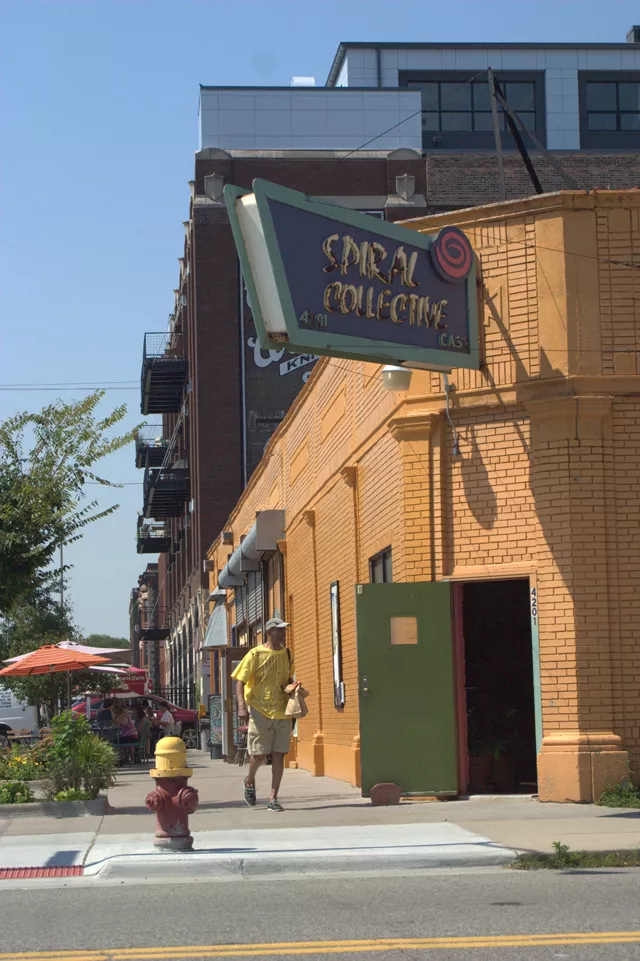 WAYNE STATE UNIVERSITY
Avalon International Breads 422 W. Willis St., Detroit; 313-832-0008; avalonbreads.net: A regular winner of MT's Best of Detroit poll, Avalon's loaves are regularly featured at restaurants far beyond the Cass Corridor location. But there's more than bread, including sandwiches, brioches, scones, excellent coffee and more. The atmosphere is conducive to chilling or conversation (or eavedropping!), and in good weather things spill out onto the sidewalk on Willis.
Be Nice Yoga 4100 Woodward Ave., Detroit; 313-544-9787; yogaindetroit.com: A brand-new boutique yoga studio located above Detroit Community Acupuncture and Peoples Records.
Big Book Store 5911 Cass Ave., Detroit; 313-831-8511: A browser's bookstore, featuring an eclectic array of mostly older books — as well as a smoldering-hot selection of old cheesecake mags.
Bob's Classic Kicks 4717 Woodward Ave., Detroit; 313-832-7513; 4717woodward.blogspot.com: Opened in 2004, Bob's is more than just a sneaker shop hawking Reeboks and Adidases. You can also get custom sneakers tailored to taste. They've also been known to host hip-hop battles, adding to the cachet. Open noon-7 p.m. Monday-Saturday.
Bottom Line Coffee Shop 4474 Third St., Detroit; 313-638-2759; tblcoffeehouse.com: A new addition to the university area's java scene, featuring local bakery products and coffees from around the world.
Bronx Bar 4476 Second Ave., Detroit; 313-832-8464: This former old-man bar now has a young clientele, two jukeboxes and some of the best sandwiches in town.
Byblos Cafe and Grill 87 W. Palmer St.; 313-831-4420; 4830 Cass Ave.; 313-292-5678; 4830 Cass Ave., Detroit; 313-292-5678; bybloscafeandgrill.com: Where Wayne State students enjoy a huge menu and bargain prices.
Cass Café 4620 Cass Ave., Detroit; 313-831-1400; casscafe.com: Part eatery, part bar, part art gallery, Cass Café is a lofty, open space adorned with the works of local artists. Featuring live music, spoken word and other weekly events, Cass also sports a rich menu. From calamari steaks to the classic lentil burger, food is unique and healthy, complemented by a nice selection of Motor City brews.
Circa 1890 Saloon 5474 Cass Ave., Detroit; 313-831-1122: This local tavern offers excellent pizzas, including their unusual Greek pizza.
City Bird 460 W. Canfield St., Detroit; 313-831-9146; ilovecitybird.com: For years, brother-and-sister team Andy and Emily Linn marketed Detroit-themed odds and ends online under the City Bird name. In 2009, they opened this eclectic shop, which sells locally made goods and various objects imprinted with the street grid of our fair city.
Curl Up & Dye 4215 Cass Ave., Detroit; 313-833-5006; curlupanddyedetroit.com: This full-service salon serves coffee, tea and water, proffering free condoms. Hours change seasonally.
Detroit Artists Market 4719 Woodward Ave., Detroit; 313-832-8540; detroitartistsmarket.org: Located in the heart of Detroit's cultural corridor, the Detroit Artists Market is a vibrant and eclectic exhibitor of way-out and conventional works.
Flo Boutique 404 W. Willis St., Detroit; 313-831-4901; flowingflava.com: Billed as a "lifestyle clothing boutique for women and men" this shop is along the same strip as Goodwell's and Avalon.
Good Girls Go to Paris Crêpes 15 E. Kirby St. (entrance on Woodward Avenue), Detroit; 313-664-0490 goodgirlsgotopariscrepes.com: Opened by former French teacher Torya Blanchard, this little Parisian-style shop serves up dozens of different crêpes, fresh salads and fair trade coffee. 
Goodwell's Natural Foods 418 W. Willis St., Detroit; 313-831-2130: One side is a deli, with soups, sandwiches, salads, fresh juices and smoothies and more. The other side is a grocery, selling fresh, organic produce, spices, herbs, dried beans, cereals and grains. The health-oriented store also carries medicines and vitamins. Open for six years now, it's still going strong.
Great Lakes Coffee Roasting 3965 Woodward Ave., Detroit; 313-831-9627; greatlakescoffee.com: This well-known local roastery recently opened this fair trade coffee bar. Seating more than 80, it also has a wine bar and an outdoor covered patio. Open 7 a.m.-4 p.m. Monday, 7 a.m.-11 p.m. Tuesday-Saturday.
Harmonie Garden 4704 Third St.; 313-638-2345: Diners can expect low prices and huge servings, as well as top-notch falafel, all courtesy of Wayne State grad and owner Taher Jaber, and just a stone's throw from Wayne State University.
Honest John's Bar and No Grill 488 Selden St.; 313-832-5646: Cheap eats and drinks, including local microbrews; a great jukebox and loyal regulars.
The Hub 3611 Cass Ave., Detroit; 313-879-5073; thehubofdetroit.org: Is the Hub a community service center or a bike shop? It's both actually. With a few years under its pedals, the Hub is a well-oiled machine that provides bikes, service and workshops for all in the community. As Detroit continues its trek toward two-wheel fanaticism, a stop at the Hub might indeed be in order. Remember to buy a lock — or two.
Lefty's Lounge 5440 Cass Ave.; 313-831-5338; leftysloungedetroit.com; $$: Primarily a watering hole, though one with many first-rate dishes, Lefty's can attract a bevy of sportos to watch the big game.
Leopold's Books 15 E. Kirby St., Detroit; 313-875-4677; leopoldsbooks.com: More of a book boutique than a traditional bookstore, Leopold's carries a small, somewhat quirky selection of publications. There's an emphasis on graphic novels, comic books, local authors, indie efforts and art mags. 
The Majestic Complex includes the Majestic Theatre, Majestic Café, Magic Stick, Garden Bowl and Sgt. Pepperoni's Pizza; 4120 Woodward Ave., Detroit; 313-833-9700; majesticdetroit.com: Wayne State is fortunate to have a world-renowned rock venue that's a hop, skip and a jump from campus, and it houses three separate performance spaces, a pizzeria, café and a bowling alley.
Mantra 3401 Cass Ave., Detroit; 313-657-0728: Selling items ranging from "tasteful to tacky, kitschy to wacky," this resale shop is like a "best of" compilation of a thousand garage sales.
Marwil Bookstore 4870 Cass Ave., Detroit; 313-832-3078; marwilbookstore.com: In business since 1948, Marwil specializes in textbooks for students, but also has a very good magazine selection
Motor City Brewing Works 470 W. Canfield St., Detroit; 313-832-2700; motorcitybeer.com: This brewpub has a quirky interior decorated with tile, a concrete bar, popular Wednesday-night art shows, and a sturdy menu of pizzas and small plates. For less than $10, you can get a pizza made with ingredients as local as possible. The excellent beers include classics and a rotating cast of summer brews, meads and more.
Northern Lights 660 W. Baltimore St.; 313-873-1739: A stylish bar and performance venue with a snazzy interior and solid bar fare, from burgers to salads to calamari. Kitchen closed on weekends.
Old Miami 3930 Cass Ave., Detroit; 313-831-3830: Basically, it's your classic dive bar, but, given the Vietnam War memorabilia on the walls, the urban oasis out back, and the eclectic events, there's still much to recommend this joint.
Peoples Records 4100 Woodward Ave., Detroit; 313-831-0864: This neighborhood vinyl store's stellar stock draws in locals and out-of-town collectors alike. What's more, the staff of local music-heads has collectively logged about a million needle-miles.
The Potato Place 107 W. Warren, Detroit; 313-833-8948: For more than 20 years, the Potato Place has served stuffed baked potatoes, soups, salads, sandwiches, subs, ice cream, and baked goods such as brownies and cakes all made in-house.
Re:View Contemporary Gallery 444 W. Willis St., Detroit; 313-833-9000; reviewcontemporary.com: This Midtown art gallery houses one-person and group shows, along the same strip as Avalon and Spiral Collective.
Seva Detroit 66 E. Forest Ave.; 313-974-6661; sevarestaurant.com: Detroit outpost of the fabled Ann Arbor eatery that pioneered vegetarian and vegan food. Menu choices are perhaps more enticing to those new to vegetarian dining.
Shangri-La 4710-12 Cass Ave.; 313-974-7669; midtownshangri-la.com: Quirky interior, attentive servers and excellent dim sum, those small plates that are something like Chinese tapas. 
Showcase Collectibles 3409 Cass Ave., Detroit; 313-831-6397: A quirky and charming resale shop.
Showtime Clothing 5708 Woodward Ave., Detroit; 313-875-9280; showtimedetroit.com: Accommodating tastes from punk to rock, funk to rap, or whatever other sound Motown shoppers seek, Showtime can outfit customers for daytime and nighttime escapades. Mounds of color, sparkle and texture beg you to paw through them.
Slows to Go 4107 Cass Ave.; 877-569-7246: Where you can get Slows' nationally famous low-and-slow barbecue without the two-hour wait.
Sole Sisters 87 E. Canfield St., Detroit; 313-831-9013: Whether it's riding boots you'll wear with skirts all winter, strappy colorful sandals for spring weddings or animal-print clogs to throw on with jeans, the Sole Sisters have them.
Spiral Collective 4201 Cass Ave., Detroit; 313-832-1155: A collective housing three female-owned businesses, including the Source — a nonfiction bookseller specializing in wellness, spirituality, metaphysics and history — the Tulani Rose gift shop, and the Dell Pryor Art Gallery. On the corner down the street from Avalon and Goodwell's.
Temptations 5260 Anthony Wayne Dr.; 313-832-4449; mitempt.com: Both prices and spices are quite mild at Temptations, clearly targeting Wayne State University students who may be new to Indian fare.
Traffic Jam & Snug 511 W. Canfield St., Detroit; 313-831-9470; trafficjamdetroit.com: The menu at Traffic Jam is diverse, catering to big meat eaters, vegetarians, drinkers and local flavor seekers. They keep many processes in-house, making their own ice cream, brewing their own beer, baking their own bread.
Union Street 4145 Woodward Ave. Detroit; 313-831-3965; unionstreetdetroit.com: Union Street has been a favorite spot for Wayne State students and staff for years, but the bar-restaurant is more than just a hot college spot. The bar offers 100 different bottled beers from around the world and a collection of quality, affordable wines.
Wasabi 15 E. Kirby St., Detroit; 313-638-1272; wasabidetroit.com: This restaurant serves a mix of Japanese and Korean cuisine. Yes, there's sushi, but also Japanese noodle dishes and proteins, as well as Korean bibimbap.
Woodbridge Pub 5169 Trumbull St.; 313-833-2701: Seasonal fare and inventive burgers, including a half-pound certified Angus and a vegan black-bean patty. Hip setting, friendly service. Open from 11 a.m. to 2 a.m. every day
Wednesday Farmers' Market Cass Avenue north of Warren Avenue, in front of Prentis Hall: Eating right is tough in college, but the Wayne State Farmers Market brings fresh, locally grown produce to the Wayne State community every Wednesday. Vendors range from urban gardeners to southeastern Michigan farmers, but all merchants raise crops with a special focus on sustainability. Runs 11 a.m. to 4 p.m. Wednesdays through Oct. 31.
Z's Villa 42 Piquette St., Detroit; 313-874-2680; zsvilladet.com: A family-owned restaurant in a house that's more than a century old, serving tavern fare with a full bar and, in good weather, an outdoor patio.
UNIVERSITY OF DETROIT MERCY
Baker's Keyboard Lounge 20510 Livernois Ave, Detroit; 313-345-6300; bakerskeyboardlounge.com: Baker's was opened in 1934, making it one of the world's longest-running jazz clubs. They still have live music almost every night. Lunch and dinner are offered at reasonable prices. A must-visit if you're interested in Detroit's rich musical history.
Buddy's Pizza, the Original Location 17125 Conant, Detroit; 313-892-6619; buddyspizza.com: If college had a food pyramid, pizza would occupy the big part at the bottom where the grains are supposed to go. You can pick up a quality pie at the original Buddy's pizza, which has served its quality Detroit-style deep-dish pizza since 1946. Yeah, it's across town, but just off the Davison: the quickest way to the east side.
China Wok 18670 Livernois Ave., Detroit; 313-864-8899: China Wok offers UDM students the holy trinity of fast food: reasonable prices, close proximity (you can drive there in the time it takes to cook the order) and ample portions. 
Grounds Coffeehaus 4001 W. McNichols Rd., Detroit; 313-993-1150; tinyurl.com/274prmf: Two decades ago, Grounds Coffeehaus — or Rathskeller, as it was known at the time — was one of the most popular places on campus. In those days, the facility had a license to sell alcohol, and never seemed at a loss for customers. No longer a watering hole, Grounds remains the No. 1 spot to grab a cup o' joe before that dreaded 8:30 a.m. class or to satisfy a late-night caffeine fix. Doors shut at 2 a.m. Sunday-Thursday (closes midnight Saturday and 5 p.m. Friday). It's open weekends, and often hosts poetry readings and other campus events. 
The Loft 4001 W. McNichols Rd., Detroit; 313-993-1616; udmdining.com: Although dining options inside the McNichols campus are slim, the Loft has you covered. This is the place to scarf down cheeseburgers and fries or grab an energy drink before your exam. The Loft (usually) has what you want. Philly cheese steaks and chicken strips seem to be the most popular items, but they do offer fresh wraps and salads, albeit pre-packaged, for the health-conscious co-ed. 
Phi Kappa Theta Fraternity House 16000 Fairfield St., Detroit: The incoming pledges of Phi Kappa Theta are all expected to learn the fraternity's motto, "Give, expecting nothing thereof." Their house, located right across the street from UDM's Calihan Hall, is bustling come fall Friday nights.
The Student Union 4001 W. McNichols, Detroit: The recently remodeled Student Union is the on-campus spot for heated ping pong and billiard tournaments. It's also the place for socializing or vegging out in front of the flat-screens — and the couches are great for between-class naps.
 Titan Fit Zone 4001 W. McNichols Rd., Detroit; 313-993-3301; tinyurl.com/2dzanlf: The centerpiece of the student center, the Titan Fit Zone is the perfect place to work off the "freshman 15" — or just check out that hottie working their glutes on the elliptical. Everything you need to stay in shape is here, plus yoga classes and a few 52-inch HDTVs.
U of D Coney Island 16126 Livernois Ave, Detroit; 313-862-0160: The family-owned U of D Coney offers all of the tried and true favorites at prices that suit the student budget. Located directly off campus and open until midnight, it's good for late eats.
Uptown BBQ 15700 Livernois Ave., Detroit; 313-862-7427; uptownbbq.com: Wedged between the Lodge Expressway and the University of Detroit Mercy, Uptown is one of those small joints where your order can be placed through a hole in the Plexiglas that seals in the cooking area. At $17.97 a slab, it's a splurge, but still cheaper than some other city joints, and it's worth every penny: The ribs are excellent, full of pit-cooked smoky flavor, with the short ends a bit crispy but not overdone, just like the perfect backyard barbecue. Owner Nathaniel Fanning's signature sauce works well with the meat, sweet and mild, not hot — and so good you'll likely end up sucking the bones clean. 
OAKLAND UNIVERSITY
Caribou Coffee 3224 Walton St., Rochester Hills; 248-375-2360; cariboucoffee.com: Caribou is one of the few spots within walking distance of campus where students can hang out, study and enjoy free Wi-Fi and local music. 
Club Sports oakland.edu/campusrec: From vitality dance to judo to cricket to fencing, and on to water polo, OU's club sports roster has something to offer everyone looking for a low-stress way to get involved and keep fit. If group sports aren't your thing, visit the rec center or aquatics center to find a routine that's right for you.
Coyote Joe's 49440 Ryan Rd., Shelby Twp.; 586-254-4666; coyotejoes.com: Grizzlies come out to Coyote Joe's in droves, especially for ladies' night on Thursdays. The mechanical bull and country music DJs make it worth the 20-minute drive from campus.
The Hills Bar & Grille 6810 N. Rochester, Rochester Hills; 248-652-4455; thehillsbar.com: With one of the busiest happy hours in the area, the Hills Bar & Grille offers drink deals, excellent Bloody Marys, and killer morning egg specials — provided you can drag your ass out of bed. Enjoy the outdoor patio if the sun is shining or the indoor mezzanine if it's not.
RJ's Pub 288 E. Tienken St., Rochester Hills; 248-652-9550: Trying to get drunk on couch change? Designate a driver and head to RJ's, a friendly dive that offers first-class bar food. You'll never find a line out the door, but watch out, it's always packed for Red Wings games.
Meadow Brook Hall & Gardens Adams at Walton, Rochester; 248-364-6200; oakland.edu/mbh: Everyone in the Detroit area should visit the historic 110-room residence of Matilda Dodge Wilson. Shame on you if you're on campus and miss out. Tours run year-round, featuring sprawling gardens in the summer months and elaborate Christmas decorations through the holidays. Best of all, tours have traditionally been free to OU students with identification.
The Paint Creek Trail paintcreektrail.org: Get back to nature by walking or biking the Paint Creek Trail. This 8.9-mile-long trail winds through five different communities and wanders by various historical sites, scenic natural areas and even a cider mill for an extra dose of quaintness. 
The Village 104 N. Adams St., Rochester Hills; 248-375-9451; villageofrochesterhills.com: The winding pathways of this shopping center contain a Gap, Banana Republic and J. Crew if you're shopping for back-to-school basics or business-appropriate job interview gear. You'll also find cheap eats, coffee, healthful groceries and more. 
POINTS WEST: EASTERN MICHIGAN UNIVERSITY, WASHTENAW COMMUNITY COLLEGE, CONCORDIA UNIVERSITY
The Bomber 306 E. Michigan Ave., Ypsilanti; 734-482-0550; thebomberrestaurant.net: Voted Best Cheap Breakfast in Washtenaw County by MT readers, the Bomber's website proudly proclaims their breakfasts are not for the faint of heart. Featured on Food TV's Top Five Overindulgences, the Bomber is home to a number of popular breakfast feasts including the "Nature Lovers' Pancakes" made with blueberries, raspberries and pecans (sunflower seeds may be substituted) and, for those with super-sized appetites, the "Bomber Breakfast," complete with four eggs and a heaping plate of breakfast potatoes, meat and toast. Bombs away!
Café Racer 10 Cross St., Ypsilanti; 734-879-1201; caferacerypsi.com: Imagine a hybrid small-town coffee shop crossed with reality TV's American Chopper and you kind of have Café Racer — only café racer bikes are undoubtedly cooler than choppers. The shop services vintage and contemporary motorcycles, treating each one as a unique work of art. Even if you don't own a bike, it's worth visiting the café for a cup of local coffee and a chance to admire some tricked-out racers.
Corner Brewery 720 Norris St., Ypsilanti; 734-480-2739; cornerbrewery.com: Love this li'l tidbit from their website: "The Corner is sort of like a reverse mullet — with the party in the front and business in the back." Too true! The brewery produces and bottles Arbor Brewing Company brand beers, and cycles through more than 25 types of on-tap brews. As for the microbrewery's menu, it's all about what goes best with brew: pizzas, burgers, brats and snacks. 
Depot Town Tattoo 33 E. Cross St., Ypsilanti; 734-544-1297; depottowntattoo.com: For many incoming freshmen, the initial college experience is all about exploring newfound independence from overly protective parents. What better way to do this than with some ink? The tattoo artists at Depot Town will translate any idea or image into a unique tattoo. You don't need an appointment at this shop either. Walk-ins are welcome, so stop stalling and go get that tramp stamp Daddy will be sure to hate. 
Dom's Bakery 1305 Washtenaw Rd., Ypsilanti; 734-485-3175: Let's face it — we all love doughnuts. Whether you eat them in the morning or as a gluttonous break in between study sessions, Dom's bakery is Ypsilanti's spot for fresh, homemade doughnuts around the clock. Not only are these fried fritters of joy delicious, but you can get them drive-through style and as late as 2 a.m. 
Riverside Park 515 E. Cross St., Ypsilanti; 734-483-7272; cityofypsilanti.com: This public park is an ideal place for walks, naps, stoned Frisbee and public displays of affection — or semi-public displays, if you remembered to bring a blanket. The 13.4-acre plot of land — located alongside the Huron River — is one of the few spots where you can get a taste of real tranquility. Linking downtown Ypsi and Depot Town, the park hosts some of the city's biggest events throughout the year, including the Heritage Festival, ElvisFest and the Michigan Summer Beer Festival. 
Tower Inn 701 W. Cross St., Ypsilanti; 734-487-2650 (restaurant), 734-487-4000 (delivery); towerinncafe.com: This small Greek and Italian restaurant is in the heart of EMU's campus, and serves up everything from appetizers such as calamari and kasseri "Saganaki Opa" cheese to gourmet pizza and burgers, with the latter toting names like "The Mafia Boss" or "The FBI" burger. Stop in for lunch or have it delivered, and if you're looking for a late night beer or casual glass of wine — soaked up by surprisingly great bar food — Tower Inn will be your campus food destination.
The Ugly Mug Café and Roastery 317 W. Cross Ave., Ypsilanti; 734-484-4684; uglymugcafeandroastery.com: The Ugly Mug takes its cup of joe very seriously. The shop employs an in-house coffee roaster who works obsessively to bring the best coffee to Ypsilanti by studying everything from the dry and wet aromas of different beans to the seasonality of coffee farms around the world. For students, the Ugly Mug is the perfect place for some hardcore, caffeine-fueled study sessions. 
Woodruff's Bar 36 E. Cross St., Ypsilanti; woodruffsbar.com: This Ypsi venue has lots of space, but not all in one area; but that doesn't take away from its cozy ambience, which is particularly augmented by the stone fireplace that stands in the room's center like an ornate tree stump. Woodruff's attracts much of the same Elbow Room crowd, but also a notably wider breadth of musical performing styles and talents — from, yes, indie-rock and neo-folk to rousing bluegrass and punk, and even jazz and some electro-dance from time to time. Weekly programming ranges from new wave, post-punk DJ Nights (Absolute Beginners) to Hairy Karaokee nights to acoustic open-mic nights, even a monthly drag show.
Ypsilanti Food Co-op 312 N. River St., Ypsilanti; 734-483-1520; ypsifoodcoop.org: Not only is this an attractive food co-op, well-managed and inviting, the last time we stopped by they were in the midst of an impressive expansion. Fresh foods, vitamins, dry goods and even local publications are on sale. Best of all, it's just down the street from Sidetrack Grill, so you can park in the back, have a bite, and avoid the mistake of shopping hungry.
UNIVERSITY OF MICHIGAN
Ann Arbor Film Festival 308 1/2 S. State St., Suite 22, Ann Arbor; 734-995-5356; aafilmfest.org: The longest-running independent and experimental film festival in North America is now accepting admissions for the fest next spring! Just a warning, your film better be more than a little idiosyncratic. While you're working on your masterpiece, join the AAFF for screenings at the Michigan Theater at a nice discount.
Aut Bar 15 Braun Ct., Ann Arbor; 734-994-3677; autbar.com: In the summer months, historic Kerrytown's Aut Bar spills out onto a quiet courtyard. Functioning as a restaurant and a bar, the second level is 21 and older only. And, since 1986, there's been a popular Saturday (11 a.m.-2 p.m.) and Sunday brunch (10 a.m-3 p.m.) and, more recently, even a weekday lunch (11 a.m.-1:30 p.m.). For brunch, Mexican specialties are standouts, including breakfast burritos or huevos motulenos. The Aut Bar caters to the LGBT community and their friends, families and allies.
Babs' Underground Lounge 213 S. Ashley St., Ann Arbor; 734-997-0800; babsundergroundlounge.com: With its upscale speakeasy feel, Babs' Underground Lounge describes itself as one of the best-kept secrets in Ann Arbor. Along with a cigar bar and high-end martini and scotch selections, they also have pool tables and (had) the only film-strip photo booth in the city. 
The Blind Pig & 8 Ball Saloon 208 S. First St., Ann Arbor; 734-996-8555; blindpigmusic.com: As far as dive bars and rock clubs go, this is A2's walloping one-two punch. The famed Pig has played (and will continue to play) host to some of the best acts coming through Michigan. The list of bands to play the Pig reads like a Rock and Roll Hall of Fame induction. Downstairs, the 8 Ball Saloon has cheap drinks, $2 pool and low lighting, and $1 PBR every Sunday, Monday and Tuesday.
The Detroit Partnership 4219 Michigan Union, 530 S. State St., Ann Arbor; 734-719-0250; thedp.org: In addition to the Semester in Detroit program, this student-run service-learning organization has been building relationships between U-M students and the city of Detroit for 10 years. Working with more than 30 schools, churches and nonprofits throughout the year, the partnership consists of native Detroiters and students from out of town who are getting to know the local community by serving urban organizations. 
The Gallery Project 215 S. Fourth Ave., Ann Arbor; 734-997-7012; thegalleryproject.com: The Gallery Project selects nine themed contemporary art exhibits each year. Interestingly, curators show their work in the 2,000-square-foot space alongside the artists they've selected, blurring the line between the two. 
The Getup 215 S. State St., Ann Arbor; 734-327-4300; thegetup.com: The Getup has been U-M students' favorite destination for reasonably priced vintage apparel and accessories since it opened in 2005. It's independently owned and operated by collectors Paul and Kelly MacLeod, both fascinated by fashions of days gone by. Here you'll find an eclectic gathering of pre-1980s styles, which may include concert T's, immaculate Izod sweaters, turquoise cowboy boots, and any variety of retro-fabulous jewelry that floats your boat. 
Herb David Guitar Studio 302 E. Liberty, Ann Arbor; 734-665-8001; herbdavidguitarstudio.com: Rock stars know where the best music shops are, and if it's good enough for Sonic Youth's Thurston Moore or the White Stripes' Jack White, you can probably trust living legend Herb David. The shop has been around since the late '60s, and if you're in need of a small tweak on your six-string or just want to peruse some top-of-the-line instruments, this is the place.
Mark's Carts 211 W. Washington St.; markscartsannarbor.com: Not a restaurant, but a food court filled with food carts, this is the brainchild of Mark Hodesh, owner of Downtown Home and Garden, as well as the food court and commissary kitchen behind it. Hodesh, who opened the Fleetwood Diner in 1972, decided to take the rear property he couldn't rent and turn it into a kitchen and court for carts. Open since May 2001, they have several carts up and running, offering various cuisines at bargain prices.
Matthaei Botanical Gardens and Nichols Arboretum 1800 N. Dixboro and 1600 Washington Heights, respectively, Ann Arbor; 734-647-7600; lsa.umich.edu/mbg: You'll find some refuge from bustling Ann Arbor and stuffy classrooms at the botanical gardens and arboretum. Bring your binoculars for bird-watching. Don't forget to refer to the website to find out what flowers are in bloom. But the best thing about "The Arb" is finding your own quiet corner for outdoor study and soaking up the natural beauty.
Necto Nightclub 516 E. Liberty St., Ann Arbor; 734-994-5835; necto.com: If you're looking for a dance party five days a week, Necto could be the spot for you. With two floors of grind space and four different theme nights you can bump your rump all week and sweat off all that Pizza House pie.
People's Food Co-op 216 N. Fourth Ave., Ann Arbor; 734-994-9174; peoplesfood.coop: Born out of day trips to Detroit's Eastern Market in 1971, the People's Food Co-op still maintains a commitment to locally grown, organic food. The goal is contributing to protection of the environment through sustainability. If you're looking to eat right and stay green, a food co-op can be a convenient choice. Though not the cheapest option, you certainly get what you pay for here. 
Sam's Clothing Store 207 E. Liberty St., Ann Arbor; 734-663-8611; samsbasicclothes.com: The most reasonably priced non-used clothing store in Ann Arbor, Sam's is a self-described utilitarian outfitter. Though it adheres to the practical sensibilities of its shoppers, there is plenty of hip apparel as well, including a wide variety of fedoras and Converse shoes. Plus, it's always cool to support this locally owned, unpretentious shop. It also has the best selection of wool socks anywhere. A couple pairs are a necessity for Ann Arbor winters.
Sic Transit Cycles 1033 Broadway, Ann Arbor; 734-327-6900; sictransitcycles.com: If craftsmanship, individuality and the joy of the ride are what you're looking for in a bicycle, check out offerings at Sic. These guys repair bikes of all shapes and sizes, restore vintage styles, and consult on build projects. Build your own bike with an old Schwinn frame, or cruise around campus on one of their refurbished beauties or more eclectic offerings. Sic also buys used bicycles and gear all the time, if you're saving up for your next project. Sick!
Vault of Midnight 219 S. Main St., Ann Arbor; 734-998-1413; vaultofmidnight.com: This famed Main Street comic book shop was awarded the Will Eisner Spirit of Comics Retailer Award by the 41st Comic-Con. Anyone who's entered the Vault knows how transcendent an experience it can be. Comics, games, toys, statues, cards — they have it all. If you're looking to bulk up your Marvel or flirt with KidRobot, enter the Vault. If only textbooks were illustrated like this, eh?
Have some suggested additions for your campus area for College Guide 2013? Send them to [email protected].