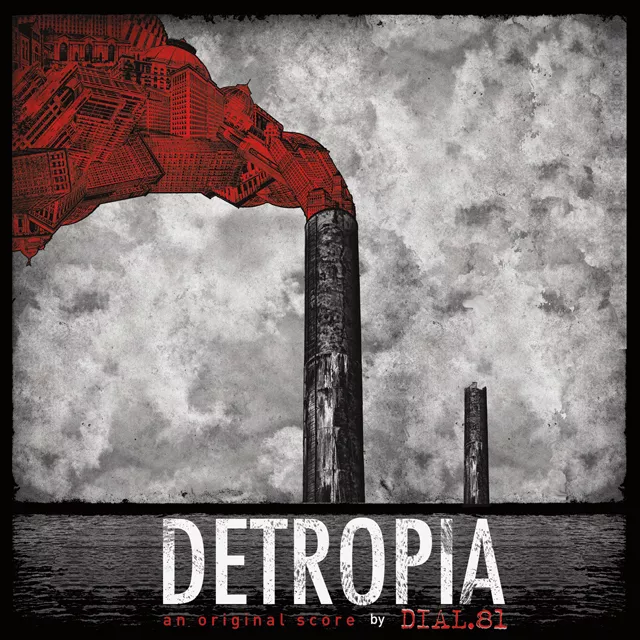 Sounds swirl, synthesizers affecting a hydraulic hum. These white-noise drones churn as though from behind closed garage-doors at the loading docks of abandoned factories. Composer Dial81captures the sound of Detroit at night, the twilight of a once industrial utopia, for his original soundtrack to Detropia, a Sundance sensation documenting our city's "moment of truth" as it faces bankruptcy and downsizing. It doesn't matter whether "ambient" music is your thing or not, there's something mingled into these 13 mystical movements that'll resonate for you, for Detroit. This is a symphony of metallic timbres, junk-spilled rhythms and fuzzy atmospherics that paint a familiar picture of the city.
You can see the wonderful wasteland, you can see the glowing red eye of the Penobscot in the background clouded out by the smoky spew from a sewer grate. The multifaceted producer's provocative meditations are sporadically haunted by found-sounds and squirrelly synth-based clatters. There are no recurring themes, no refrains, just the evocation that something's still living here, even if the musical tension never resolves. It's fitting for a film that follows the lives of various community members (bar owner, auto union rep, young artists and others) as they (and the city) try to pick up the pieces, determining whether the city's fate is sealed and what that would then mean for the rest of the country.
For producer and emcee Dial81 (aka Blair French, based in metro Detroit, who has released a handful of hip-hop leaning albums over a decade, and opened for big acts like Eminem and Ludacris) this project reinvigorated his experimental side. Composing for Detropia, personal for all of us, was, in his succinct singular word: "Surreal." But he adds, "What the album means to me: reinvention. The power of vision; the strength of choice; the freedom of letting go." —Jeff Milo
Detropia's Thursday screening at Wayne State University where copies of the disc will be available is sold out. The film opens Friday at the Main Art, Royal Oak; Ren Cen 4, Detroit; and the Michigan Theater, Ann Arbor. The soundtrack's first 300 pressings will be a limited-edition colored vinyl with a digital download card.